Many people who use stimulants or MDMA report that they grind their teeth during periods of drug use. This phenomenon is known as bruxism and can cause several problems, including headaches, jaw pain, and damage to teeth.
While it's not clear why drugs cause bruxism, it is thought that bruxism occurs due to the effects of drugs on the body's central nervous system. Other theories suggest that it may result from anxiety or other psychological factors.
Regardless of the cause, bruxism can be a dangerous condition, and it is important to seek treatment if you think you may be affected. Your dentist can help identify the signs of bruxism and recommend appropriate treatments. You can keep your teeth healthy and avoid any long-term damage with proper care.
What is Bruxism?
Bruxism is a condition characterized by the grinding or clenching of teeth. It can occur while a person is awake (awake bruxism) or asleep (sleep bruxism).
Left untreated, bruxism can lead to several serious problems, including jaw pain, headaches, and damage to the teeth. It can also cause sleep disorders like sleep apnea.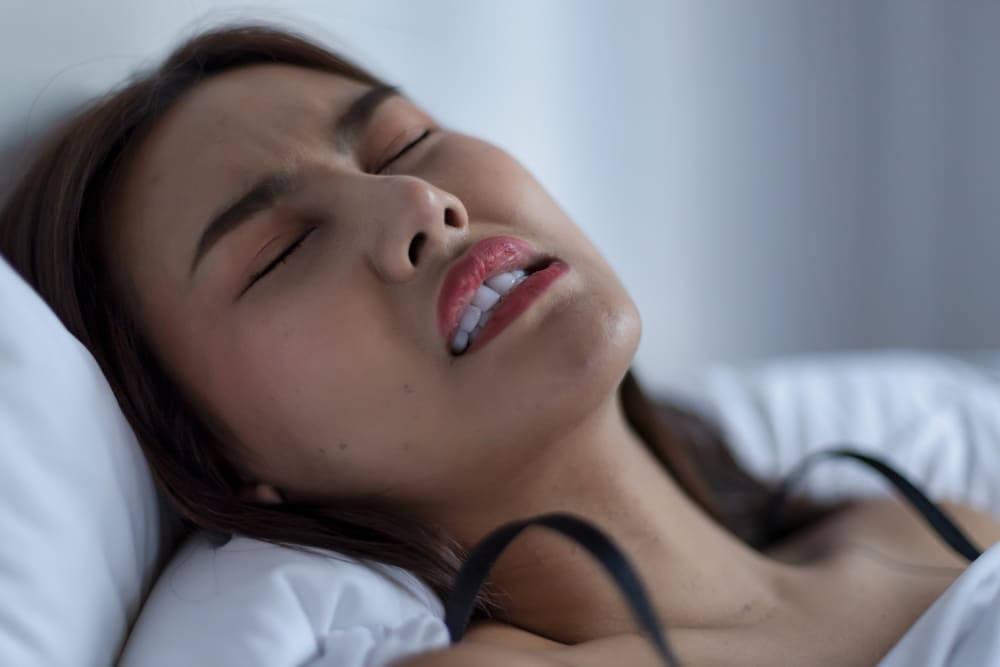 The exact cause of bruxism is not fully understood, but it is thought to be linked to stress or anxiety and drug use.
Bruxism can be caused by medications that act on the nervous system, such as antidepressants, antihistamines, and bronchodilators. It can also be a side effect of stimulants, such as caffeine and amphetamines. In some cases, drug-induced bruxism may be caused by illicit drugs, such as cocaine and methamphetamine.
Persistent bruxism can lead to jaw muscles and tooth damage, headaches, jaw pain, and temporomandibular joint disorder. It can even affect a person's ability to eat and speak properly in severe cases. Beyond bruxism, drugs can also cause a host of other dental issues due to these reasons:
First, many drugs contain harmful chemicals or corrosive substances that damage tooth enamel and cause severe tooth decay and gum disease.
Second, drug use can lead to poor oral hygiene. When people are high, they may be less likely to brush their teeth or floss regularly.
Finally, the use of these drugs can also lead to dehydration, which can cause the mouth to produce less saliva. Saliva is necessary for keeping the mouth clean and healthy, and without it, there is an increased risk of cavities and gum disease.
Drugs That Can Cause You to Grind Your Teeth:
Here are some drugs that can cause bruxism:
MDMA
MDMA is a synthetic drug that produces energizing, mood-lifting, and sometimes hallucinogenic effects. It is best known by its street names "ecstasy" or "molly." MDMA is structurally similar to both stimulants and hallucinogens, which may account for its ability to produce various effects.
MDMA causes an increase in the activity of three brain chemicals: dopamine, norepinephrine, and serotonin. Dopamine is involved in the "reward pathway," producing feelings of pleasure. Norepinephrine helps to maintain alertness and focus, while serotonin contributes to feelings of well-being and happiness.
These brain chemicals are also responsible for many of the side effects of MDMA use, including increases in heart rate and blood pressure, nausea, blurred vision, and faintness. One less well-known side effect of MDMA use is bruxism, or teeth grinding.
Research suggests that this may be due to the drug's effects on serotonin levels. Serotonin plays a role in muscle contraction, and an increase in serotonin activity may lead to involuntary muscle spasms, such as teeth grinding. In some cases, bruxism may be severe enough to cause jaw pain or damage to teeth.
Methamphetamine (Meth)
Methamphetamine, commonly known as meth, is a powerful stimulant drug that can seriously affect the body. One of the most common side effects of meth abuse is bruxism, or teeth grinding. Meth users may grind their teeth involuntarily or consciously, and the condition can cause severe dental problems.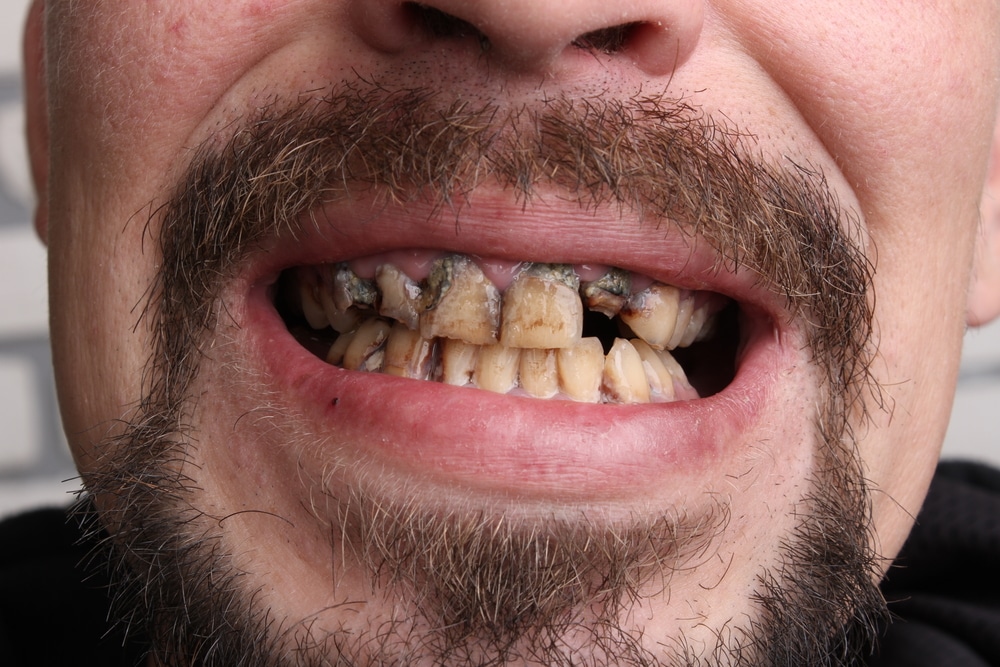 While the exact mechanism is not fully understood, it is believed that meth causes an increase in the release of dopamine, a brain chemical associated with pleasure and reward. The resulting spike in dopamine levels can lead to compulsive behaviors like teeth grinding. In addition, meth constricts blood vessels and reduces saliva production, further contributing to dental health problems. 
Heroin
Opioids, including heroin, are known to make you grind your teeth. This may be due to the drug's psychoactive effects, which can produce feelings of anxiety and paranoia. Historical evidence also suggests that bruxism was common among people who used opium in the 19th century.
Opioids work by binding to receptors in the brain, which can alter neurotransmission and lead to changes in muscle tone and behavior. Teeth grinding may be a side effect of this process. Opioids can also cause dry mouth, leading to tooth decay and other oral health problems.
Cocaine
Cocaine is a powerful stimulant that has been shown to cause a wide range of physical and mental effects. One of the more commonly reported side effects of cocaine use is that it can make you grind your teeth.
While the exact mechanism is not fully understood, it is thought that the drug alters levels of neurotransmitters in the brain, increasing muscle activity. This can lead to involuntary clenching and grinding of the teeth, which can cause headaches, jaw pain, and dental damage. In some cases, bruxism may also be related to anxiety or psychosis, which are common side effects of cocaine use.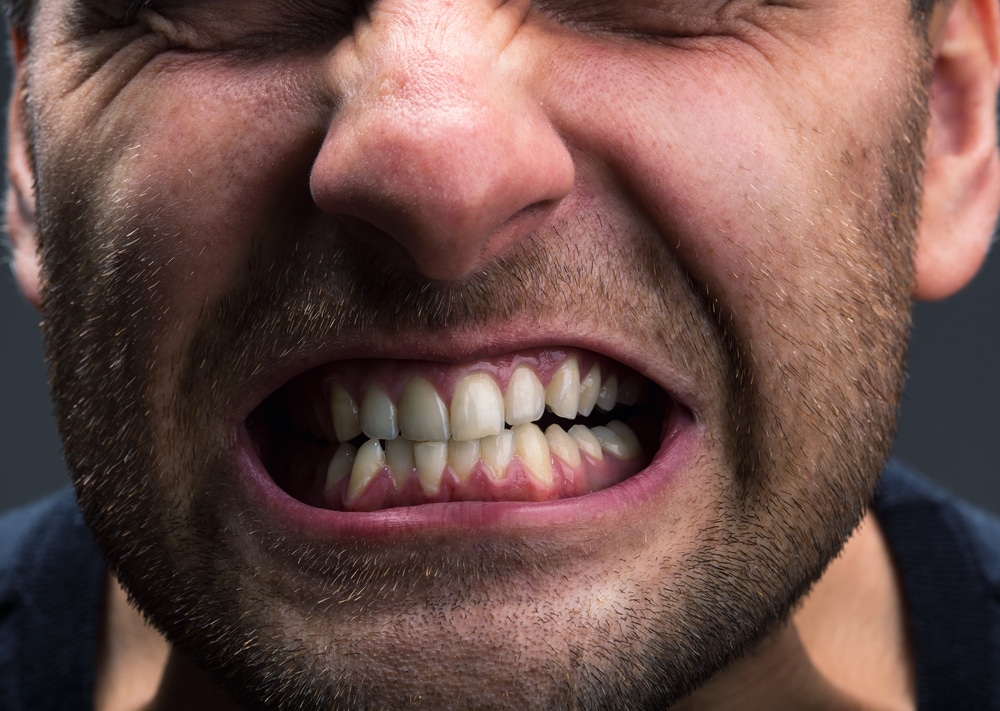 Treatment Options for Bruxism
Bruxism, or teeth grinding, is a common side effect of stimulant or MDMA use. The constant clenching and grinding can damage the teeth and cause gum inflammation. In severe cases, it can even result in tooth loss.
Luckily, a few things can be done to help alleviate the symptoms of bruxism.
First, you'll need to stop using drugs that cause bruxism. If you are dealing with an MDMA, heroin, or meth addiction, it's best to seek addiction treatment to get off of the drugs.
Stay hydrated and avoid foods that are high in acidity. This will help to protect your teeth from further damage.
Adopt lifestyle changes – reduce stress, cut back on stimulant use, etc.
It is also important to take breaks during extended periods of drug use and avoid using the drug when feeling stressed or anxious.
If bruxism persists, several treatments can be used to reduce the symptoms, including Botox injections, night guards, pacifiers, and bite plates.
Taking these steps makes it possible to minimize the impact of bruxism and protect your teeth and gums.
Treatment for Drug Abuse
If you are experiencing teeth grinding due to stimulant or MDMA use, it is important to seek treatment. Teeth grinding can be caused by many things and is often treatable. There are a variety of treatments available depending on the cause of your teeth grinding.
Treatment for drug abuse will also address any associated teeth grinding. If you are concerned about your teeth grinding, please talk to your doctor or addiction specialist. They can help you find the best course of treatment for you.