Ketamine is an anesthetic drug that affects the central nervous system by antagonizing the n-methyl-d-aspartate (NMDA) receptor. Like most dissociative anesthetics, ketamine has a high potential for abuse.
Ketamine has hallucinogenic effects. It changes your perception of sounds and sights, makes you feel detached, and makes you feel like you aren't in control.
Ketamine is FDA-approved for use as a pain reliever for chronic pain and anesthetic. Unfortunately, it is often abused.
Although ketamine has a long-standing reputation as a recreational drug, its FDA-approved version has become popular in its role as an anti-depressant. Additionally, studies have shown its effectiveness in reducing drug and alcohol abuse.
This article discusses ketamine therapy and its benefits under supervised care.
Ketamine therapy as addiction treatment
Clinical trials focusing on alcohol and cocaine addiction revealed that patients who were prescribed therapy and ketamine had better results than those who went for therapy minus ketamine treatment.
Patients addicted to cocaine received doses of IV ketamine for five days. Additionally, they went through a 5-week mindfulness relapse prevention therapy. On the other hand, patients struggling with alcohol addiction received a dose of ketamine on their second week of 5-week motivational enhancement therapy sessions.
At the end of the trial, researchers concluded that ketamine treatment played a role in preventing relapse. Researchers argued that ketamine treatment alters how patients' brains deal with cravings. Additionally, they argued that ketamine motivates individuals to stop abusing drugs and control their behavioral interactions. Ketamine treatment may also improve the outcome of behavioral therapy.
The clinical trials discussed above are not conclusive. There is a need for extensive research on the role of ketamine in addiction treatment.
Note that the use of ketamine in addiction treatment should be under the strict supervision of medical practitioners in clinical settings. Patients should only receive doses of ketamine as and when prescribed by their doctors to avert ketamine abuse.
Ketamine for depression
Medical practitioners can use ketamine to treat depression. Additionally, it can be used as an antidote for suicidal thoughts.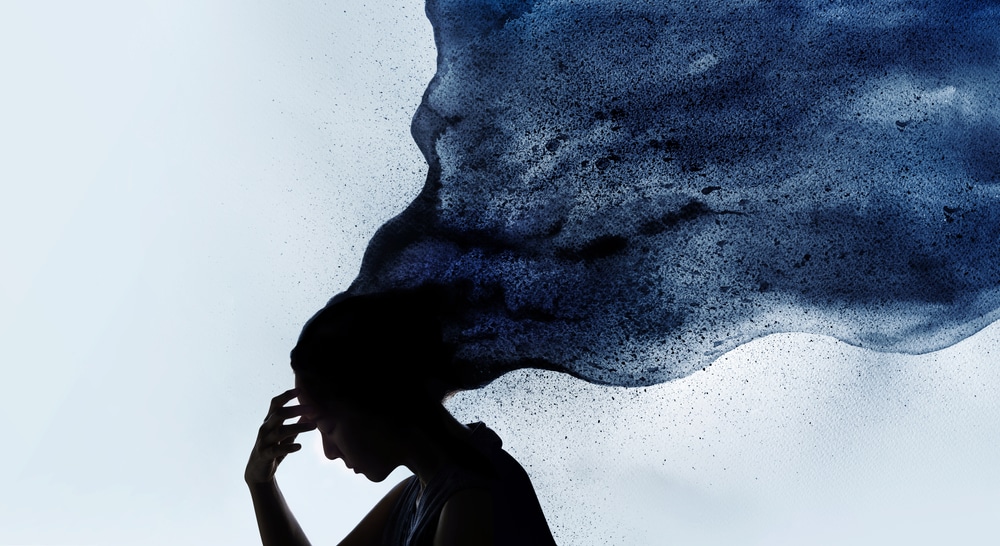 Most treatments for suicidal thoughts, including anti-depressants, talk therapy, electroconvulsive therapy (ECT), and transcranial magnetic stimulation (TMS), take several weeks to be effective. Sometimes, you may have to try multiple treatment options at once to gain relief.
Using ketamine for depression has proved effective. The doses that medical practitioners prescribe in treatment for depression are small.
How does it work?
It is still unclear how ketamine works. However, researchers suggest that it targets NMDA receptors in the brain, binds to the receptors, and consequently increases the amount of glutamate, a neurotransmitter, between the neurons.
The glutamate triggers connections in the AMPA receptors resulting in the release of molecules that allow neurons to communicate across new pathways. This process is called synaptogenesis. Synaptogenesis alters your cognition, mood, and thought patterns, making you less depressed.
Ketamine may also treat symptoms of depression by reducing the signals that take part in inflammation. These signals are often linked to mood disorders. Therefore, ketamine may prevent mood swings by reducing the signals.
How do you receive ketamine for depression treatment?
Ketamine comes in various forms, including white powder. The FDA-approved form for depression medication is a nasal spray known as esketamine/ Spravato.
Doctors prescribe esketamine to adults who have a major depressive disorder, treatment-resistant depression, or are suicidal.
Patients with treatment-resistant depression get the nasal spray twice weekly for the first four weeks, then once a week from the fifth to the ninth week. If they still need the nasal spray after the ninth week, they will get it once every two weeks.
The other forms of ketamine that are not approved by the FDA include; tablets, IV infusion, or a shot in the arm. IV infusions are done explicitly by doctors. Some doctors may prescribe pills for use at home. However, it is not recommended since ketamine has a high potential for abuse.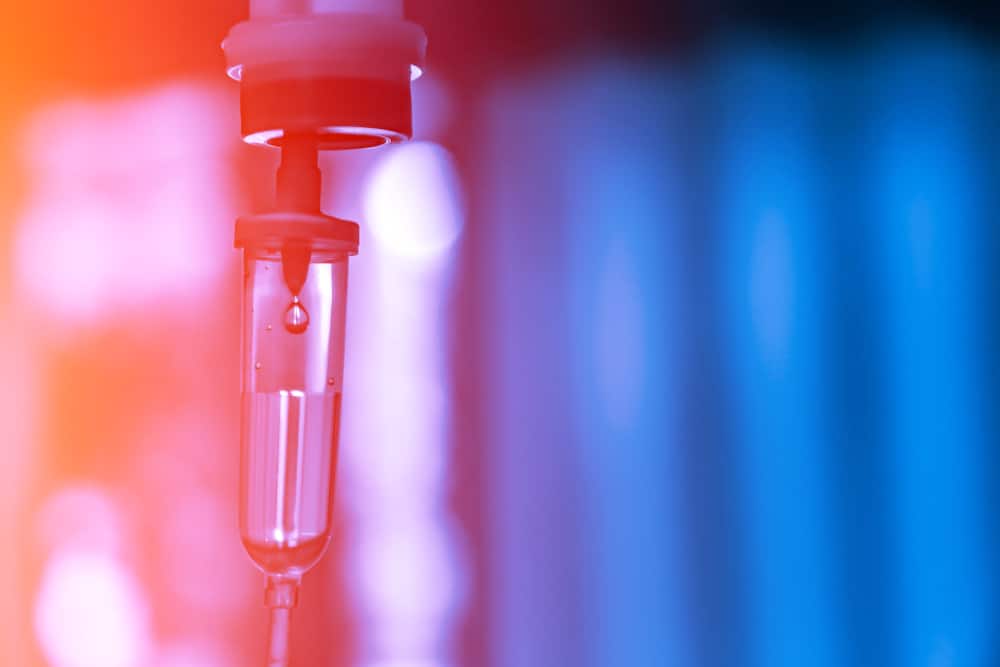 The process of IV infusion takes place for approximately 30 minutes. Immediately after the drip ends, you will have the dissociative experience for about 20 minutes. Your doctor will be present during the entire process. The dissociative experience wears off after 20 minutes.
Research shows that most patients appear to be asleep during IV infusion. They neither talk, nor move. Most doctors prefer not to interfere unless the patient specifically asks for something or asks where they are.
After ketamine treatment, patients need to undergo talk therapy. Talk therapy is an essential part of depression treatment. During talk therapy, medical practitioners equip you with the relevant skills to handle your depression. It is practical and empowering for most patients. For those with mild depression, talk therapy may be sufficient.
Possible side effects
All drugs have side effects. However, the benefits you will get from using ketamine for depression outweigh the side effects you will experience.
Here are some side effects that you may experience after ketamine infusions:
Nausea.
Vomiting.
Dissociation, i.e., out-of-body experiences.
High blood pressure.
Perceptual disturbances- you may have a hard time perceiving textures and colors. You may also have blurry vision, and time may appear to slow down or speed up.
Usually, dissociation and perception disturbances are noticeable when you get the first infusion but fade away afterward.
Long-term use of ketamine may have additional side effects. Scientists are still researching the issues surrounding ketamine abuse.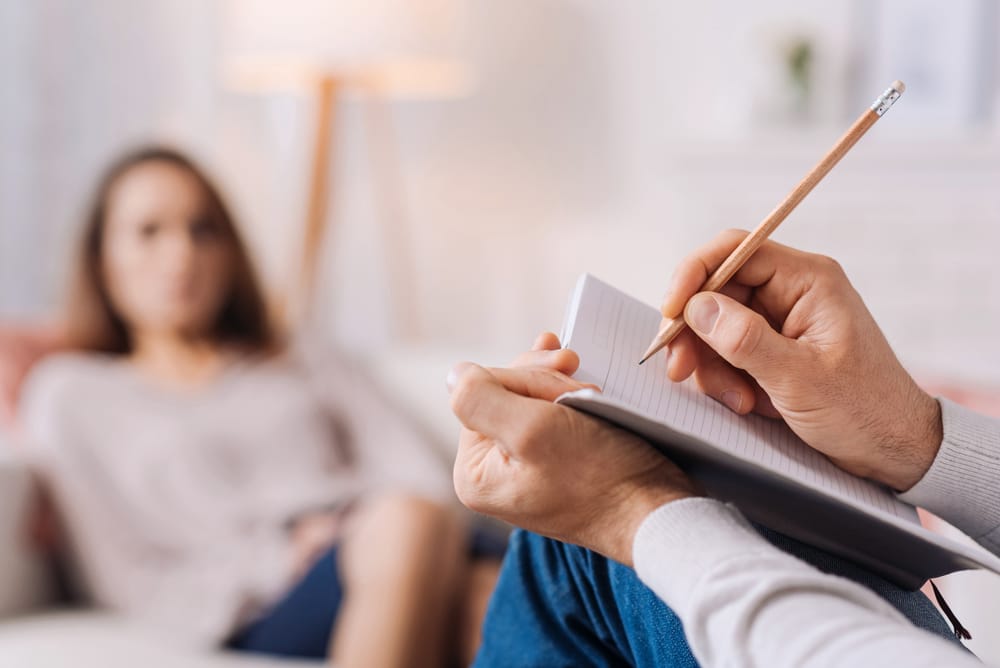 Concerns on using ketamine therapy for depression and addiction treatment
The main problem regarding ketamine therapy is addiction. Ketamine shows a lot of promise in treating mental health conditions and addiction. However, ketamine is a highly addictive narcotic, and addicts can still get high off it.
There is a possibility that patients who undergo ketamine therapy may become dependent on it. Long-term use of ketamine may have long-term effects. Patients may develop tolerance or unidentified side effects.
Another concern is the risk of cross-addiction. Cross addiction refers to instances when an addict develops a second addiction, in this case, ketamine addiction.
There is a need for more studies on ketamine treatment to realize its benefits in addiction and depression treatment.
If you are struggling with an addiction, check out treatment addiction programs that you can enroll in. You can also check our blog for resources on addiction and mental health issues.
The relationship between drugs and music goes way back in history. Several historic hymns sung by sailors glamorize drinking alcohol and other contentious activities.
Most people started paying attention to the relationship between music and drugs in the 1930s when jazz musicians based in the United States started allowing their fans to take the music they loved home with them.
Since people had ample time to listen to music, they started noticing how musicians refer to drugs in their songs. Consequently, they started having discussions on the same.
In the 1970s, U.S. President Richard Nixon launched a controversial campaign dubbed 'war on drugs' after parents raised concerns that musicians referred to every kind of illicit drug in their music and encouraged listeners to use them.
Listening to music is an enjoyable pastime for most people. You can easily access free music on various apps. Music stimulates the auditory cortex, the part of the brain responsible for music. It is known to improve one's mood, reduce anxiety, ease pain, reduce depression, and make one more alert, among several other benefits.
Different genres of music have been associated with drug and alcohol abuse. Most modern musicians, including Kottonmouth Kings, Jay-Z, Tech N9ne, and Eminem, refer to drug use in their lyrics. Since several musicians refer to drugs in different types of music, there are concerns that famous artists who have produced popular music, and other genres might contribute to the rising addiction rates.
In this article, we will discuss the music genres that have been associated with drug use over the years. Let's dive in.
Jazz
---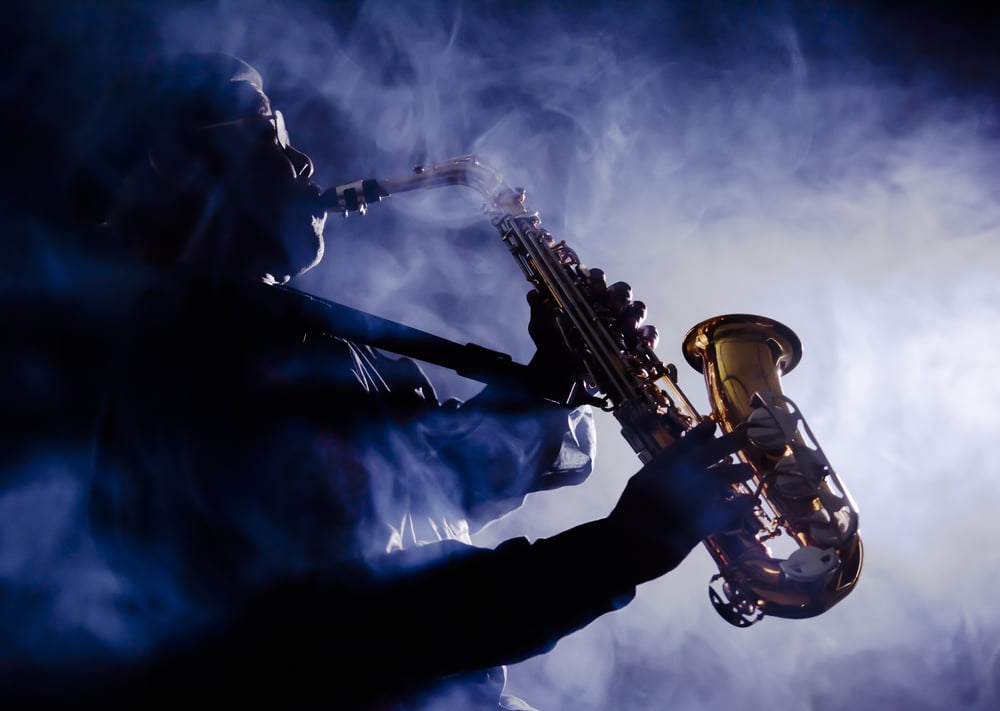 For the longest time, jazz music and jazz musicians have been linked to drug abuse. Between the 1940s and 1950s, drug abuse in the jazz community was at an ultimate high. Despite other economic and social factors that influenced it, most people in the jazz community accepted narcotic use.
At the time, jazz musicians who were addicted justified cocaine, morphine, and heroin use. They claimed that they used drugs to enhance their performance and creativity. Renowned jazz musicians like Miles Davis, Charlie Parker, and Chet Baker used narcotics right before their performances.
Drug use prematurely ended or sidetracked the careers of some talented jazz musicians. Charlie Parker's drug use is well documented. He battled heroin addiction, alcoholism, liver cirrhosis, ulcers, debt, mental illness, suicide attempts, and broken marriages throughout his adult life.
Most people blamed Parker for causing widespread heroin addiction & mental health issues among jazz musicians. Parker eventually died in 1955 due to the long-term effects of drug abuse.
Some jazz musicians like Dizzy Gillespie, Cab Calloway, and Clifford Brown avoided narcotic use despite people associating jazz with it. They tried to set a good example for others.
Rock & Roll
---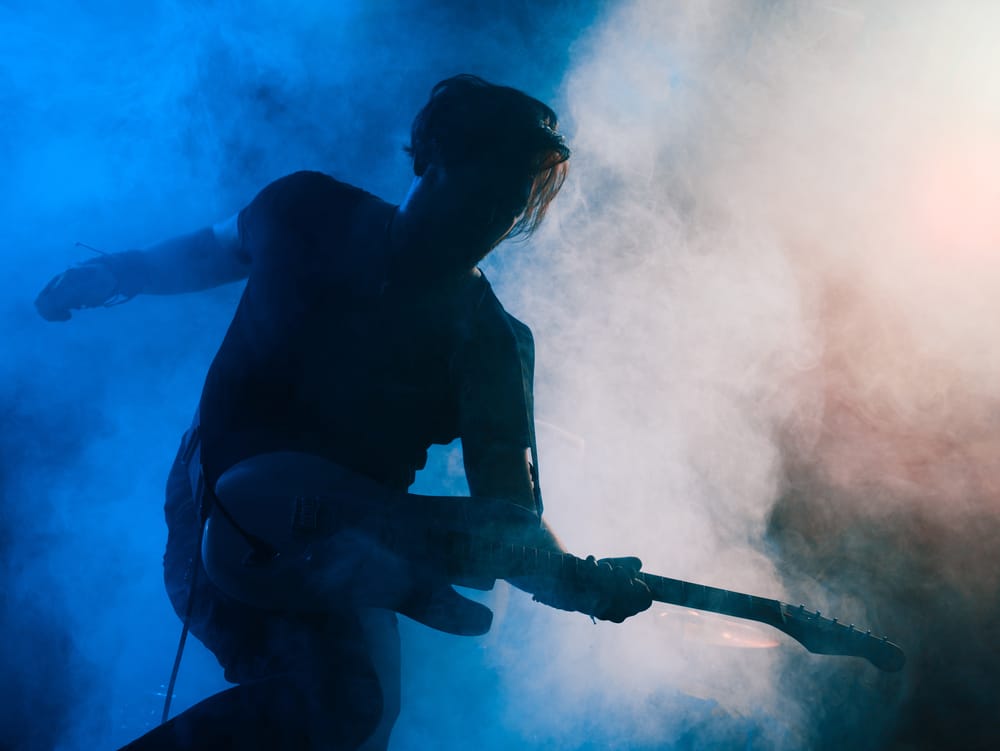 Most people tend to closely associate rock and roll music with substance abuse. Many rock n roll hits have drug references, and a few musicians have had to check into rehab to battle addiction. This trend has been ongoing for several decades.
Note that a good number of successful rock 'n' roll musicians don't live long, prosperous lives. The reason is that for many, substance abuse defines their lifestyle. They use illicit drugs while recording hits, before live performances, and during shows.
Rock 'n' roll musicians who abuse drugs claim that the drugs help them improve their performances and numb pain. Unfortunately, they have to deal with dire consequences later on.
Jimi Hendrix , a renowned guitarist in music history, also ended up having complications as a result of drug use. In 1970, Hendrix confessed that he had abused LSD, cocaine, and marijuana. On 18th September 1970, he overdosed on barbiturates and died of complications resulting from the overdose. His music career and his life were cut short.
Rap
---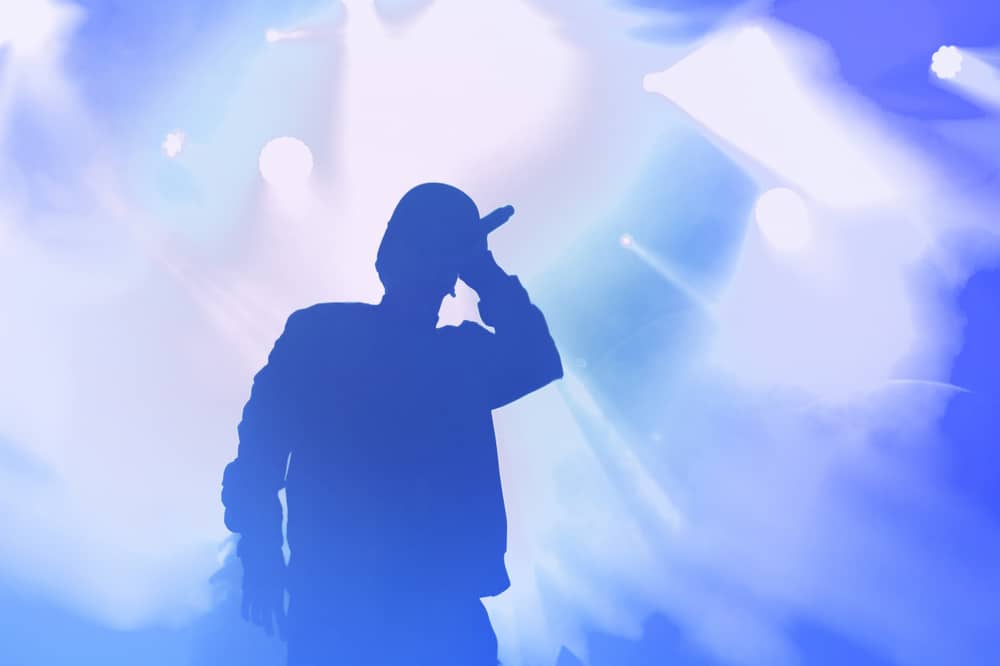 Most talented hip-hop artists grew up in low-income areas where drug use is prevalent. Therefore, it is not surprising that most of them make drug references in their music, sometimes in positive ways. A study revealed that drug references in rap music increased from 11% to 19% in two decades.
Several decades ago, most rappers only referred to alcohol and 'having a good time' in their music. However, when Schooly D joined the industry, he romanticized drug use, a criminal lifestyle, and prostituting women.
Since he was very influential, other rappers also started incorporating drug references in their lyrics. Most rappers mentioned marijuana in their music, but a few mentioned other hard drugs. Consequently, drug use quickly spread throughout the rap community.
A few musicians like Eminem and Afroman attempted to address the negative impacts of drug use on musicians' lives. Additionally, the rap community in general acknowledged the negative impact of drugs after promising rappers like Mac Miller started dying due to overdoses.
Electronic Dance Music (EDM)
---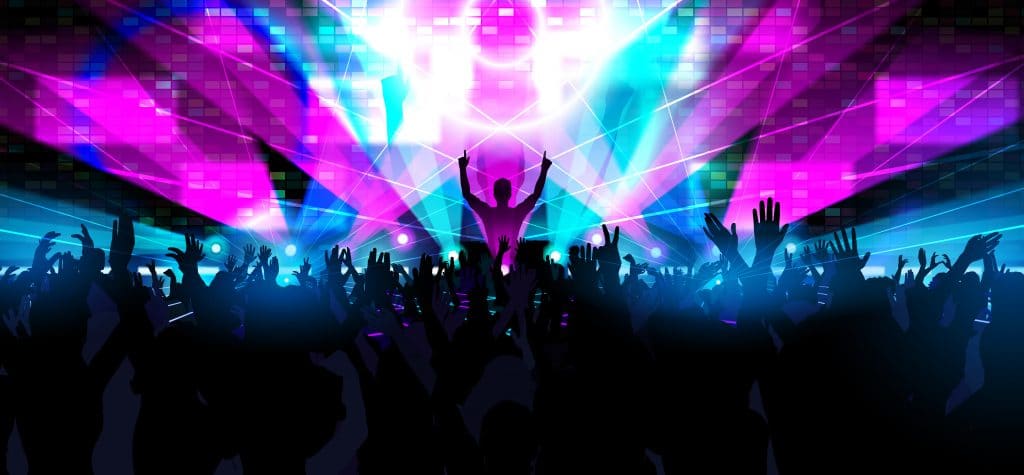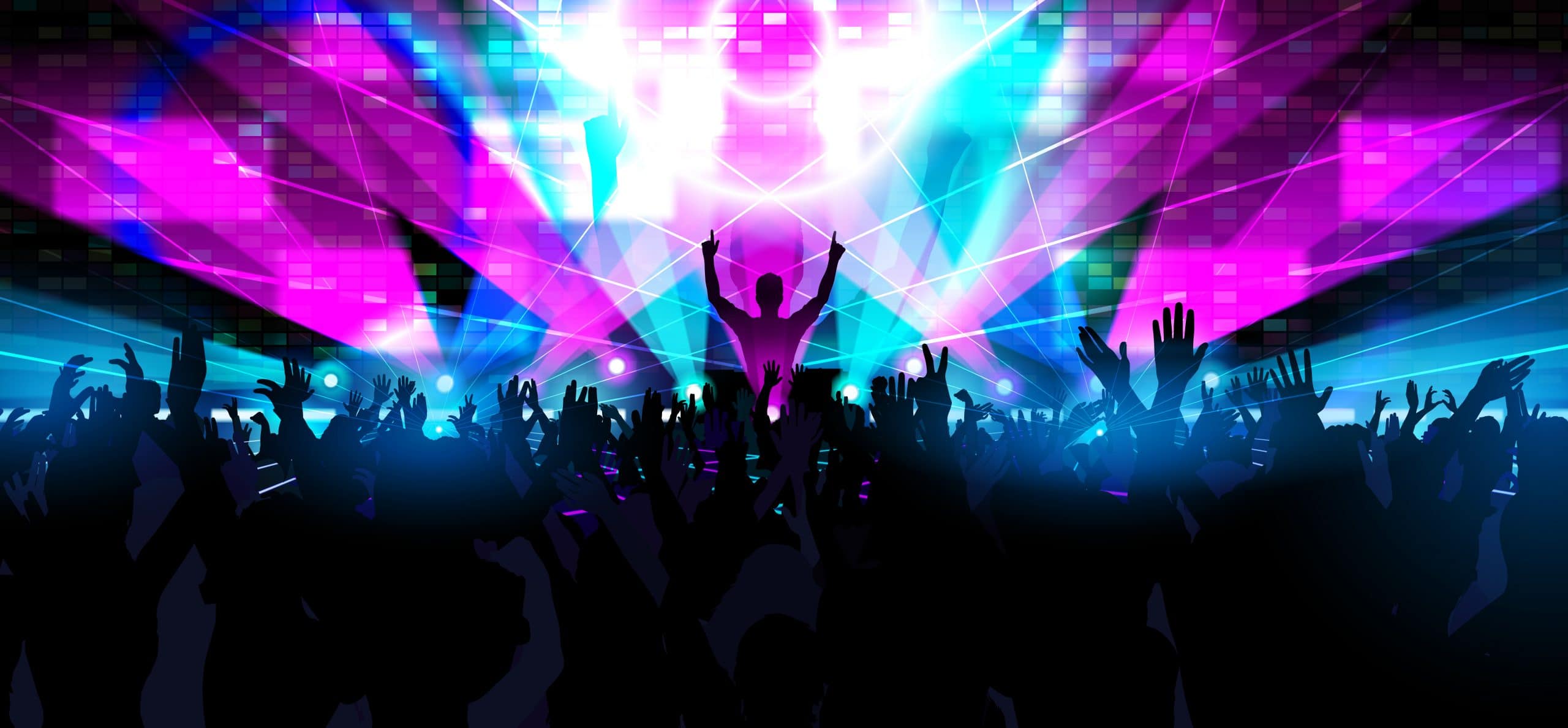 Electronic dance music gained popularity in the mid-1990s. It is a diverse music culture that attracts people from all walks of life. Most people claim that there is a spiritual aspect to EDM, hence the need to use drugs.
EDM lovers like communal dance parties, music festivals, and raves. The EDM pulsing beat, colored lights, and fans in a prolonged state of euphoria rubbing against each other typically describe what EDM concerts are like.
Ecstasy (MDMA) is the drug of choice among EDM musicians and fans. Some also use amphetamine. Both drugs complement the repetitive, fast music. Additionally, they give users feelings of pleasure through dance and movement.
Lindsay Lohan, an actress formally known for partying and her love for EDM, recently acknowledged that EDM concerts always left her feeling burned out because she used pills and cocaine.
Conclusion
In general, music allows artists to express themselves and talk about their troubles, and drug abuse seems to be one of the issues they struggle with. Lately, musicians have become vocal about issues related to drug use.
Whether or not music plays a role in encouraging drug addiction is still a controversial debate. However, there is no doubt that specific genres of music are related to drug use.
If you are struggling with an addiction you should consider seeking medical advice and treatment. Drug abuse has adverse effects and can potentially take a toll on your health. Seek help before it's too late.
A lesion refers to an abnormal change on a body tissue organ caused by an injury or disease. Lesions could be a result of using recreational drugs or some specific FDA-approved drugs.
Drug abuse affects most body organs, and unfortunately, the damage done may remain hidden for several years. For example, alcohol strains the liver, heroin damages the kidneys, and cocaine stresses the heart.
The skin is the largest body organ. Abusing alcohol or drugs for a long period can cause skin lesions. Skin lesions can either be benign (non-cancerous) or malignant (cancerous), basically skin cancer. They can manifest as sores, a variety of infections, and even rotting of the skin.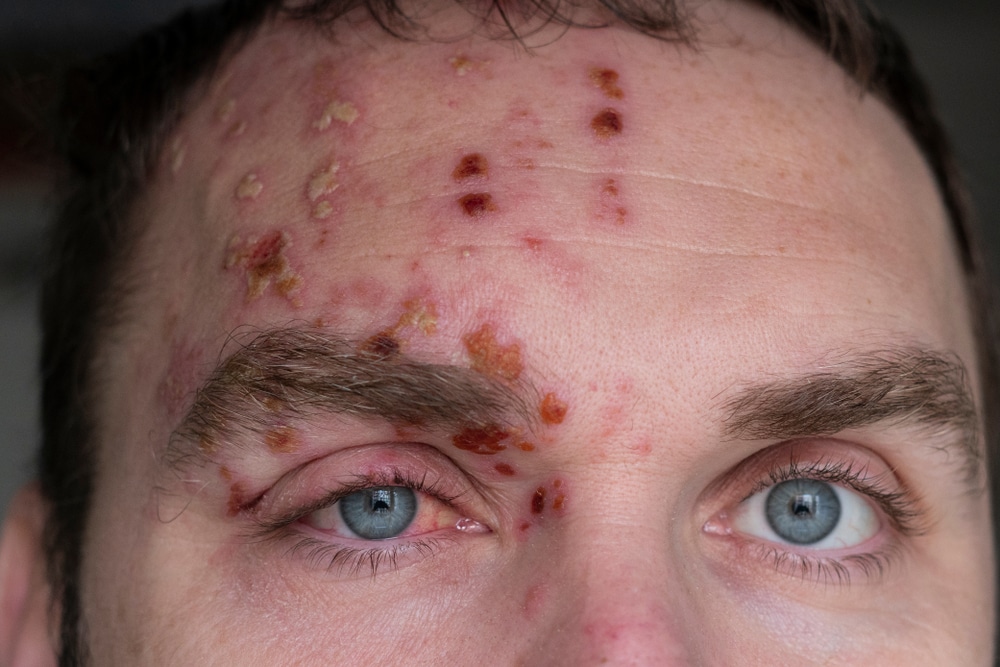 Four factors contribute to lesions. They include:
The drug itself
Method of drug delivery, e.g., drugs delivered intravenously.
Impurities that find their way into drugs while they are sold in the street. The contaminants may cause contact dermatitis where one is allergic to the impurities.
Unhealthy habits, e.g., not maintaining personal hygiene, poor diet, and lack of sleep, among others.
Here is how different addictive substances affect the skin.
Heroin
The effect of heroin on the skin is more noticeable in users who prefer injecting the drug with needles, instead of snorting or smoking. Heroin users repeatedly penetrate their skin while seeking veins. This may lead to venous sclerosis, which refers to scarring of the veins. Venous sclerosis can result in skin infections, cellulitis, and abscesses.
Users who inject themselves with heroin through skin risk contracting necrotizing skin lesions due to skin popping. Skin popping allows bacteria to penetrate the skin and also leads to tissue trauma.
Most heroin users also complain about dry, itchy skin. Additionally, some users end up having an itchy hives-like rash.
Cocaine
Cocaine can directly affect the skin, and it can also affect internal organs, which in turn cause skin damage.
Here are some effects that cocaine has on the skin:
Chronic skin ulcers
Blackening of the palms
Fibrous tissue formation in the skin
Death of skin cells (necrosis)
Pustulosis (where parts of the skin are filled with pus)
Buerger's disease causes veins to turn red and swell. This could also interfere with one's blood pressure.
You should also know that a variety of substances are used to cut cocaine. Some of the substances can cause rotting of the skin and ulcerating skin lesions. Additionally, cocaine could cause a heart attack since its users have an increased heart rate.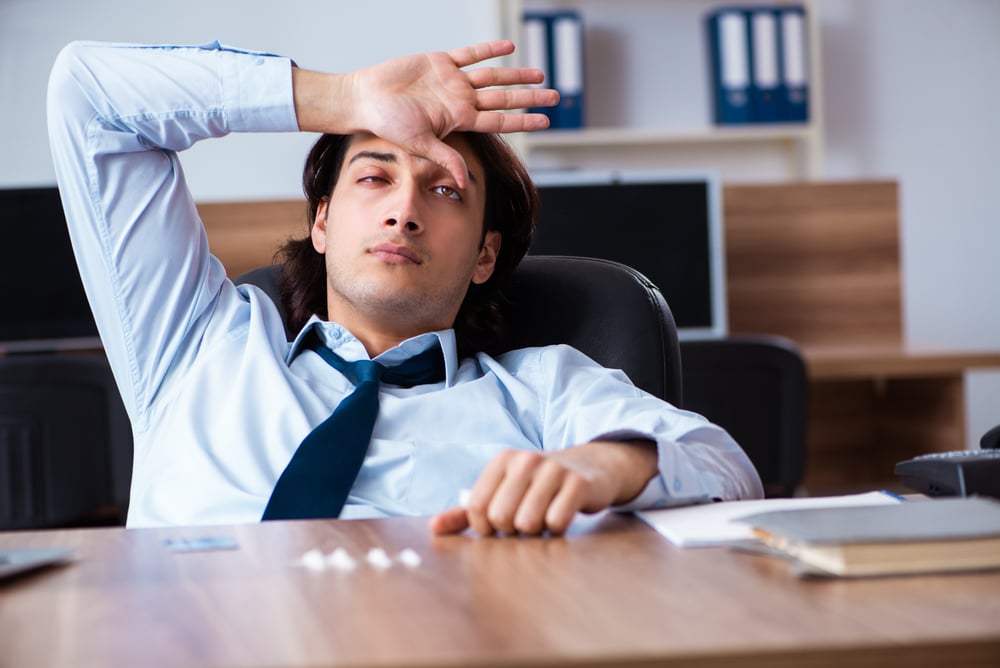 Alcohol
Most people are unaware of the fact that alcohol abuse can have noticeable effects on their skin. The most common effect of alcohol on the skin is spider angioma. Spider angioma manifests as red lacy patches on the neck, torso, hands, and face.
Alcohol abuse also causes Caput medusa, a skin condition that causes the addict's veins to swell and distend. The veins usually appear across the abdomen. Alcohol abuse also causes Porphyria Cutanea Tarda (PCT), a condition that causes scars on areas of the skin one exposes to the sun. Most people battling alcohol addiction have scars on their faces, hands, and feet.
Dermatologists also associate several dermatological conditions with alcohol abuse, including seborrheic dermatitis, rosacea, and eczema.
Methamphetamine
Most people who abuse methamphetamine (meth) end up having skin sores because they constantly pick their skin. Meth users pick at their skin because they, on several occasions, get the sensation of insects crawling even when they are not there. As a result, they easily develop sores. Some meth users also end up having dry skin.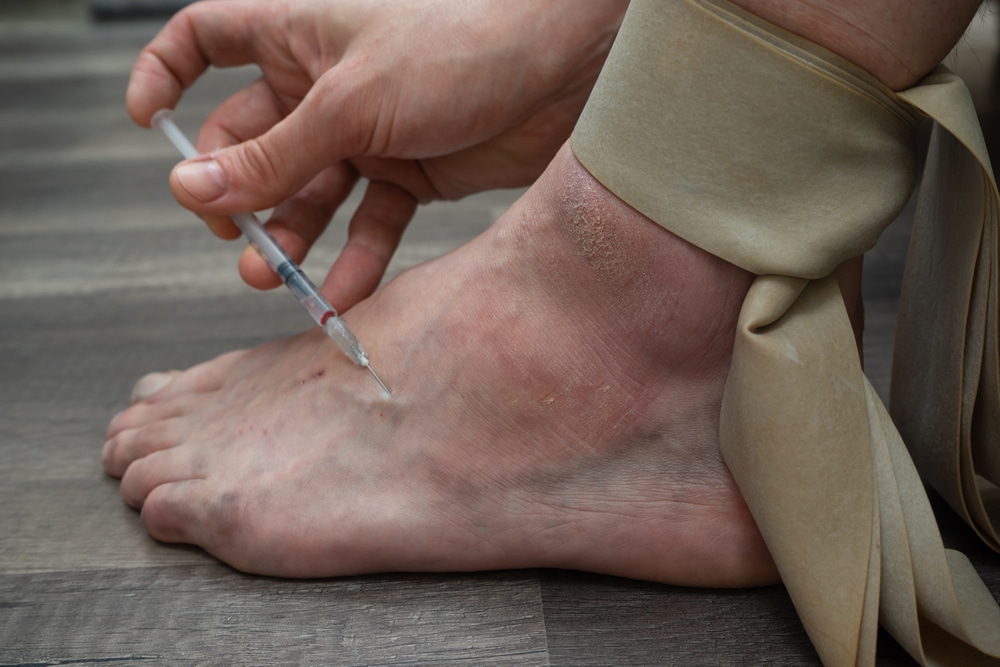 Meth users who inject themselves with the drug are also at risk of contracting skin infections. Research has shown that 11% of drug users that use injections report skin infections every few months.
Marijuana
Research has shown that marijuana can negatively affect your skin. The smoke from marijuana contains hydrocarbons. When the hydrocarbons come into contact with your skin, they interfere with your skin's collagen production.
Note that collagen protects your skin against inflammation and air pollution. If your skin does not produce enough collagen, your skin will age prematurely and become wrinkled since it loses its elasticity. Cannabis-induced arteritis, which is a direct result of marijuana use, also has effects on the skin.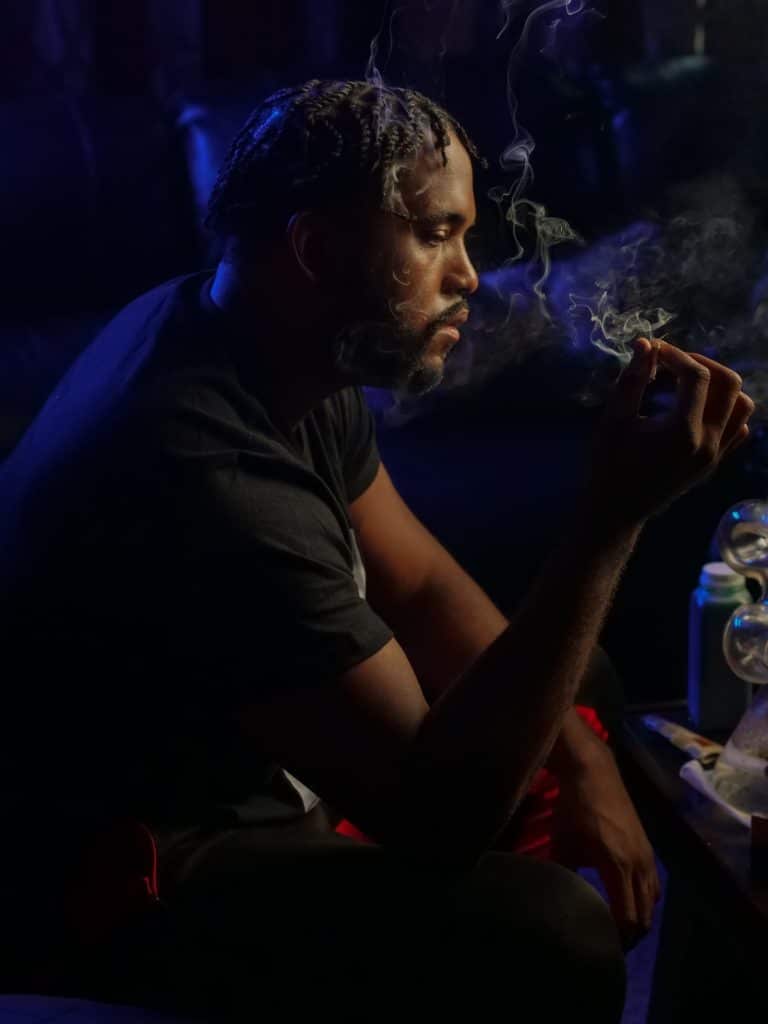 Desomorphine
The street name of desomorphine is "krokodil" because it turns the skin green and scaly. Eventually, the skin sloughs off.
Krokodil is a cheap form of heroin. It has been dubbed the deadliest drug globally because it rots the skin from the inside out. Consequently, it causes abscesses and gangrene.
How to deal with side effects of drugs and skin lesions
If you want to minimize the impact of drug abuse on your skin, the first thing you need to do is stop abusing drugs. Note that the more you abuse drugs, the more adverse effects they will have on your skin. Most people with addictions end up having very unhealthy skin.
If you are struggling with an addiction or substance use disorder, you should consider seeking medical advice, diagnosis, or treatment to beat the addiction. There are several treatment approaches to consider, so you should choose one that suits you best. If you have a supportive family, your family members will support you throughout your recovery journey, especially when dealing with withdrawal symptoms.
You may also have to undergo behavioral therapies to deal with unhealthy behaviors that destruct your skin or body organs in general.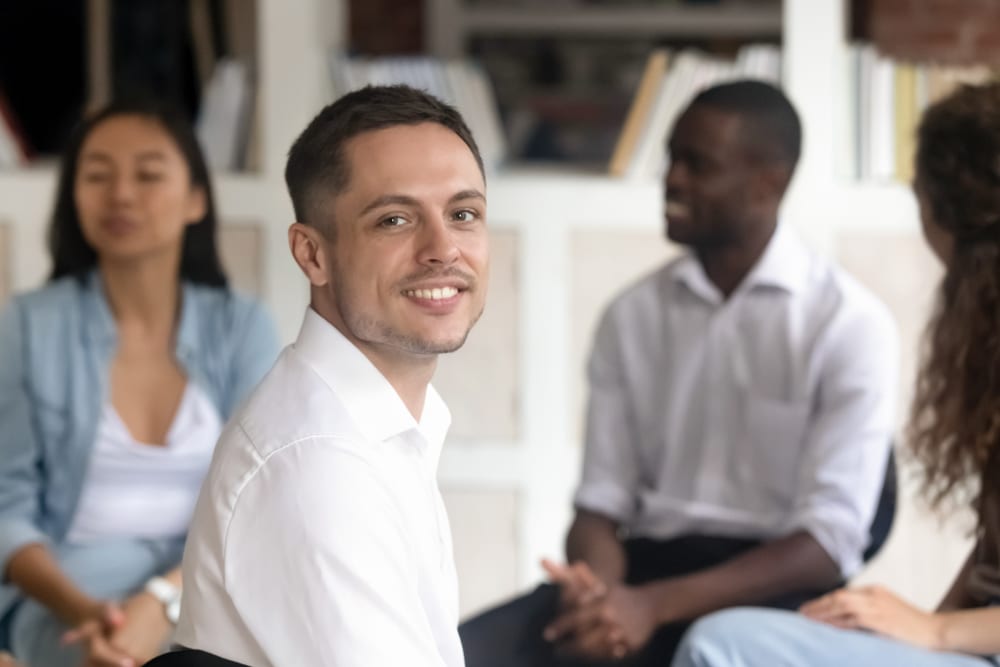 Various drugs affect the skin differently. However, once you deal with your drug use and addiction, some effects will fade naturally. If you want to speed up the process, you can consult a dermatologist. The dermatologist will prescribe medications and, in some cases, ask you to follow a consistent skincare regimen.
If you are in the United States and need drug information, especially when it comes to drug addiction, you can contact the American Society of Addiction Medicine or the National Institute on Drug Abuse for more information.
Conclusion
If you want to maintain healthy skin, do not abuse drugs. You should specifically stay away from drugs that contain fillers or compounds as they tend to have adverse effects on the skin. In addition, moisturize, wear sunscreen, and maintain good hygiene to keep your skin healthy.
Misuse of prescription drugs is a serious health issue in the US. A 2017 report by the National Survey on Drug Use and Health shows that 18 million people misused prescribed medications at least once in 2016. Most of these people assume that pain drugs are safer than illicit substances because they are prescribed medically. But they have become a "gateway drug" for many Americans.
When these drugs are taken in ways not intended by the doctor or taken by someone who's not the patient, they can lead to severe health issues. Studies show that misuse of opioid pain relievers has opened the door to heroin use. Mental health is important, and mental illness can further drive drug use through something known as dual diagnosis.
A brief look into prescription opioids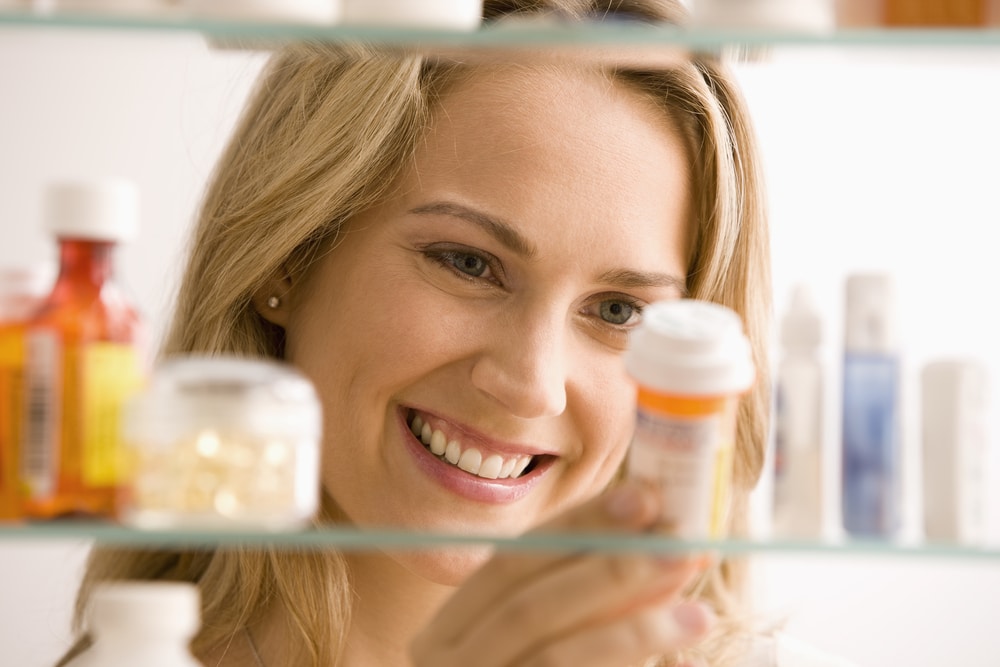 Prescription opioids contain chemicals that relax the body and relieve pain. They are an essential component of treatment that, when used correctly, can enhance the quality of life and provide pain relief. But since opioids make people feel very relaxed and high, they're sometimes used for non-medical reasons. This poses a serious risk of addiction. Opioids are highly addictive, and their misuse often leads to opioid use disorders, drug overdoses, and death. Common examples of prescription opioids include:
· Oxycodone (Percocet®, OxyContin®)
· Hydrocodone (Vicodin®)
· Oxymorphone (Opana®)
· Fentanyl
· Morphine (Avinza®, Kadian®,)
· Codeine
How people misuse prescription opioids
Opioid medications are effective for pain management. They are generally safe when used for a short time and according to the doctor's prescription. Opioid misuse happens when a person:
Takes medicine in a way or dose other than prescribed
Takes medicine for its "high" effect
Takes another person's prescription medicine
Prescription opioids and addiction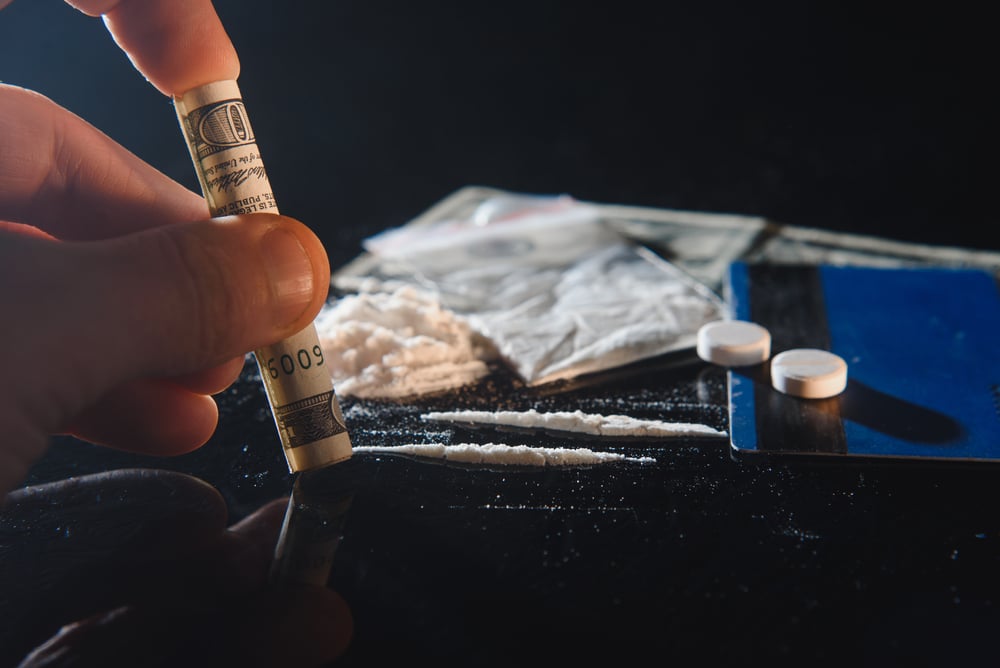 Humans have opiate receptors in the brain that are responsible for feelings of pleasure and pain. Opioids work by binding to these opiate receptors in the spinal cord, brain, and other locations in the body. They mimic the effect of pain-relieving chemicals that are produced naturally and block the pain perception.
Repeated use increases tolerance. So one may need to take higher doses to achieve the same pain-relieving effects or reduce withdrawal symptoms. At this stage, someone becomes opioid-dependent and may develop drug-seeking behaviors to sustain their need for use. Others may turn to non-prescription alternatives like heroin, because it's cheap, easy to access, and has a similar chemical composition as synthetic opioids.
How Prescriptions became the ultimate gateway drugs
Public perception of prescriptions as "safe"
Most sober people won't use hard drugs like heroin, meth, and cocaine because of the perceived danger. They tend to keep away because they are aware of the drugs' potency and danger. On the other hand, pain-relieving opioids create a different perception. Most people see them as safe because they are prescribed at the hospital.
On their own, prescription drugs might not pose a threat. But when combined with some risk factors like mental health or misuse problems, prescription drugs may indeed be dangerous. In fact, they may serve as a doorway to other more powerful and highly addictive substances – like cocaine and heroin. People who are struggling with addiction or mental health issues are less likely to have inhibitions about using cocaine or meth.
Prescription opioids and heroin
Heroin has a similar chemical composition as prescription opioids. It is also cheaper and highly accessible as compared to prescription opioids. This makes it an appealing alternative for people who are addicted to opioid drugs. According to the National Institute on Drug Abuse, about 4 to 6 percent of those who misuse prescribed opioids switch to heroin.
The most current data shows 33% of those entering treatment for opioid use disorder reported heroin as the first opioid they used frequently to get high. A study in the Chicago metropolitan area identified prescription opioid abuse as a path to heroin addiction.
Cost and availability
As with any other addiction, patients with opioid dependence will always try to find more drugs to stay high. Current state laws and regulations limit opioid prescription. This makes it hard for these addicted patients to access prescription drugs so most of them turn to the streets to buy opioids and other drugs.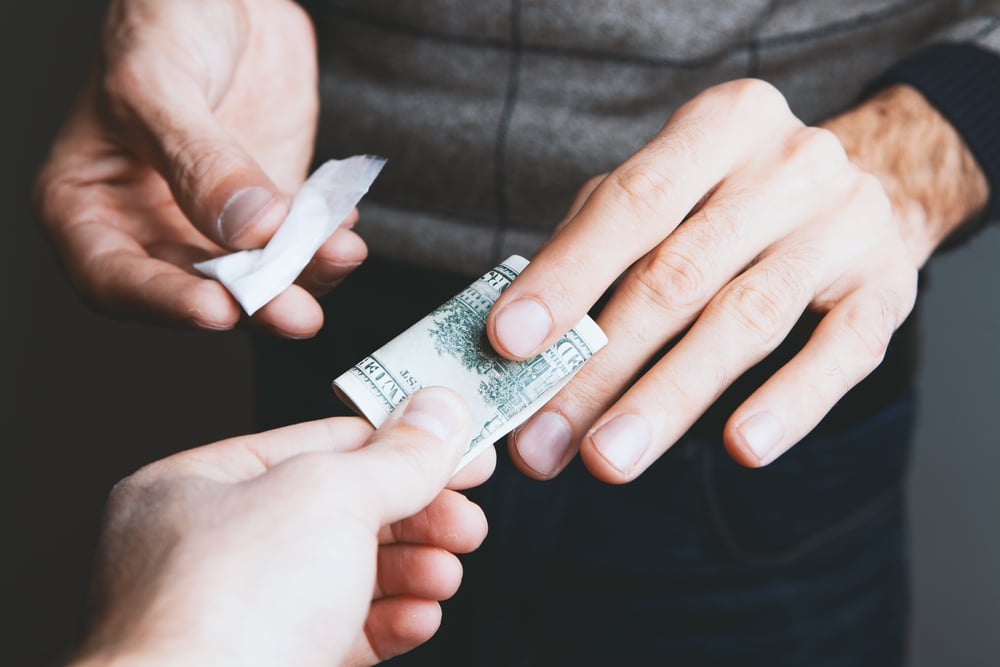 When they reach this point, they become determined to At this point, high and/or reducing the withdrawal symptoms. They only focus on what's available and what they can pay for. Unfortunely, they ignore the impurities in the pills or resulting side effects.
Prescription drugs and sharing
While opioid overdose deaths are prevalent these days, a new study analyzed the role people sharing their pain medications with others may play in driving this drug epidemic. Of the 1,200 Americans in the study, 75% said they believed selling or sharing unused prescriptions fueled the nation's addiction epidemic. 10% admitted that they had given or offered their medications to friends or family members for recreational or medical use.
When people (other than the patient) misuse prescription drugs for recreation or other reasons, they may develop an addiction that pushes them to get more drugs. Unfortunately, many of these people end up abusing other drugs to get high or offset the withdrawal symptoms. This puts them at risk of drug overdose and even death. According to the National Institute on Drug Abuse, drug overdose deaths involving prescription opioids rose from 3,442 to 17,029 between 1999 and 2017.
Are prescription drugs the ultimate gateway to drugs?
The short answer is yes. Drug abuse is a spectrum. It can start with prescription drug misuse or outright drug experimentation and end up in a full-blown addiction to the same or other drugs. People who knowingly or unknowingly misuse prescription drugs may feel the need to sustain their high.
When they can longer get a prescription from the hospital, they will branch out to find readily available drugs that will "quench their thirst." The same applies to those who use prescription medication for recreational or experimentation reasons.
Substance abuse disorder is a complicated problem. But the good news is that programs exist to help people stop abusing prescription and illicit drugs and regain control of their lives. No matter how severe the situation is, health care experts in addiction treatment centers can offer the much-needed help.
Heroin addiction is a global problem. According to the World Health Organization, 58 million people around the world used opioids in 2018. In the same year, 46,802 opioid-involved overdose deaths occurred in the US. This was followed by a significant rise in 2019 to 49,860 overdose deaths.
The problem with the opioid drug is that it is highly addictive. Even those who take prescription opioids have an increased risk of developing an addiction. And when they develop an addiction, a good number of them turn to heroin because it is cheaper and easier to access. Heroin is typically sold as a white or brown powder that's cut with starch sugars, synthetic opioids, or even powdered milk.
Pure heroin is a white powder. People who use pure heroin often sniff or smoke it. Any dark powder or black powder may indicate impurities. The same applies to heroin that's hard as coal or sticky as tar. The dark color in black tar heroin results from crude process methods that don't eliminate impurities. Those who use impure heroin dilute and inject it into the muscle, veins, or under the skin with an intravenous needle. This leaves behind track marks that can visually give away their drug use problem.
What are track marks?
These are physical scarring that happen when one injects drugs repetitively. It's common to spot profound track marks on people who are struggling with addiction because they are often injecting drugs, leading to scarring. Injecting the same place repeatedly disrupts the skin's natural barriers and mutilates and bruises the veins in that area. So many drug users shift to other places like the ventrogluteal muscle to try to prevent or hide scarring. This makes it hard to discover their using habits.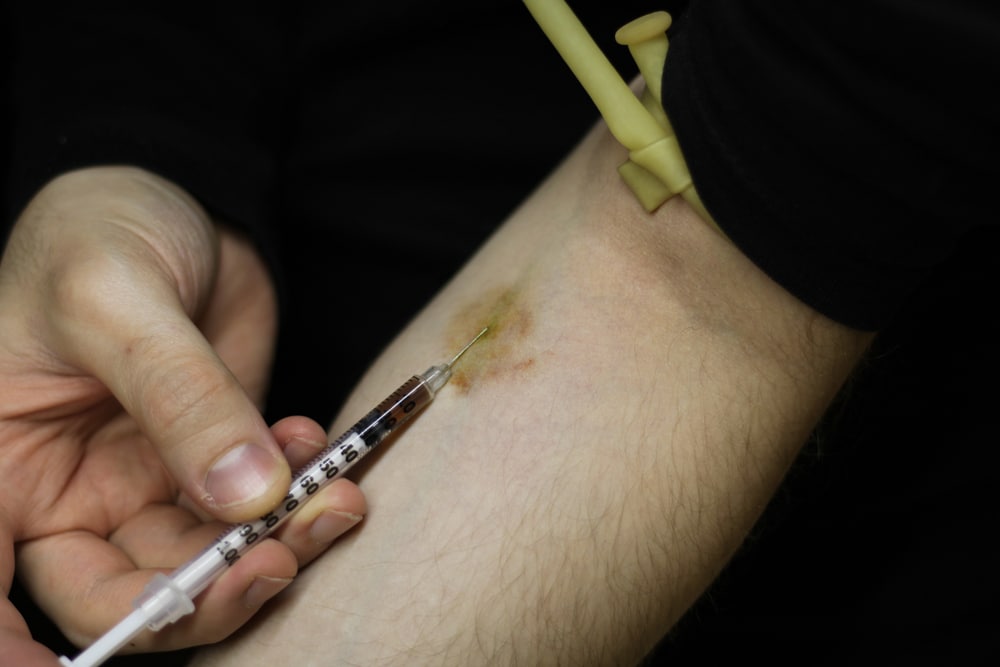 Injecting drugs
Many people who abuse heroin inject through the arms. In fact, it is the most common site of injection. That's because the veins are visible, accessible, and easy to inject into. Unskilled or frequent injections in the arms leave track marks and may also cause infections. Heroin users will frequently switch injection sites to keep track marks and complications to a minimum. When they do, the legs and feet are often the next stop. Intramuscular injection is a bit challenging for many. So some users skip the leg and go for the feet because the veins are somewhat easy to inject into.
Where do addicts hide their track marks?
When someone keeps injecting drugs, they will develop scars, sores, or track marks that are easy to spot. That's why many injecting drug users become adept at concealing these marks. They will wear large clothes, long-sleeved shirts, sweaters, and things that cover the marks. But since hiding track marks in the arm isn't always practical, many people will shift to hidden body parts that are harder to be seen.
Let's explore the top 5 places addicts hide their track marks.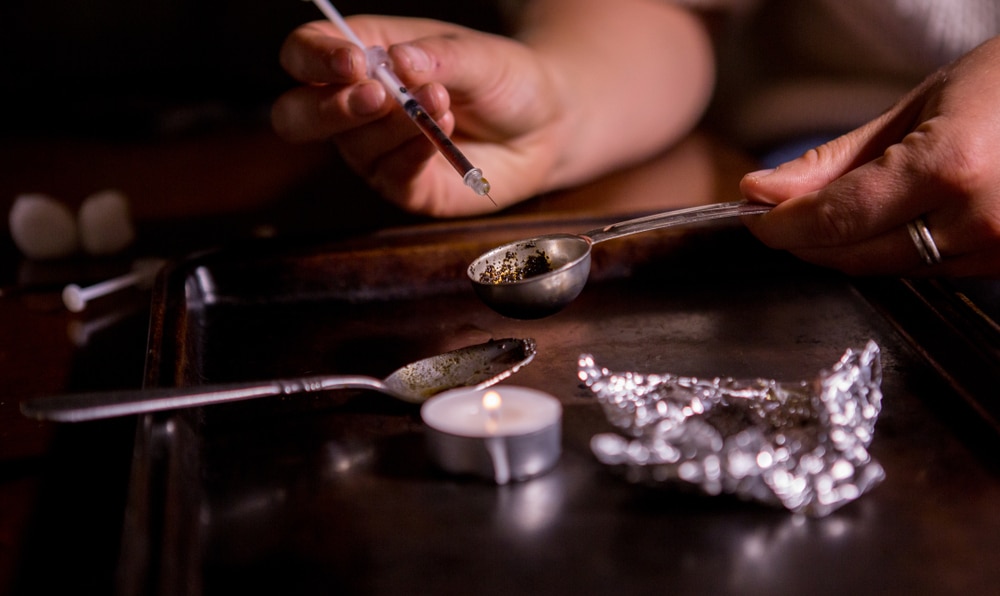 Neck
People who inject drugs are usually only concerned about getting the drugs into their system. As long as they can see a vein, they are good to go. Like arms and hands, the neck has veins and arteries that are close to the surface, making it an appealing option. But according to experts at the department of health, injecting in the neck is one of the riskiest drug-injecting behaviors. It increases the risk of damaging an artery or vein not directly visible at the injecting site. But since the neck is usually visible, most drug users will wear pull-necks, hoodies, or use shawls and scarves to cover up the track marks.
Hairline
People struggling with heroin addiction may inject the drug along their hairline to conceal their using behavior. The hair does a great job covering the track marks and makes it hard for anyone to notice. Besides, it's not easy for anyone to check the hairline in case they suspect use. Most people only check the arms. Injecting drugs along the hairline is a dangerous undertaking with potentially life-threatening side effects. In addition to track marks, subcutaneous injections carry the risk of infections. One may also suffer from issues like receding hairline or hair loss.
Wrist
The wrist is closest to the arm, making it an obvious site for many people who use drugs. Track marks on the wrist are easier to hide. Besides wearing long-sleeved shirts and sweaters, one could cover the marks with a big bangle, watch, band, or cloth. And since these are everyday accessories, it can be hard for people to suspect drug use.
Armpit
Armpits are naturally hidden, which makes them a great spot for hiding track marks. People who inject in armpits will almost always wear t-shirts or clothes that conceal track marks, even when they stretch. Unless there's paraphernalia or other signs that give them away, they might go on using for a long time, completely undetected by their friends and family.
Toes
Veins in the legs and feet are common injection sites, especially when those in the arms and hand collapse or get damaged. Those who want to hide their track marks will avoid the legs and feet. Instead, they will inject theirtoes. This way, no one would notice even when they don't have pants or socks on. Track marks between the toes are hard to spot, thanks to the location of the toes. But they are even harder to notice because those who inject their toes are determined to hide them. They will wear socks, shoes, or even wrap the toes with a Band-Aid. They may also cover their legs with a blanket or throw whenever they're relaxing at home.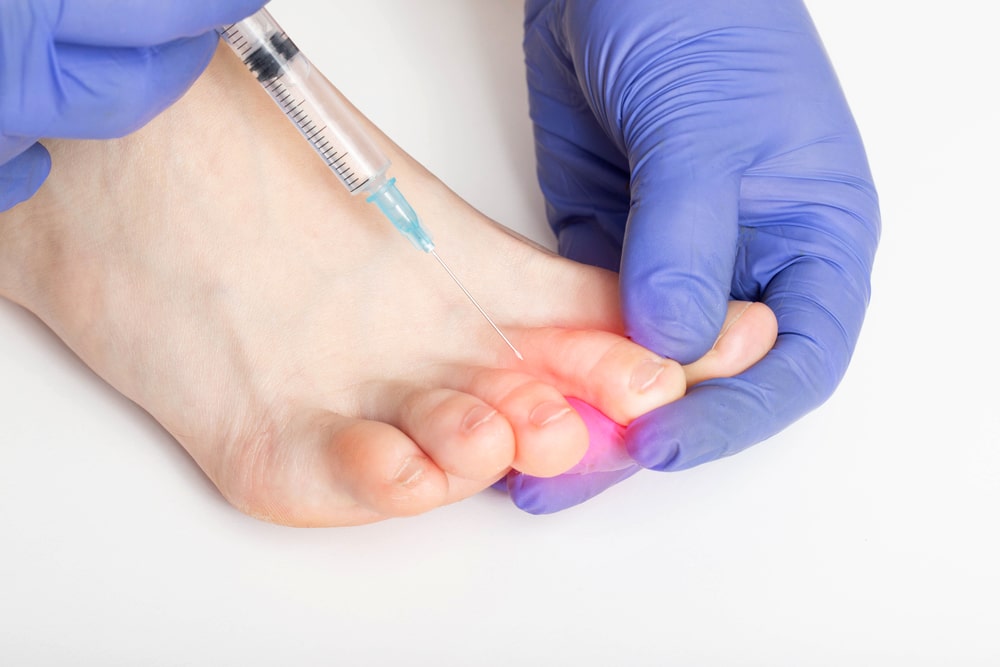 How to identify track marks
Heroin is not only highly addictive but also potentially life-threatening. With the rising cases of heroin overdose deaths, it's always best to help your loved one get timely help. Remember, drug use is not a sign of weak morals. Many people who abuse drugs have underlying problems. According to the Substance Abuse and Mental Health Services Administration, substance abuse and mental health issues often co-occur. Addiction treatment can help address the underlying problems so that your loved one can go back to leading a healthy life.
A well-crafted, relatable and unique story is eye-opening. It taps into our emotions and moves us in ways we never thought possible. Whether its joy, motivation, sadness, or an outright scare, a good story can shift the way we perceive or do things.
Movies are great sources of such stories. Those that feature drugs, substance abuse, and addiction, for instance, may tell stories through the eyes of an addict (or the people in their lives). Watching such movies play out can build your understanding of the nature of dependency and the beauty of recovery. It may also help you feel less alone – and hopefully, work towards changing your life.
In this article, we will highlight the must-see box office movies around drugs and addiction. Most of these films feature stuff that happen in real life. So they're a true story and a depiction of how substance abuse can send you in a downward spiral. We hope that these movies will serve as an eye-opener and potentially help you deviate from using drugs or alcohol.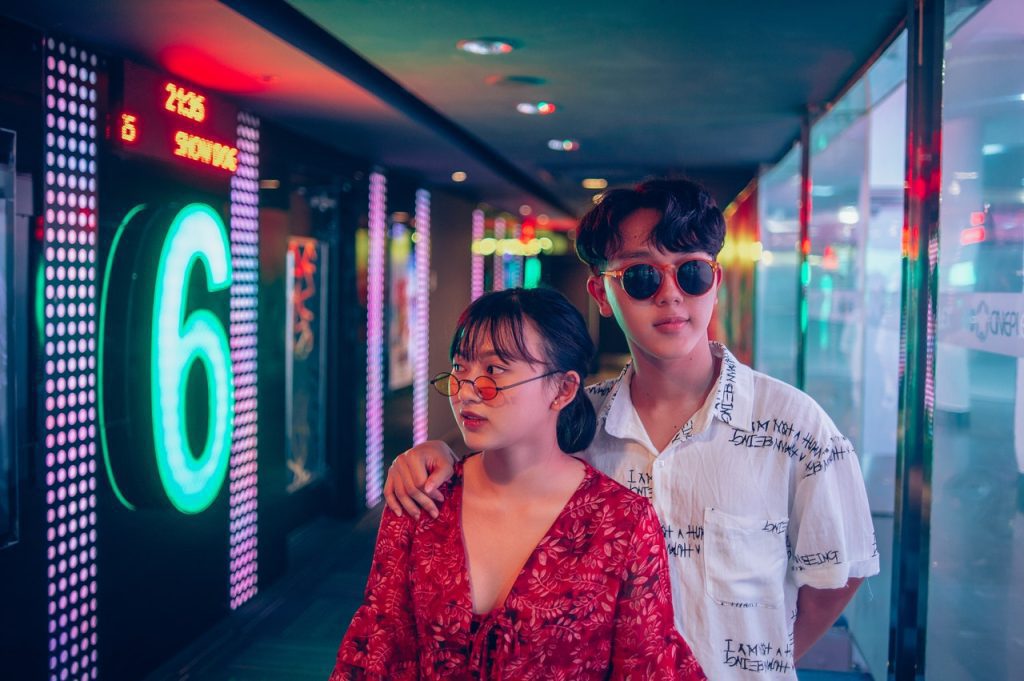 From Trainspotting to Less Than Zero, here is a list of critically acclaimed drug addiction movies that will scare you straight from drugs:
Trainspotting
Starring: Ewan McGregor, Ewen Bremner, Jonny Lee Miller, Kevin McKidd, Robert Carlyle, Kelly Macdonald
Directed by: Danny Boyle
Based on: Irvine Welsh's novel Trainspotting
Released: 1996
Trainspotting is a brutal – often funny, other times bone-chilling – depiction of drug addiction in Edinburgh. It's not your average movie and definitely not for the faint of heart, but an entertaining and realistic reminder of the horrors of substance abuse.
The film revolves around Renton's struggle with heroin addiction and how it influences his actions. It raises interesting questions about drug addiction, its causes, and what it means to lead a clean life. From time to time, Renton ruminates on junkies' mindsets and their drive for the next hit. He commits various crimes and harms those around him because of the addiction. But the movie also shows images that help viewers understand the forces behind his actions. It will leave you sympathizing with him despite his wrongdoings.
Make no mistake. Trainspotting doesn't glamorize drug use. It mostly shows how deep addicts will sink and the harsh living conditions they'll endure as long as they continue to abuse substances. It also shows how addiction affects the people around them. One particularly memorable scene is when Ewan McGregor's character goes through heroin withdrawal symptoms. But more terrible than beds and toilets full of feces is the death of baby Dawn. Dawn dies from neglect as her mother is lost in a heroin-induced stupor.
Requiem for a Dream
Starring: Ellen Burstyn, Jared Leto, Jennifer Connelly, and Marlon Wayans
Directed by: Darren Aronofsky
Based on: Hubert Selby Jr.'s Requiem for a Dream
Released: 2000
We cannot talk about movies that will scare you straight from drugs and not mention Requiem for a Dream. It is one of the most popular yet depressing drug films that you'll ever watch. Requiem for a Dream follows four characters whose lives are gradually destroyed by their various addictions and the emotional void they're trying to fill. The film parallels the lives of a lonely, widowed Sara, her sweet aimless son, Harry, his girlfriend, Marion, and his drug dealer friend Tyrone.
Protagonist Harry is your typical heroin junkie who's trying to get off drugs with the help of cocaine-crazed Marion and Tyrone. Meanwhile, his mother, who learns that she'll appear on a TV game show, desperately wants to lose weight so she can fit into her prized red dress. She eventually ends up hooked on diet pills.
Requiem for a Dream involves amphetamine and heroin use and escalates into electroconvulsive treatment, sexual humiliation, incarnation, and amputation. It ends with these characters in a sad state that will make you never want to do drugs again.
Traffic
Starring: Don Cheadle, Benicio Del Toro, Michael Douglas, Luis Guzmán, Dennis Quaid, and Catherine Zeta-Jones
Directed by: Steven Soderbergh
Based on: Simon Moore's Traffik
Released: 2000
Traffic glosses over the ravages of drug use, the pain of withdrawal, and the long journey that awaits those who seek addiction treatment. It also looks at the United States' war on drugs through a series of interconnected stories.
The film depicts the war on drugs as seen through the eyes of four characters. A conservative judge appointed by the president to spearhead the war on drugs but later learns that his teenage daughter is addicted to cocaine. A jailed drug baron's wife tries to save her wealthy husband's drug business. And Two DEA agents trying to protect an informant. The film shows cooperation between US and Mexican authorities and compromised because of corruption and betrayal.
One of the most touching scenes comes from a character who notes that 100,000 white people drive through black neighborhoods searching for drugs at any given time in the US. He also points out that a dealer who makes about $200 in two hours is not motivated to find employment.
Then there's the judge's daughter, Caroline, who tries crack cocaine for the first time at a party and gets hooked. She quickly falls through the family's and society's safety net. Traffic is a scary story that gives a clear glimpse into the world of drugs, the drug trade, and how the laws are sidestepped.
Everything Must Go
Starring: Will Ferrell, Rebecca Hall, and Michael Peña
Directed by: Dan Rush
Based on: Irvine Welsh's novel Trainspotting
Released: 2010
Based on: Raymond Carver's short story, Why Don't We Dance?
Our list of movies that will scare you straight from drugs cannot be complete without Everything Must Go. In the film, the longtime salesman Nick Halsey is no longer at the top of his game. He's an alcoholic who ends up jobless after showing up drunk to work too many times. Coincidentally, he also loses his wife, money, and home on the same day.
Stunned by the severity of his situation, he decides to hosts a massive yard sale that becomes his unique survival strategy. None of his neighbors are willing to help, save for Kenny and Samantha. With his drinking habits, Nick brings Samantha down with a judgmental attack, causing her to flee. He tries his luck with a high school friend, Delilah, but the old magic isn't there. With everything falling apart, Nick must re-evaluate his ways.
Despite being an American black comedy-drama, Everything Must Go is a serious and sobering film about a man (Nick) slipping over the brink of life. He's the type of alcoholics who break your heart. Those that mean to do well, but alcohol gets in the way.
Less Than Zero
Starring: Andrew McCarthy, Jami Gertz, and Robert Downey Jr.
Directed by: Marek Kanievska
Based on: Brett Easton Ellis's novel Less Than Zero
Released: 1987
The satirical horror of Less Than Zero is what gives this story its seductive force. Its premise is simple. Clay, a college freshman, returns home to LA for the winter break. His ex-girlfriend, flourishing model Blair has started to abuse cocaine. But she isn't as hooked as her new boyfriend, Julian, who is also Clay's childhood friend. Clay tries to help Blair and Julian, but Rip, a callous dealer, wouldn't let him because Julian owes him.
The movie follows the life of spoiled, wealthy young Los Angeles high school graduates. Julian is in debt to Rip and is forced to pay what he owes with sexual favors. Clay tries to help, but the problem is it's impossible to rescue someone who's hooked on drugs. You can plead with them to no avail and lecture them to no point. Blair is evidently out of control and headed for the bottom.
We hope you enjoyed our list of 5 movies that will scare you straight from drugs. While many Hollywood films glamorize drug abuse, these definitely show the darker side of addiction and substance abuse.