MDMA, also known as ecstasy or Molly, is a synthetic drug that can produce feelings of increased energy, euphoria, and pleasure. It is often used recreationally, at clubs or parties. However, some may be curious whether it is possible to become addicted to ecstasy, or MDMA. The short answer is yes, it is possible to develop a dependence on MDMA. However, addiction is more likely to occur when the drug is used frequently or in high doses. Besides addiction, high doses of MDMA can cause hyperthermia, dehydration, and heart failure. It can also aggravate pre-existing mental health conditions such as anxiety and depression.
Understanding MDMA (Ecstasy or Molly)
MDMA, or 3,4-methylenedioxymethamphetamine, is a psychoactive drug with both stimulant and hallucinogenic properties. It is classified as a Schedule I Controlled Substance in the United States, meaning that it has a high potential for abuse and is not currently accepted for medical use.
When people refer to either Molly or ecstasy, they're referring to the same chemical: MDMA. MDMA by itself is a white or off-white crystal or powder. Molly is the street name for pure MDMA, while ecstasy refers to MDMA that has been cut with other substances. Ecstasy and Molly can come in pill form, but Molly is most often sold in powder form.
MDMA, in its pure form, is difficult to come by. Dealers often cut MDMA with other drugs like amphetamines, cocaine, ketamine, caffeine, synthetic cathinones, LSD, rat poison, and heroin to strengthen its effects and increase profit margins. Cutting MDMA with these illicit drugs increases the risk of adverse effects and overdose deaths.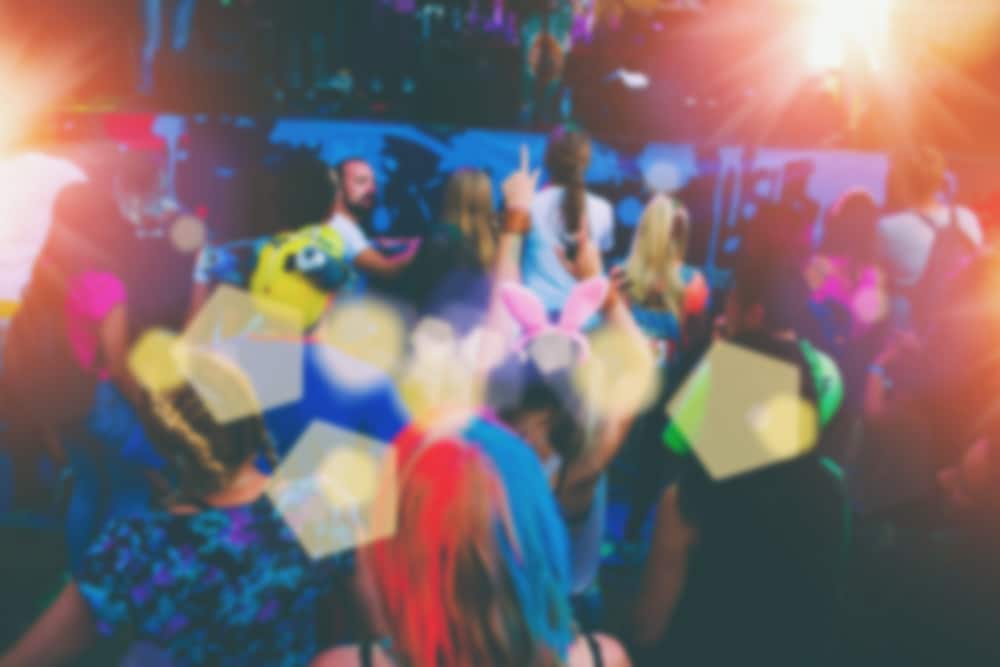 MDMA is primarily used as a party drug due to its ability to induce euphoria, increased emotionality, and increased sensation. So, it's mostly found in house parties, raves, and music festivals. While MDMA is considered a harmless party drug, it can be very dangerous if not used responsibly. According to statistics, the number of emergency room visits increased by 1,200% since ecstasy became popular at all night-raves.
Effects of MDMA
MDMA increases neurotransmitters serotonin, dopamine, and norepinephrine levels in the brain. These brain chemicals are associated with mood, energy, and alertness. They also cause users to become more stimulated and awake. However, MDMA can also have negative side effects, such as:
Anxiety, paranoia, restlessness, insomnia
Sweating, thirst, and nausea
Memory problems
Jaw clenching or teeth grinding
Impulsiveness
Increased heart rate, blood pressure, and body temperature
And addiction
When combined with a hot environment, physical activity, and other drugs, MDMA can lead to unpredictable and serious physical complications. The drug causes hyperthermia, significant dehydration, or cardiovascular collapse, leading to kidney, liver, or heart failure and even death.
The effects of ecstasy can kick in within 20 minutes and typically last for 3-5 hours but can persist for up to 8 hours. This variation can be due to factors like body weight, the amount used, gender, mode of administration, etc.
MDMA and addiction
One of the most serious risks of MDMA use is addiction. While the exact mechanisms are not fully understood, it is clear that MDMA can cause changes in brain chemistry that lead to compulsive drug-seeking behavior and an inability to control use.
Although MDMA has been shown to be addictive in animal studies, the degree of self-administration is relatively low compared to other drugs such as cocaine. This suggests that while MDMA may have some potential for addiction, it is not as strong as other substances.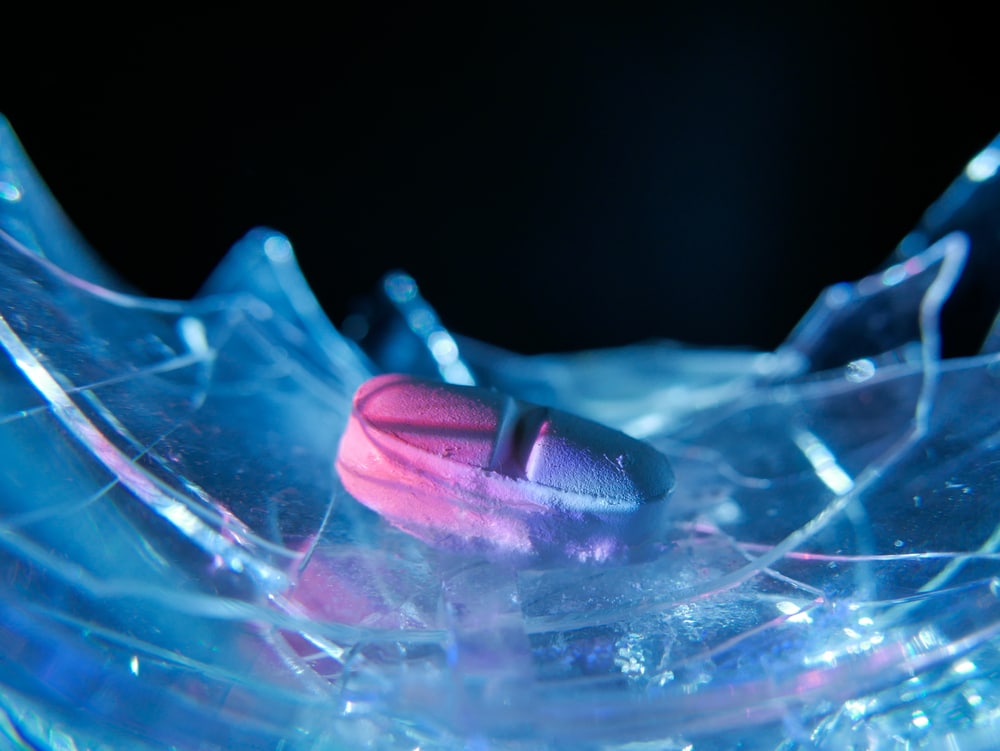 Data from animals and humans suggest that regular use of MDMA leads to adaptations in the serotonin and dopamine systems linked to substance use disorder and related behaviors, like increased impulsivity.
Some studies have tried to analyze MDMA dependency or addiction among people with a history of use in the general population. The results of these studies have varied widely, probably due to different population samples and different types of measures used. However, some people who use MDMA do report symptoms of addiction, including:
Continued use despite negative psychological or physical consequences.
Withdrawal symptoms
Tolerance
Cravings
Fatigue, depressed mood, trouble sleeping, and decreased appetite
What Causes MDMA Use Disorder?
MDMA is a stimulant drug with properties similar to other drugs in its class, like cocaine. While research is inconclusive on whether MDMA is addictive, heavy or regular drug use may lead to addiction. Additionally, MDMA is often mixed with other stimulants, increasing the risk of addiction.
The mix of drugs sold as ecstasy may alter how people who take it react to it, making it difficult to predict if someone may develop an addiction. However, what is clear is that regular or heavy drug use can lead to addiction. Therefore, it is important for those who use MDMA to be aware of the risks associated with the drug.
Other Dangers of Using MDMA
Some people might not consider MDMA an addicting drug. Even so, there are still dangers associated with its use.
MDMA is cut with other drugs
When people take MDMA, they risk because the drug is unregulated, and its purity can't be guaranteed. One of the biggest dangers is that it is often cut with other substances, which can be dangerous or even deadly.
For example, one of the most common adulterants is methamphetamine, which can lead to increased blood pressure and heart rate, as well as anxiety and paranoia.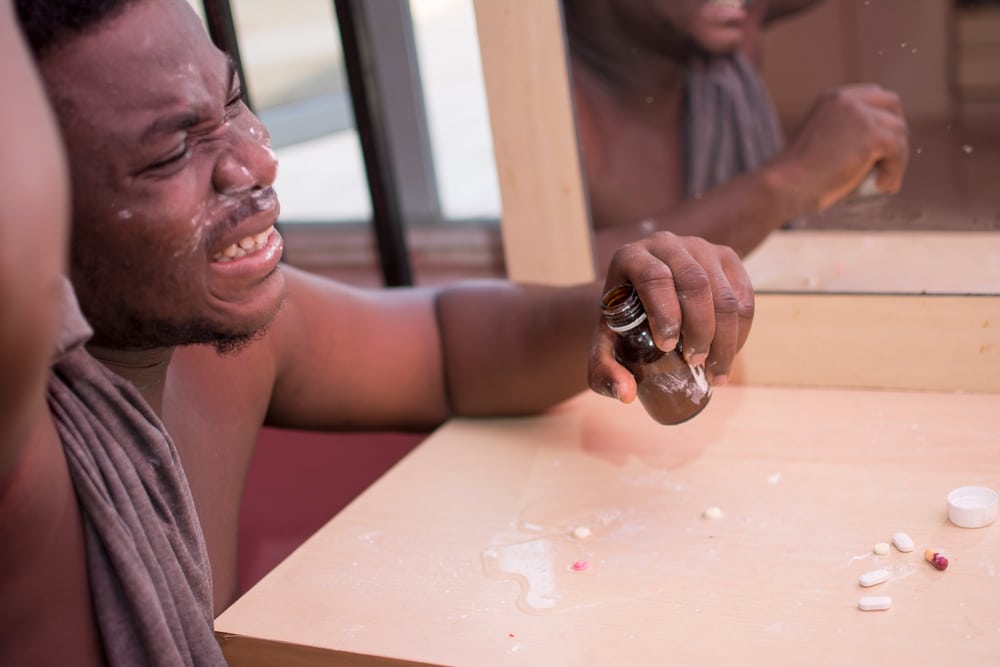 Sometimes, these effects can be so severe that they result in hospitalization or even death. In addition, MDMA is often cut with other substances that may not be immediately harmful but can still cause long-term damage, such as liver damage.
Developing tolerance
MDMA can also cause tolerance. This means that users need to take increasingly larger doses to achieve the same effects. Tolerance can lead to physical dependence and addiction. It can also increase the risk of overdose and other health problems.
Gateway to other drugs
Increasing the dose to achieve the same effect may also lead someone to use other drugs, which can lead to addiction - and potential overdose. Statistics show that 92% of those who start using ecstasy resolve to using amphetamines, marijuana, heroin, and cocaine later on.
Addiction to other drugs
Using other drugs to cope with the mental and physical pain that results from ecstasy can quickly spiral out of control, leading to addiction to other drugs and potentially serious health consequences.
Treating an ecstasy, or MDMA addiction
If you or someone you know is struggling with an addiction to MDMA or any other form of drug abuse, please seek professional help. Treatment options are available, and there is always hope for recovery.
Many people who use stimulants or MDMA report that they grind their teeth during periods of drug use. This phenomenon is known as bruxism and can cause several problems, including headaches, jaw pain, and damage to teeth.
While it's not clear why drugs cause bruxism, it is thought that bruxism occurs due to the effects of drugs on the body's central nervous system. Other theories suggest that it may result from anxiety or other psychological factors.
Regardless of the cause, bruxism can be a dangerous condition, and it is important to seek treatment if you think you may be affected. Your dentist can help identify the signs of bruxism and recommend appropriate treatments. You can keep your teeth healthy and avoid any long-term damage with proper care.
What is Bruxism?
Bruxism is a condition characterized by the grinding or clenching of teeth. It can occur while a person is awake (awake bruxism) or asleep (sleep bruxism).
Left untreated, bruxism can lead to several serious problems, including jaw pain, headaches, and damage to the teeth. It can also cause sleep disorders like sleep apnea.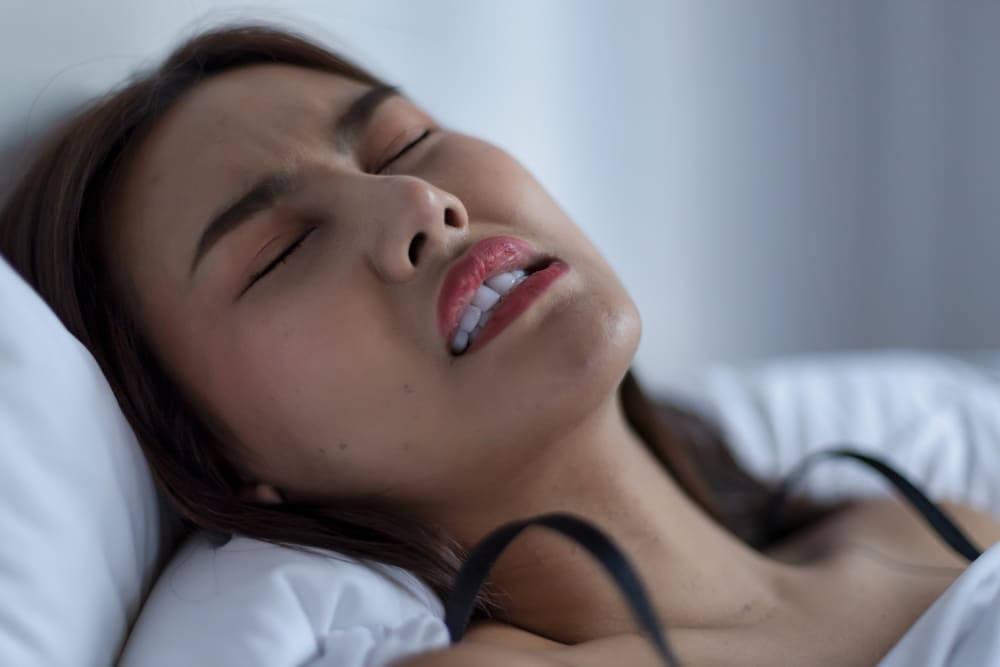 The exact cause of bruxism is not fully understood, but it is thought to be linked to stress or anxiety and drug use.
Bruxism can be caused by medications that act on the nervous system, such as antidepressants, antihistamines, and bronchodilators. It can also be a side effect of stimulants, such as caffeine and amphetamines. In some cases, drug-induced bruxism may be caused by illicit drugs, such as cocaine and methamphetamine.
Persistent bruxism can lead to jaw muscles and tooth damage, headaches, jaw pain, and temporomandibular joint disorder. It can even affect a person's ability to eat and speak properly in severe cases. Beyond bruxism, drugs can also cause a host of other dental issues due to these reasons:
First, many drugs contain harmful chemicals or corrosive substances that damage tooth enamel and cause severe tooth decay and gum disease.
Second, drug use can lead to poor oral hygiene. When people are high, they may be less likely to brush their teeth or floss regularly.
Finally, the use of these drugs can also lead to dehydration, which can cause the mouth to produce less saliva. Saliva is necessary for keeping the mouth clean and healthy, and without it, there is an increased risk of cavities and gum disease.
Drugs That Can Cause You to Grind Your Teeth:
Here are some drugs that can cause bruxism:
MDMA
MDMA is a synthetic drug that produces energizing, mood-lifting, and sometimes hallucinogenic effects. It is best known by its street names "ecstasy" or "molly." MDMA is structurally similar to both stimulants and hallucinogens, which may account for its ability to produce various effects.
MDMA causes an increase in the activity of three brain chemicals: dopamine, norepinephrine, and serotonin. Dopamine is involved in the "reward pathway," producing feelings of pleasure. Norepinephrine helps to maintain alertness and focus, while serotonin contributes to feelings of well-being and happiness.
These brain chemicals are also responsible for many of the side effects of MDMA use, including increases in heart rate and blood pressure, nausea, blurred vision, and faintness. One less well-known side effect of MDMA use is bruxism, or teeth grinding.
Research suggests that this may be due to the drug's effects on serotonin levels. Serotonin plays a role in muscle contraction, and an increase in serotonin activity may lead to involuntary muscle spasms, such as teeth grinding. In some cases, bruxism may be severe enough to cause jaw pain or damage to teeth.
Methamphetamine (Meth)
Methamphetamine, commonly known as meth, is a powerful stimulant drug that can seriously affect the body. One of the most common side effects of meth abuse is bruxism, or teeth grinding. Meth users may grind their teeth involuntarily or consciously, and the condition can cause severe dental problems.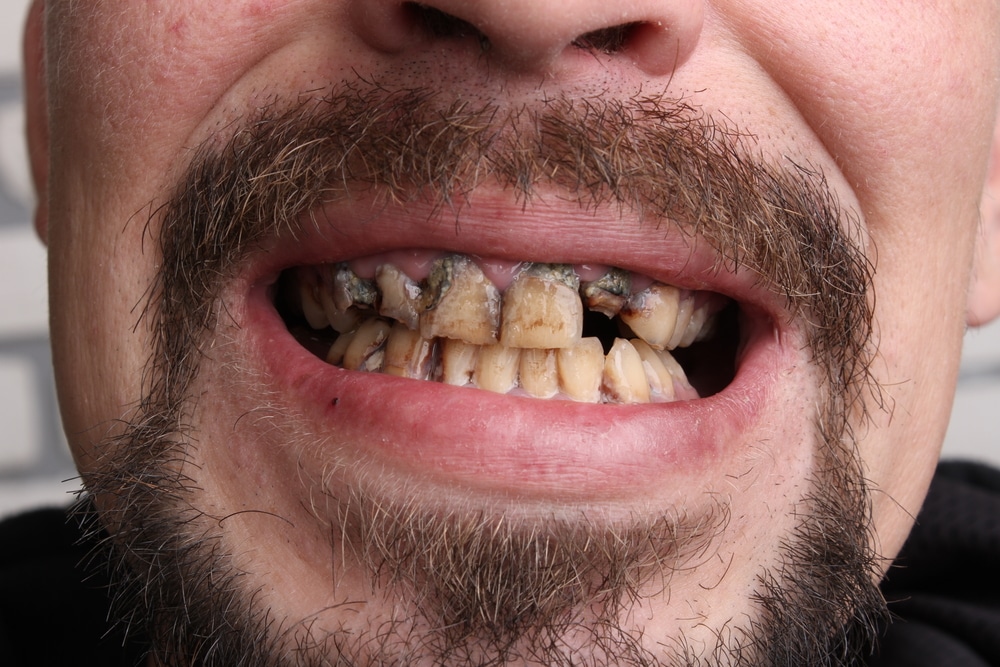 While the exact mechanism is not fully understood, it is believed that meth causes an increase in the release of dopamine, a brain chemical associated with pleasure and reward. The resulting spike in dopamine levels can lead to compulsive behaviors like teeth grinding. In addition, meth constricts blood vessels and reduces saliva production, further contributing to dental health problems. 
Heroin
Opioids, including heroin, are known to make you grind your teeth. This may be due to the drug's psychoactive effects, which can produce feelings of anxiety and paranoia. Historical evidence also suggests that bruxism was common among people who used opium in the 19th century.
Opioids work by binding to receptors in the brain, which can alter neurotransmission and lead to changes in muscle tone and behavior. Teeth grinding may be a side effect of this process. Opioids can also cause dry mouth, leading to tooth decay and other oral health problems.
Cocaine
Cocaine is a powerful stimulant that has been shown to cause a wide range of physical and mental effects. One of the more commonly reported side effects of cocaine use is that it can make you grind your teeth.
While the exact mechanism is not fully understood, it is thought that the drug alters levels of neurotransmitters in the brain, increasing muscle activity. This can lead to involuntary clenching and grinding of the teeth, which can cause headaches, jaw pain, and dental damage. In some cases, bruxism may also be related to anxiety or psychosis, which are common side effects of cocaine use.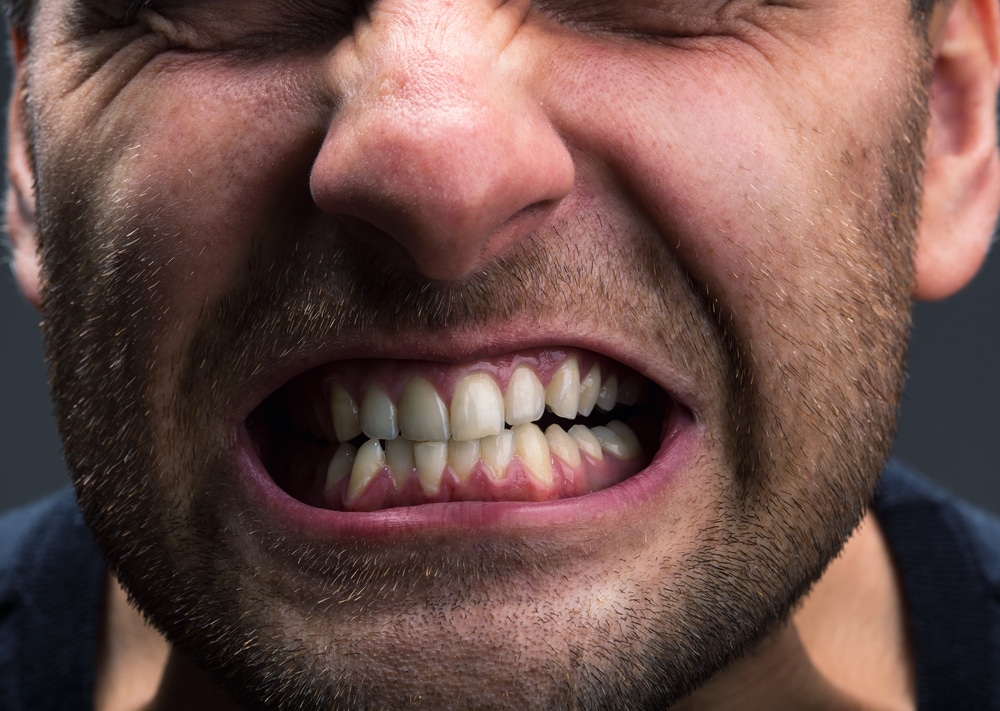 Treatment Options for Bruxism
Bruxism, or teeth grinding, is a common side effect of stimulant or MDMA use. The constant clenching and grinding can damage the teeth and cause gum inflammation. In severe cases, it can even result in tooth loss.
Luckily, a few things can be done to help alleviate the symptoms of bruxism.
First, you'll need to stop using drugs that cause bruxism. If you are dealing with an MDMA, heroin, or meth addiction, it's best to seek addiction treatment to get off of the drugs.
Stay hydrated and avoid foods that are high in acidity. This will help to protect your teeth from further damage.
Adopt lifestyle changes - reduce stress, cut back on stimulant use, etc.
It is also important to take breaks during extended periods of drug use and avoid using the drug when feeling stressed or anxious.
If bruxism persists, several treatments can be used to reduce the symptoms, including Botox injections, night guards, pacifiers, and bite plates.
Taking these steps makes it possible to minimize the impact of bruxism and protect your teeth and gums.
Treatment for Drug Abuse
If you are experiencing teeth grinding due to stimulant or MDMA use, it is important to seek treatment. Teeth grinding can be caused by many things and is often treatable. There are a variety of treatments available depending on the cause of your teeth grinding.
Treatment for drug abuse will also address any associated teeth grinding. If you are concerned about your teeth grinding, please talk to your doctor or addiction specialist. They can help you find the best course of treatment for you.
There's no denying that drugs and music have always had a close relationship. For many people, using drugs is a way to enhance their musical experience, whether it's dancing all night at a club or losing themselves in an eclectic mix at a festival. However, it's worth noting that not all music fans use drugs, and many live performances are perfectly enjoyable without any chemical assistance.
Nevertheless, it's undeniable that drugs have played a major role in music history, especially when it comes to large live performances. Artists such as Pink Floyd and The Grateful Dead were known for their elaborate stage shows, often designed to be experienced while under the influence of drugs.
In recent years, electronic dance music has become closely associated with drug use, with festivals like Tomorrowland and Ultra becoming known as hotbeds of illicit activity.
What Are Music Concert Visuals?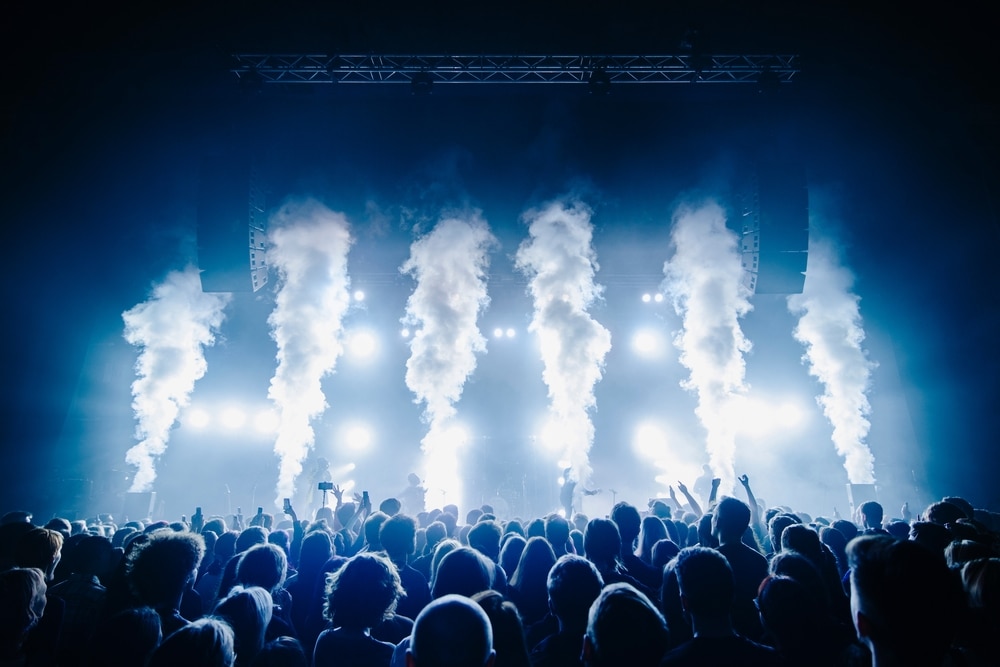 Music concerts are a visual feast for the senses, with bright lights, flashing colors, and dizzying patterns. But have you ever wondered where these visuals come from? It turns out that many of them are inspired by drug use.
For example, the trippy patterns used in concert visuals are similar to those experienced during an acid trip. And the flashing lights can mimic the effects of strobing lights on a dance floor. By creating visuals that are reminiscent of drug-induced states, concertgoers can feel like they're experiencing the music in a whole new way.
The Link Between Drugs and Music
Music and drugs have been linked together for centuries. In the early days, people commonly used psychoactive drugs to enhance their music experience. Drugs like alcohol and tobacco were used to relax and improve the taste of music. Amphetamines were also common, with rock and roll artists like Elvis Presley and Jerry Lee Lewis relying on them for their wild onstage antics.
In more recent times, illegal drugs like LSD and MDMA have been used by people searching for a more intense musical experience. Some claim that these drugs can help them appreciate music in a whole new way, while others enjoy the heightened sensations and feelings of euphoria that they can produce.
Music, in turn, has always been a part of the drug culture in the United States. Many drugs, especially psychedelics, are associated with specific genres of music, such as acid house or trance. For many people, taking drugs is an integral part of the musical experience, as it can help them feel more connected to the music and other people. Drug use can also be seen as rebelling against society's norms and expectations.
Besides, many musicians have experimented with alcohol or drugs in an attempt to improve their creativity. Some believe that substances can help open up the mind and allow new ideas to flow. However, it is worth noting that many successful musicians have composed great songs without resorting to drugs or alcohol.
Music, Drug Use, and Addiction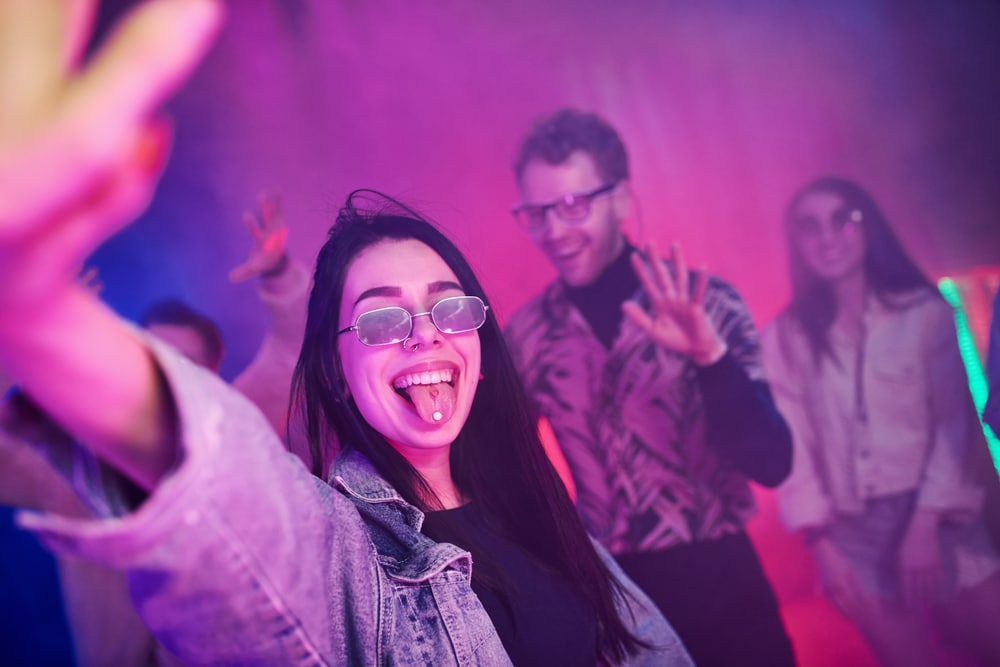 There's also a close link between music and substance use disorders. In some cases, people may use drugs to enhance their experience of listening to music. But in others, the connection between music and partying can lead to drug use or addiction or trigger mental disorders that cause them to turn to drugs to cope.
One of the most common drugs used at parties is MDMA, also known as "ecstasy" or "molly." MDMA is a stimulant that can cause feelings of euphoria, increased energy, and pleasure. It can also increase heart rate and blood pressure, dehydration, and anxiety.
When taken in large doses or combined with other drugs, MDMA can be dangerous and even life-threatening. Since MDMA is often used at all-night parties or nightclubs, people who use the drug may not get enough sleep, leading to fatigue, irritability, and memory problems. Long-term use of MDMA can also cause withdrawal symptoms, including depression, anxiety, and sleep problems.
For people struggling with addiction, the connection between drugs and music can be dangerous. According to the National Institute on Drug Abuse, party settings are risk factors for relapse, as they trigger cravings. At the same time, listening to music can make it harder to resist the urge to use drugs. The National Institutes on drug use research indicates that relapses are common, happening in 40-60% of the cases.
Music Concert Visuals and Drug Use
Many people who attend live music performances are using drugs. According to research by DrugAbuse.com, 57% of people admitted to using drugs or alcohol, with 93% consuming alcoholic beverages. Additionally, about 40% used marijuana at live music events, followed by 8% who used hallucinogens or MDMA (Molly or ecstasy).
Large live music performances often incorporate heavy visuals into their shows, expecting that many crowd members will be under the influence of drugs. These visuals help to:
Create a more immersive experience: Heavy visuals can help create a more immersive experience for the audience, making them feel like they are part of the performance.
Engage the audience: Heavy visuals can also help to engage the audience, keeping them involved in the performance.
Add excitement: Heavy visuals can add excitement to a performance, making it more enjoyable for the audience.
Create a memorable experience: Heavy visuals can help create a memorable experience for the audience, one they will remember long after the performance is over.
Many drugs cause users to experience sensory overload, and the introduction of visual elements can help ground them and prevent them from becoming overwhelmed.
Besides, drugs can alter perception and make it difficult to process complex information. As a result, simpler visual images are more likely to be comprehended by those under the influence. Also, bright colors and patterns can be more stimulating and enjoyable for people on drugs.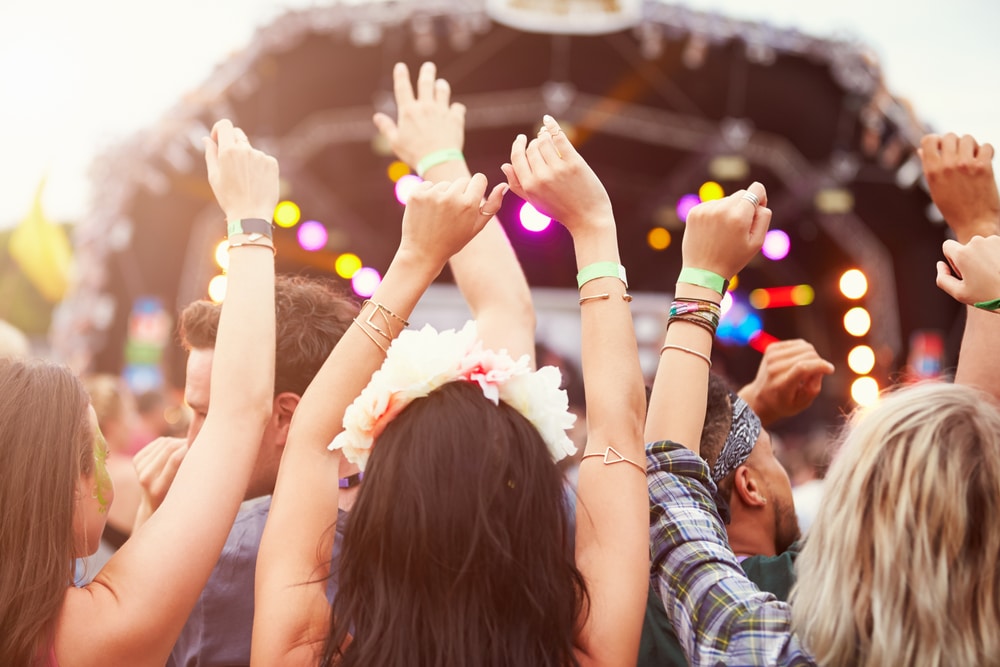 Stay Sober Throughout the Show
Going to a live music performance can be an incredibly exhilarating experience. Whether you're seeing your favorite band or exploring a new genre, there's nothing quite like being in a room full of people who share the same love of music. But you may worry about being around others who might be using drugs. While it is true that many concerts do use heavy visuals that can be enhanced by drug use, there are ways to enjoy the show while remaining sober.
Choose the right venue. If you're not comfortable with being around drugs and alcohol, then look for venues that have a strict no-tolerance policy.
Go with friends who share your same values and who you know you can rely on. If you find yourself in an uncomfortable situation, you'll have someone to turn to.
Pick a seat that is not too close to the stage. This will help to avoid being overwhelmed by the lights and sounds.
You may also want to arrive early and leave early before the crowd gets too wild.
Don't forget to stay hydrated and take breaks as needed.
Addiction Treatment
When most people think of drug addiction, they picture someone using illegal drugs like meth or heroin over prolonged periods of time. However, addiction can happen after a few tries and involve any drugs, including legal ones like alcohol and prescription medications.
Drug use is often glamorized in the media, especially in music. Concerts, in particular, can be a breeding ground for drug use.
Many people view drug use as a harmless way to have fun and let loose. However, drug use comes with serious risks. In addition to the risk of addiction, drugs can also lead to mental and physical health problems.
If you or someone you know is struggling with drug addiction, resources are available to help. Rehab facilities offer vast treatments for drug addiction, including detox, in-patient and outpatient care, and therapies. The Institutes of Health also recommends getting support from friends, family members and support groups.
If you have, at any point in your life, interacted with drug addicts, you are likely aware of just how far they would go to ensure they get their high any time they want. Even though they are addicts, they go out of their way to conceal their drugs from other people.
They may go to great lengths when hiding a stash, using creative and sometimes elaborate methods, like hiding them in body cavities, such as the rectum or vagina, stashing them in hollowed-out books or other objects, or wearing multiple layers of clothing to create hidden pockets. In some cases, addicts may even swallow condoms filled with drugs in an attempt to smuggle them into a treatment facility or detox center.
However, these methods are not foolproof, and addicts often eventually get caught. If you suspect that someone you know is struggling with addiction, look for signs of drug paraphernalia or hidden stash spots. You can also look for changes in behavior, such as secrecy, lying, or unexplained absences. Your loved one can be creative, but if you look close enough, you'll uncover any addiction behaviors and help they get the help they need.
This article reveals the common ways addicts conceal their drugs. If you are worried that your loved one is abusing drugs, read on to see where they may be hiding their illicit drugs or drug paraphernalia.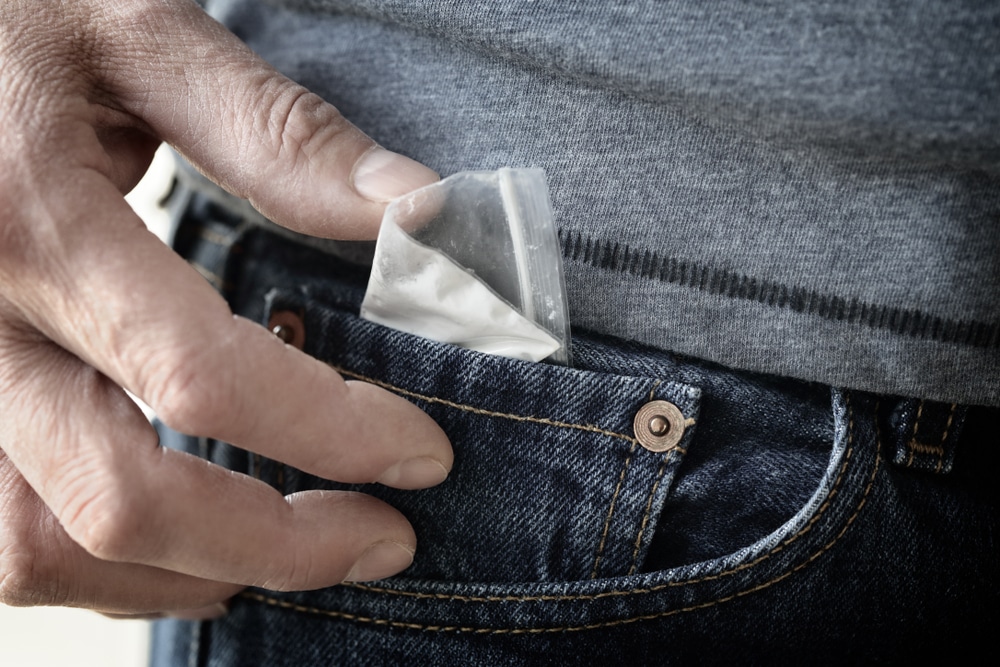 Common ways addicts conceal their drugs
The dangers of drug addiction are well-known, but the ways in which addicts hide their drugs might surprise you. One popular method is called "stash clothing." This involves hiding drugs in clothing that can be easily accessed, usually in a pocket , sleeve or sewn into clothing. The advantage of this method is that it allows addicts to keep their drugs close at hand without being obvious about it.
But sometimes, addicts may take it a notch higher. For example, some women hide their marijuana stash in altered tampons and hairbands. Those who work in transporting illegal drugs can sew the drugs in wigs and have the wigs glued to their heads to go past border and customs without being suspected. Unfortunately, doing so may cause complications and necessitate emergency room electrolysis.
Let us discuss a little more about how addicts hide contraband in clothing and footwear.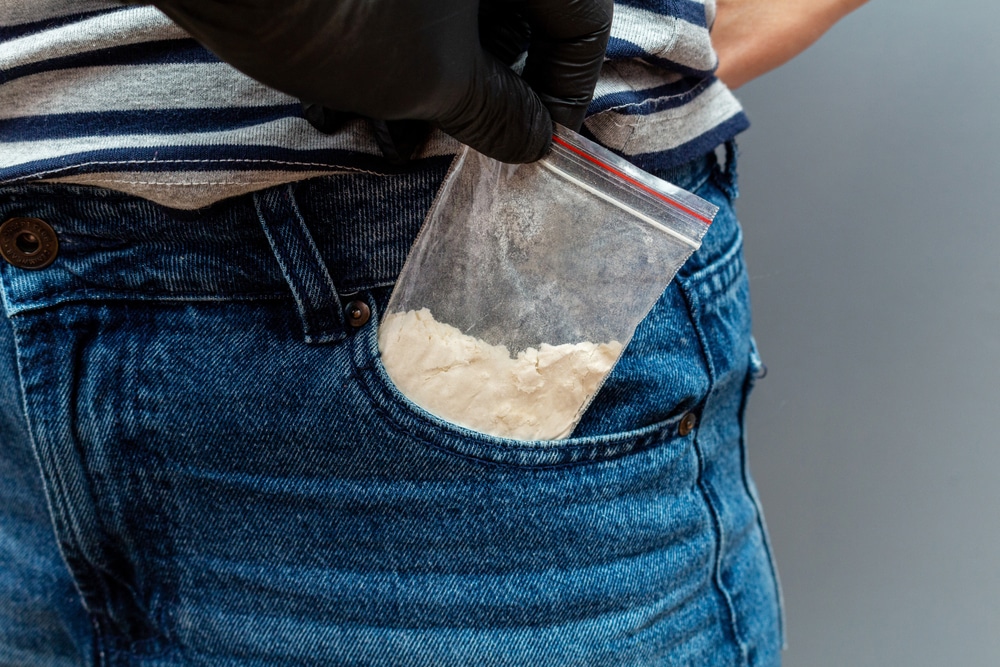 Clothing and footwear
You would be surprised at how many different places addicts hide their stash, especially at music festivals. They know the consequences of drug possession, so they need to ensure they don't get caught. No one wants to spend time in jail, not even them.
They roll the contraband into jeans, sew them into jacket linings, or hide them in coin pockets or socks. Unfortunately, addicts or smugglers that have children conceal the contraband in their kids' clothing, hoping that the officers won't search the children. Those with babies hide them in baby blankets.
Since police officers realized that coin pockets are a popular hiding place, young adults became more cunning. They either buy clothes with hidden pockets or opt to make the hidden pocket themselves.
Addicts' demand for clothes with hidden compartments made entrepreneurs mass-produce clothes that can easily conceal drugs. These clothes are readily available on the internet, and they are relatively famous for cocaine storage and hiding weed.
Clothing made for drug stashing
It is rather unfortunate that some brands specialize in clothing for carrying drugs. These clothes are sold online and in stores. Some of the most popular garments for stashing drugs include
·     The Rolla Wear brand has a hoodie that features a hidden hood pocket and a suru board in its front pocket for rolling joints.
·     Eagle Creek mass-produces an undercover stash bra. The bra has a hidden pocket that can be used as a drug pocket.
·     Annabiss manufactures stylish bags and purses that are very popular during the festival season. However, the bags have hidden compartments that addicts use to conceal their lighters, vape pens, marijuana stash, and mints.
Men, too, hide their stash in intimate pieces of clothing. Speakeasy Briefs is a brand that mass-produces briefs that feature a hidden compartment on the crotch. Addicts can easily use it to stash their drugs.
· Vaprwear manufactures hoodies that connect to vape cartridges. Addicts vape through the hoodie's drawstring.
· Dailyshoes manufactures a range of boots with large front pockets. Most addicts use the compartments to hide their drugs of choice.
· Zero grid sells belts that have hidden pockets. Some addicts use their hidden pockets to hide their drugs.
· 555 soul sells bomber jackets that have several hidden pockets. Those who abuse drugs may use the hidden pockets for their stash.
These are just a few examples of mass-produced clothing addicts use to stash their drugs. Although the clothes may not have been made explicitly for drug hiding, they are famous for their ability to hide contraband properly, and some articles promote them as such.
Other places addicts hide their drugs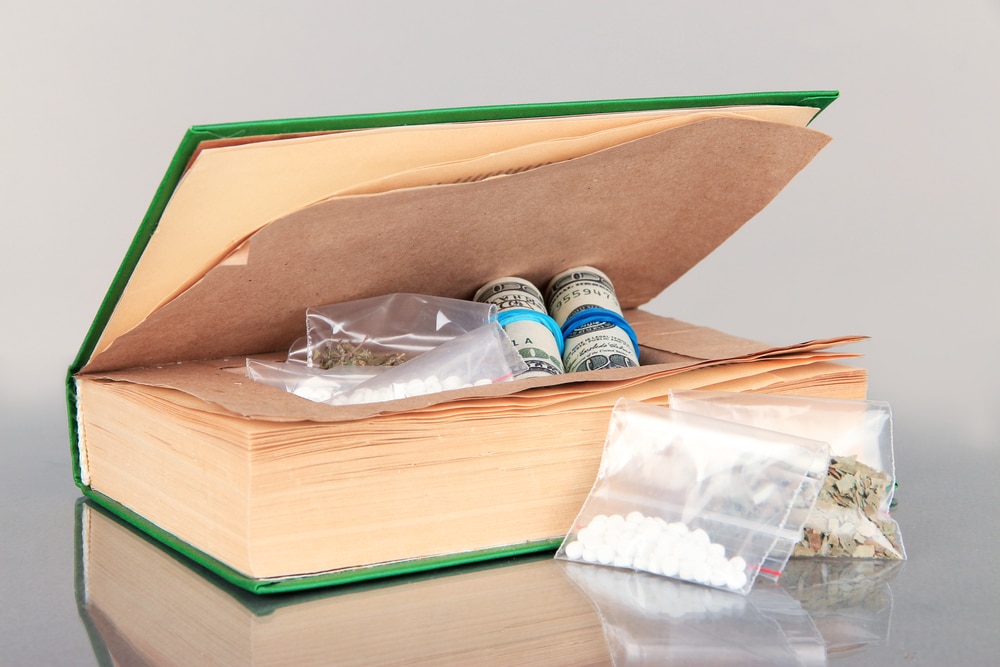 As discussed above, addicts can be very creative with hiding their drugs. Other than hiding them in their clothing and footwear, they may also hide them in:
Makeup and hygiene supplies- most makeup supplies come in tubes that addicts can hollow out and store their drugs.
Wall hangings and posters are popular hiding places inside the house since it is unlikely that anyone would look behind posters and wall hangings.
Candy containers and soda cans.
Air vents- since air vents can easily be removed and are inconspicuous, they make for a good hiding place for drugs.
Vehicles- most addicts that don't want their loved ones to know they are using hide their stash in their cars since no one would check there.
Inhalers- it is unlikely that you would check anyone's inhaler for drugs. This makes it a popular hiding place for drugs.
Electronics, e.g., game consoles.
Belt buckles.
Conclusion
Addicts are always secretive about where they hide their drugs. But by knowing the common hiding spots, you can uncover their behavior and help them get the care they need.
Every generation has its slang, and Gen Z is no exception. The use of emojis became quite popular with Gen Z. And now they're using emoji to sell drugs and to generally talk about them with friends. They bank on the fact that most adults don't have a sense of how emojis work.
To any unsuspecting adult, the emojis look ordinary and harmless. However, they are often being used to buy and sell illicit drugs. 
Drug abuse is prevalent among teens and young adults. With the current technology, they can easily purchase any illegal drug from social media pages run by drug traffickers. With a simple direct message (mostly with an emoji or more), the drugs of choice, including crack cocaine, are delivered to them in just a few minutes. Often, they make payments in cash, so you are unlikely to notice something is off.
Every drug dealer targeting teens have perfected the use of emojis, now commonly known as the emoji drug code. By doing so, they easily advertise their products on social media. Drug-themed social media posts are often not flagged or taken down because it is difficult to differentiate them from regular posts.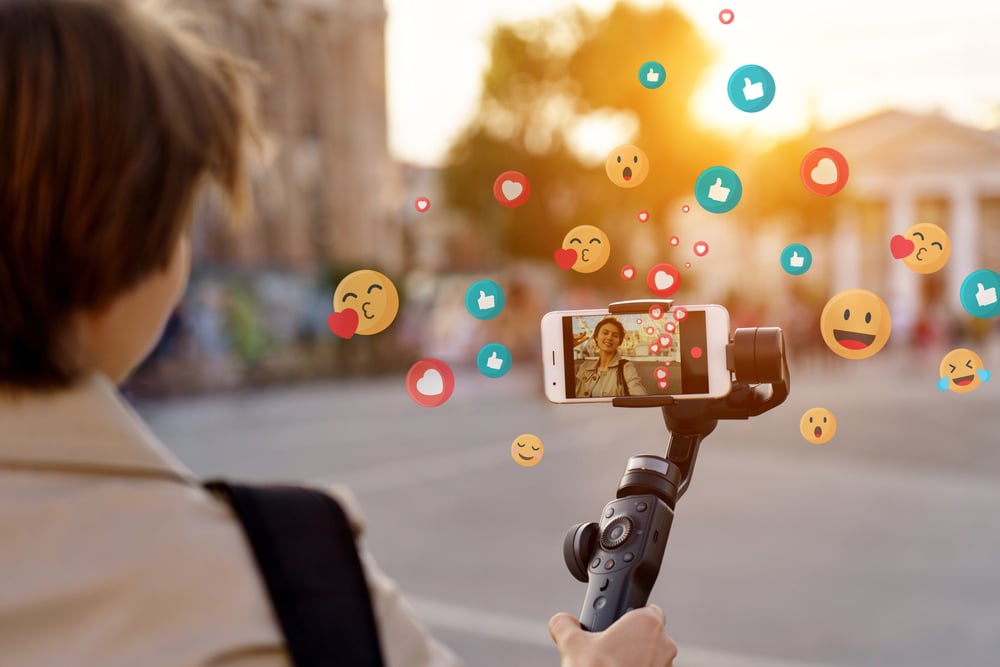 The Drug Enforcement Administration (DEA) recently released an emoji drug decoder to help educators, parents, and caregivers decode the emojis their loved ones use and potentially save lives.
DEA public information officer Brian McNeal said that when there is a case of overdose and no way to trace the source, you can go through the phones and computers of your loved ones to see the emojis used in conversations with drug dealers. The emoji drug decoder can help you identify the drugs they overdosed on.
The emojis
According to the DEA, emojis are now commonly used as dealer advertising for high potency drugs. A select few are currently universal symbols for large batches of drugs. The DEA revealed that they started looking at social media risk factors after identifying several overdoses.
After going through the phones of the deceased, they noticed that specific emojis kept showing up in conversations. Later, they managed to decode the emojis.
Shane Catone, a Deputy Special Agent in charge of the DEA's Chicago Division, said that traffickers started communicating with emojis because their target market is teenagers who spend most of their time on social media.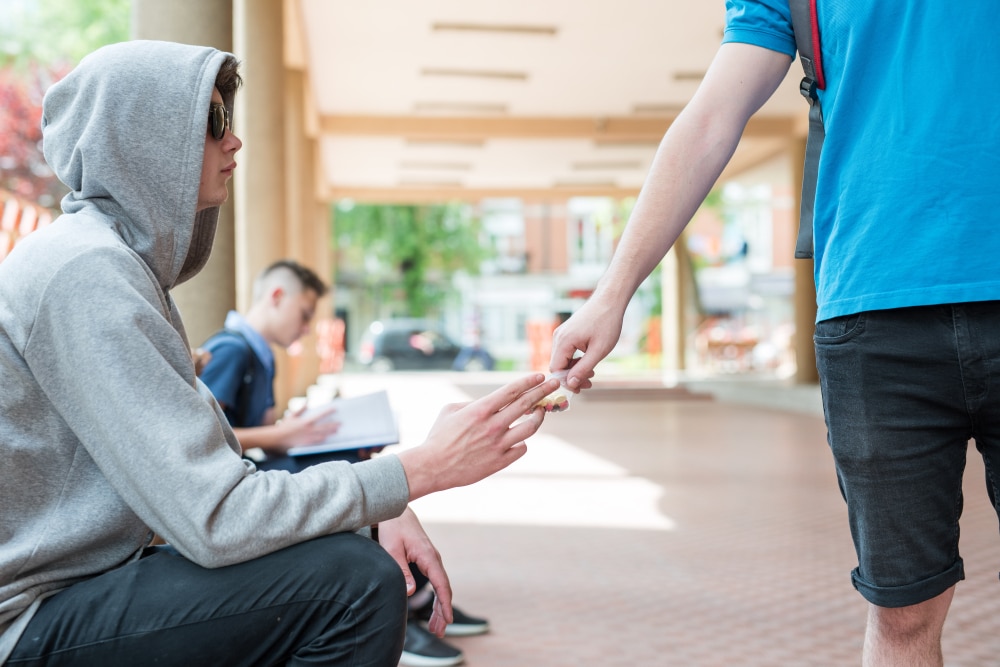 The traffickers advertise their contraband on various social media platforms, including Instagram, Facebook, Snapchat, and messaging apps like WhatsApp.
Some of the emojis are straightforward to figure out. For example, the pill emoji represents fake prescription medications or pills.
Other emojis may be difficult to decode. For instance, a key emoji represents cocaine; a brown heart represents heroin and a blue heart meth. Another difficult emoji to decode is a chocolate candy bar that represents Xanax.
The banana emoji is commonly used as code for Oxycodone, whereas a Christmas tree, palm tree, clover, and cloud for marijuana. The maple leaf emoji is also code for marijuana.
Below is a summary of the emojis and what they mean for ease of reference.
?, ?, ?, ?, ?, ?, ? — Marijuana
❄️, ?,?, ?,⛄,? — Cocaine
?,?,? ,? — Heroin
?, ❤⚡,? — MDMA
?,? ,?,? — Cough syrup
?, ?, ❄ — Crystal meth
? — Psilocybin or "magic" mushrooms
? — A plug, i.e., a drug dealer or someone who can "hook you up" with contraband
? — Can be used to mean prescription pills, drugs in general, or heroin
? — A large batch of drugs
?, ? — Smoking a joint
⛽ — Gassed, i.e., intoxicated. It can also refer to high-quality marijuana
⚗️ — Used to indicate a bong
? — To "blaze" a joint or to be "lit," meaning intoxicated
? — Can mean high-quality or being very intoxicated
The emojis are not a conclusive indication of illegal drug use. However, the emojis combined with behavioral change or a low performance at work or school may indicate that your loved one is struggling with drug addiction.
Prescription pills
While addressing the use of emojis to buy or sell drugs, DEA public information officer Brian McNeal said the pills drug dealers sell on social media are counterfeit prescription drugs laced with fatal amounts of fentanyl.
The pills range from normal-looking ones to colorful ones that resemble kids' vitamins. According to McNeal, the colorful pills often contain meth.
Drug dealers often transport the fake prescription pills in bags of candy. Often, the laced prescription pills result in overdoses.
Common drug slang terms
Other than emojis, teens and young adults struggling with substance abuse use slang terms to refer to drugs. Here are a few drug slang terms used in day-to-day conversations and their meaning.
Pen- vape for marijuana and tobacco.
Cart- cartridge for a vaporizer.
Plug-dealer.
Gas-marijuana
School bus- A 2-mg Xanax bar.
Hulk- A 2-mg generic benzodiazepine bar.
Dabbing- inhaling concentrated cannabis oil. Usually, addicts drop the oil on a hot surface and allow it to vaporize as they inhale.
Snow-cocaine.
Special K- ketamine.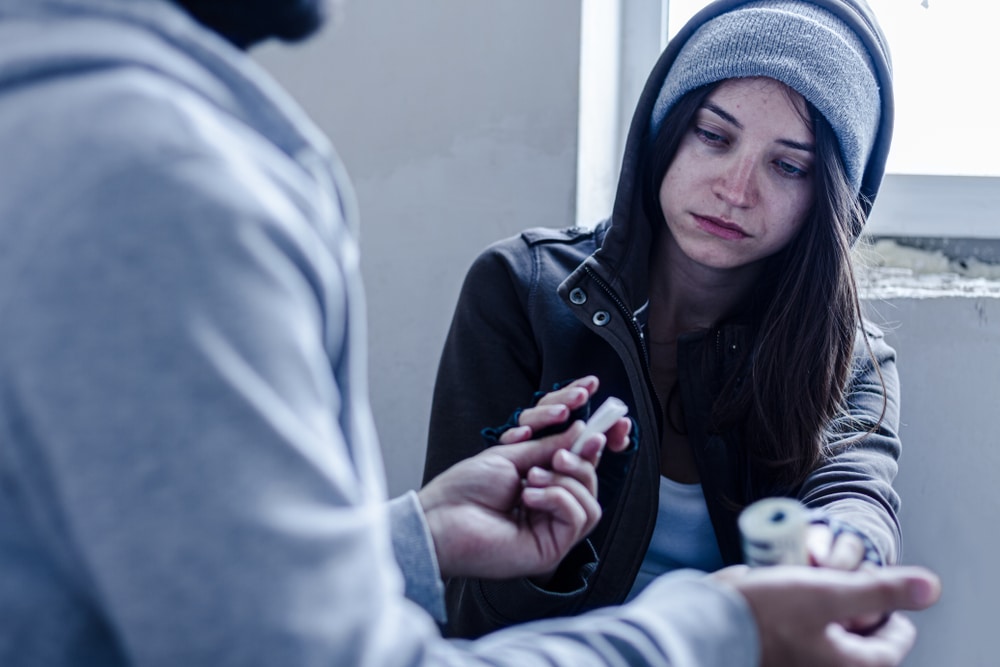 The emoji chart is not conclusive, and it has the potential to grow exponentially. For this reason, it is a good idea to monitor your children's activities on social media. Since drug dealers target teenagers on social media, the ads are likely to pop up on their phones. It would also be best to periodically check any updates on the chart from the DEA's website.
If you can't check their phones, monitor your children's behavior. You are likely to notice a behavior change when they use illegal drugs. You can also use the emoji drug chart to start a conversation about drug and substance abuse dangers.
Help Your Loved One Get Addiction Treatment
The emoji drug dealers are using may seem like a harmless way to communicate, but they could be putting your loved ones in danger. If you suspect your loved one is using drugs and communicating with dealers through emoji, or if you notice sign of addiction call for help.
There is no shame in seeking out assistance. Addiction is a difficult disease to overcome alone. With the right resources and types of treatment, your loved one can get the support they need to break free from the grip of addiction and start on the path to recovery.
Drug abuse and addiction can affect almost every part of your body, including your veins. The chemicals in these drugs can cause the walls of your veins to break down, making them more susceptible to rupture.
In addition, the debris from these breakdowns can block blood flow and cause inflammation. As a result, your veins can become very painful and may even require surgery to repair. In some cases, you may need compression stockings to manage the side effects. 
How Does Drug Use Affect The Circulatory System?
Drugs can have a big impact on your circulatory system. This includes your heart, arteries, veins, and blood. Drugs can affect your heart health in several ways, including:
Increase in your heart rate
Widening of your blood vessels
Causes irregular heartbeats
These effects can strain your heart and lead to different types of heart disease. Drugs can also damage the lining of your arteries, making them more likely to become blocked. This can lead to a heart attack or stroke. In addition, drugs can thin your blood, making it more difficult for your circulatory system to do its job. 
Drugs That Can Hurt Your Circulatory System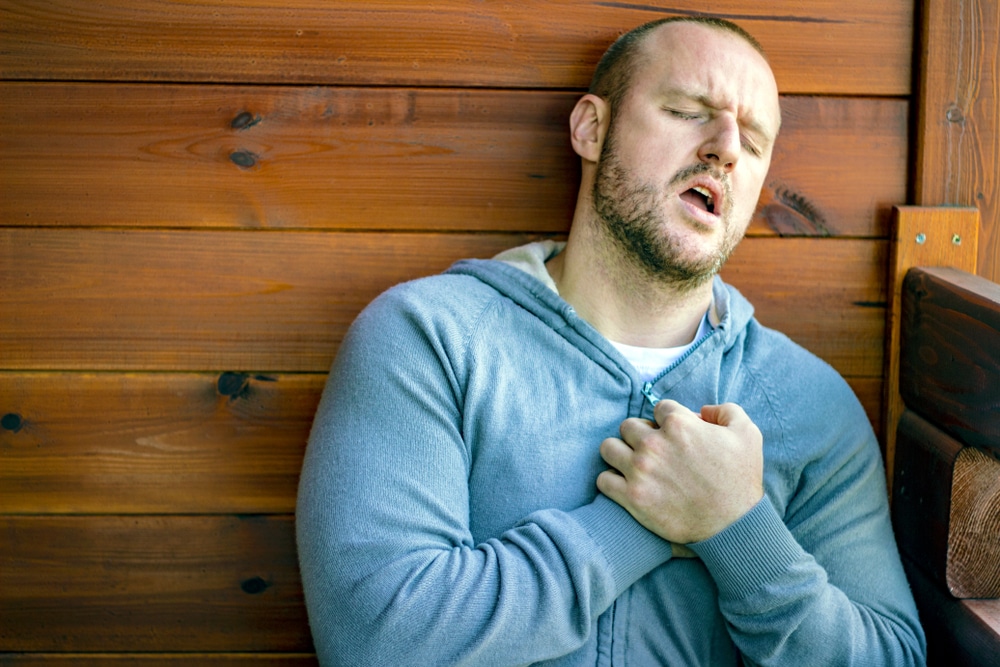 Cocaine
When you think of cocaine, you might picture the white powder snorted through a rolled-up bill. But what you might not realize is that this illegal drug is extremely dangerous and can cause severe damage to your veins and circulatory system. Here's how:
Cocaine use increases the risk of deep vein thrombosis (DVT) by damaging the veins and causing them to constrict. This can lead to a build-up of blood in the veins, which increases the likelihood of a clot forming.
In addition, cocaine use leads to an increase in heart rate and blood pressure, further damaging the vessels and leading to DVT.
DVT is a type of heart disease that can occur when a blood clot forms in a deep vein, usually in the leg. If the clot breaks loose, it can travel to the lungs and cause a pulmonary embolism, which can be fatal. DVT can also cause post-thrombotic syndrome.
Cocaine can also cause dehydration and damage organs such as the liver and lungs. In fact, chronic cocaine use has been linked to an increased risk of heart attack and stroke.
Ecstasy (MDMA)
MDMA is a popular party drug, especially among young people. Also known as ecstasy, the drug produces feelings of euphoria and increased energy. However, MDMA can also have serious consequences for your circulatory system. The active ingredient in ecstasy, 3,4-methylenedioxymethamphetamine (MDMA), interferes with the body's ability to regulate blood flow.
As a result, blood vessels constrict, and blood pressure rises. MDMA also speeds up heart rate and can cause irregular heart rhythm. In some cases, these effects can lead to overheating, dehydration, and even death. 
Heroin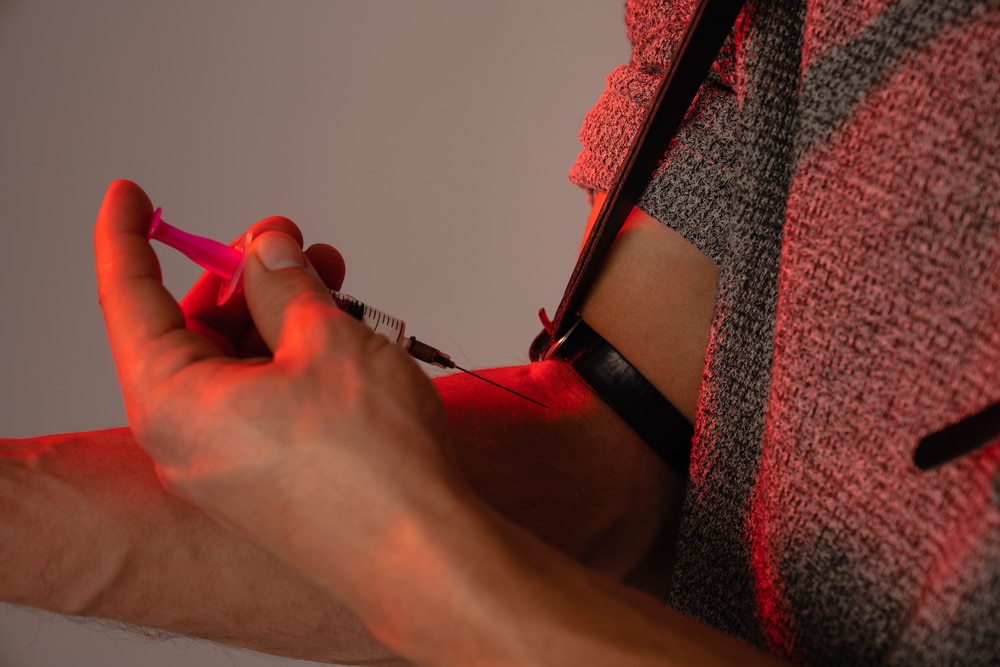 Heroin is a powerful opioid drug that can have devastating effects on the circulatory system. When heroin enters the bloodstream, it binds to receptors in the brain that are responsible for pain relief, heart rate, and respiration. This binding process slows down the body's natural processes. They can also cause dangerous side effects including slowed heart rate and breathing, constricted blood vessels, and increased blood pressure.
In some cases, these side effects can lead to collapsed veins, tissue damage, and even death. Heroin users are also at risk of developing serious infections, such as endocarditis (an infection of the heart's inner lining).
Methamphetamines
Methamphetamine is a powerful and dangerous stimulant that can adversely affect the cardiovascular system. In particular, its use can lead to elevated blood pressure, acute vasospasm, and atherosclerotic cardiovascular disease. These conditions can cause serious and potentially fatal damage to the arteries and blood vessels.
Meth can also damage the lining of blood vessels, making them more susceptible to rupture. In extreme cases, this can lead to stroke or even death. In addition to its effects on the circulatory system, methamphetamine also increases the risk of cancer, psychosis, and memory loss.
Prescription Drugs
When you think of the dangers of prescription drugs, you might not consider the risks to your veins and circulatory system. However, certain medications can hurt these vital systems.
For example, prescription drugs like antipsychotics and antidepressants can have serious side effects. One of the most potentially dangerous is venous thromboembolism, which occurs when a blood clot forms in the veins. This can lead to heart conditions, stroke, and even death.
In addition, these drugs can also damage the circulatory system. Antipsychotics can cause high blood pressure, while antidepressants can cause irregular heartbeat.
Some prescribed blood thinners can also cause small cuts and tears in the veins, leading to inflammation and pain.
Tobacco
Tobacco use affects the entire cardiovascular system, including the heart, blood, and vessels. The side effects of smoking can be severe.
Over time, they can increase the risk of heart disease, heart failure, or stroke. This is thanks to the chemicals in tobacco that damage the veins and destroy the elasticity of the arteries. This is a common cause of heart problems.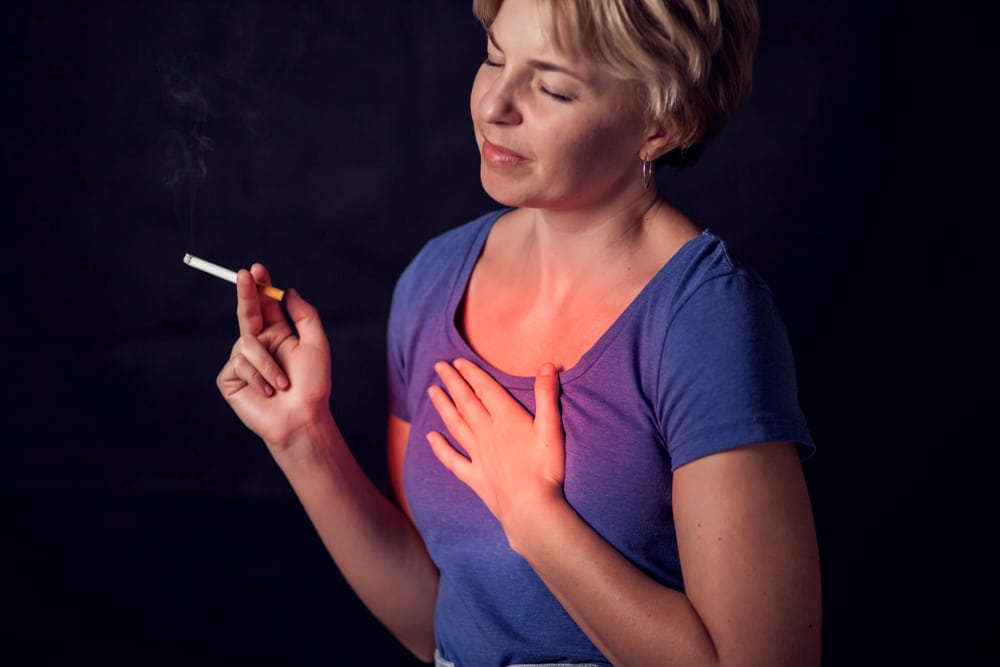 Smoking has other side effects, including shortness of breath, heart arrhythmias, and increased risk for congenital heart defects. Nicotine, a chemical present in smoke, is also known to cause high blood pressure and increased heart rate.
How Can You Protect Your Circulatory System From Drug Abuse And Damage?
There are many ways to protect your circulatory system from drug abuse and damage.
1. One way is to avoid using drugs that can damage the circulatory system. These include tobacco, alcohol, and illegal drugs.
2. Another way to protect your circulatory system is to eat a healthy diet. Eating foods high in fiber can help reduce the risk of cardiovascular disease.
3. Exercise is also important for maintaining a healthy circulatory system. Regular physical activity helps keep your heart and blood vessels healthy and helps lower blood pressure.
4. Finally, it is important to manage stress healthily. Stress can contribute to cardiovascular disease, so it is important to find a healthy way to cope with stress.
If you or someone you know is struggling with drug addiction, it's important to seek help as soon as possible. With treatment, you can prevent the damaging effects of drugs on your body. StrugglingWithAddiction.com can match you up with the right rehab that will help you regain control of your life.
Hallucinogens are drugs that cause perceptual distortions in the user's environment. This can include seeing, hearing, and feeling things that aren't there. The distortions can be dangerous, especially if someone takes them regularly. There are many different types of hallucinogens, including LSD, psilocybin mushrooms, and DMT. While each drug produces different effects, all of them have the potential to be addictive.
This blog post will discuss the different types of hallucinogens and the dangers of using them. We will also talk about how addiction to these drugs can happen and what treatment options are available for those who need help.
What are hallucinogens?
Hallucinogens are a diverse class of drugs that alter perception, mood, and cognition. They range from naturally occurring substances, like morning glory seeds, ayahuasca, and certain types of mushrooms, as well as synthetic drugs like LSD, MDMA, and ketamine.
Hallucinogens can be broadly grouped into psychedelics, dissociatives, and deliriants.
Psychedelics, such as LSD and psilocybin mushrooms, produce changes in perception, mood, and thought.
Dissociatives, such as ketamine and PCP cause a sense of detachment from reality.
Deliriants such as atropine and scopolamine cause confusion and hallucinations.
While the effects of LSD and other hallucinogenic drugs can vary depending on the substance and the dose, they typically cause users to see, feel, and hear things that are not real. Hallucinogens can also cause mood changes, making users feel happy, angry, or afraid. In some cases, users may have difficulty distinguishing between reality and fantasy.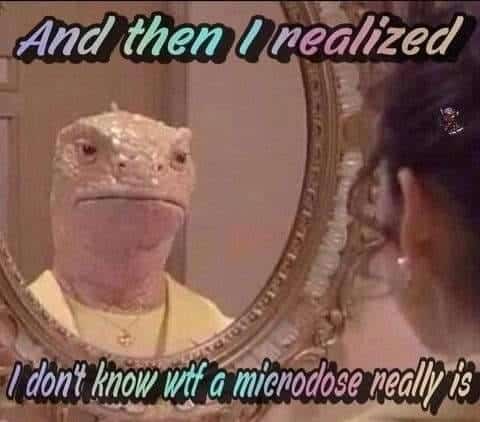 At higher doses, hallucinogens can cause users to experience frightening hallucinations, leading to anxiety and paranoia. Long-term effects of hallucinogen use include flashbacks, alterations in mood and perception, and difficulty thinking clearly.
When someone takes a hallucinogenic drug, it affects the brain by causing changes in brain chemistry. These changes can lead to an altered state of consciousness. In some cases, people may have a bad trip, which means they have a negative experience while on the drug. Hallucinogens can be dangerous because they can cause people to do things that they would not normally do, such as putting themselves in harm's way.
Dangers of Using Hallucinogens
Recently, there has been an increase in the use of hallucinogens in the United States. These drugs alter a person's perception of reality, often causing them to see or hear things that are not there. While some believe that these drugs can offer a spiritual experience, they come with a range of side effects that can be dangerous or even deadly. Hallucinogens can cause users to:
Feel disconnected from their bodies and the world around them.
Experience anxiety, paranoia, and hallucinations. Sometimes, the side effects can be so severe that they lead to hospitalization or even death.
They may also experience irrational fears and suicidal thoughts.
In some cases, hallucinogen users can develop long-term mental health problems such as psychosis and paranoid schizophrenia.
It is important to be aware of the risks associated with these drugs before using them.
Psilocybin Mushrooms Addiction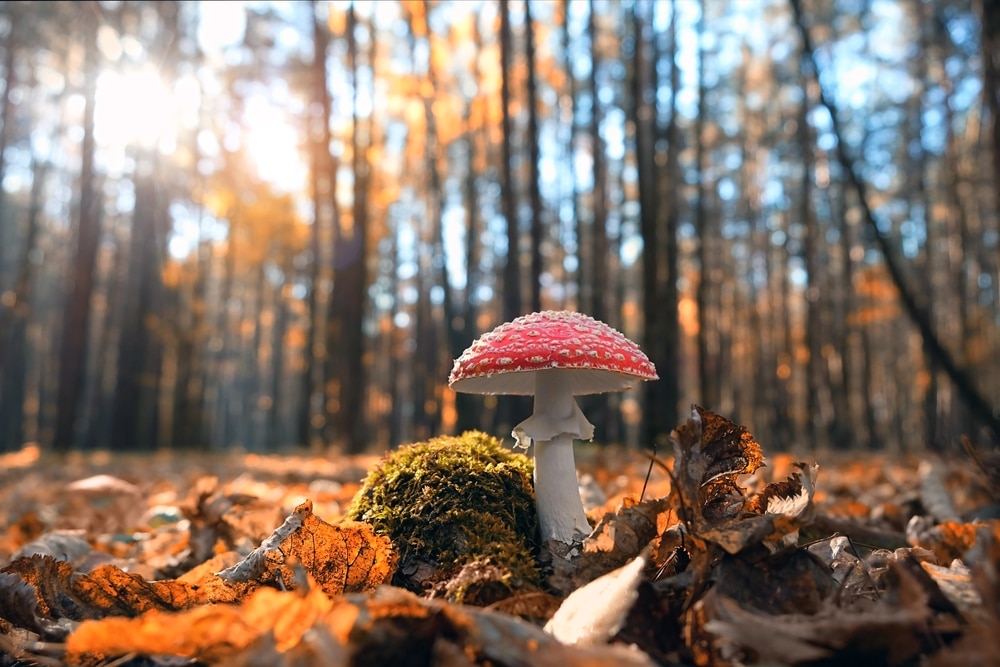 Mushroom abuse has been on the rise in recent years, as people are becoming more aware of the type of mushroom known as psilocybin mushrooms. These mushrooms contain a chemical compound called psilocybin, which is structurally similar to the psychoactive compound found in LSD. While the effects of psilocybin are not as intense as those of LSD, they can still be very powerful and cause severe changes in perception and mood.
People who abuse psilocybin mushrooms often do so because they enjoy the hallucinations and altered state of consciousness that they produce. However, there is a risk of developing a psychological dependence on these mushrooms and a physical dependence if used frequently.
Can You Become Addicted to Hallucinogens?
Though typically not as addictive as other substances, it is still possible to develop an addiction to hallucinogens. Usually, this occurs after substance abuse, for example, taking high doses of the drug or taking it more frequently than intended. 
When someone regularly takes high doses of a substance, they become tolerant of it. This means they need to take increasingly larger amounts of the substance to feel the same desired effects. As tolerance builds, so does the risk of addiction.
In addition, substance abuse can quickly lead to changes in brain chemistry. These changes can be difficult to reverse and may cause lasting damage. Hallucinogens are particularly dangerous because they can cause both physical and psychological dependence.
How Addiction to Hallucinogens Happens
Though typically not as addictive as other substances, it is still possible to develop an addiction to hallucinogens. Usually, this occurs after substance abuse, for example, taking high doses of the drug or taking it more frequently than intended.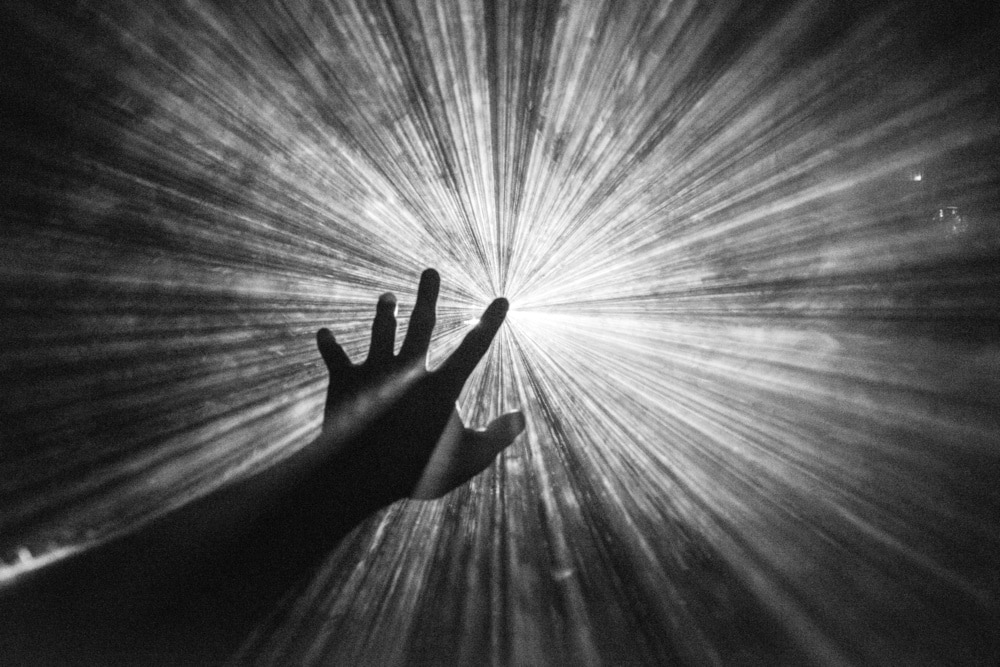 As with other forms of drug addiction, addiction to hallucinogens can lead to financial problems, relationship difficulties, and health issues. In some cases, people may even experience hallucinations that are not pleasant. If you or someone you know is struggling with an addiction to hallucinogens, it's important to seek professional help. It is possible to overcome substance abuse and live a healthy life with treatment.
Get Help for a Hallucinogen Addiction
Just like the treatment of alcoholism, addiction to hallucinogens can be a difficult addiction to overcome without professional help. There are many different types of hallucinogens, and each person reacts to them differently. Some people may only need outpatient treatment, while others may require inpatient treatment at a rehabilitation center.
The first step in addiction treatment is usually detoxification, which helps the person safely withdraw from the drug. After detox, the person may undergo counseling and therapy to help them understand and cope with their addiction. Medication may also be prescribed to help manage withdrawal symptoms and cravings in some cases.
Addiction treatment centers offer relapse prevention programs, which can help individuals stay on track in recovery. Many centers also offer alternative treatments, such as yoga and meditation, which can help to reduce stress and promote overall wellness.
StrugglingWithAddiction.com Can Help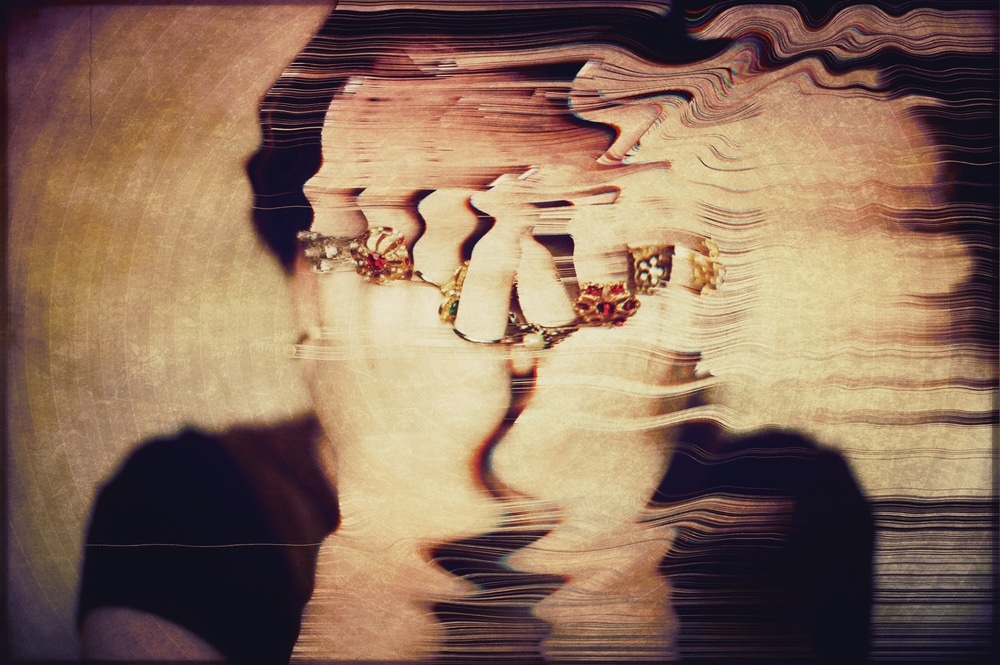 If you or someone you know is struggling with addiction to hallucinogens, please seek professional help. Addiction treatment centers can provide the care and support necessary for a successful recovery. They will also offer ongoing support that makes it possible to overcome addiction and live a healthy, fulfilling life.
Unsure where to start? Let us match you with the best treatment facility to suit your needs. Check out our directory of reputable rehabilitation centers.
Over the last two decades, people have normalized combining different drugs to achieve a more intense high. It is not uncommon to see an individual mixing alcohol with a prescription drug or psychoactive and psychedelic substances. If someone uses drugs sold on the street, the chances are that this person drinks alcohol too.
Most drug addicts are unaware of the severe short-term and long-term effects of illegal drug combinations. This article discusses hippie flipping, candy flipping, and polysubstance abuse.
Polysubstance Abuse
Polysubstance use refers to consuming more than one drug at once. When you engage in polysubstance use, you get a more pronounced feeling from consuming illicit drugs.
Most users have a drug of choice that they combine with other drugs to enhance the effect of their primary drug.
Unfortunately, those diagnosed with polysubstance abuse are usually addicted to the feeling of being high using multiple drugs.
Polysubstance abuse may increase the effects of the drugs, but it also has severe adverse effects that most drug abusers are unaware of.
Hippie flipping and candy flipping are the most common forms of polysubstance abuse.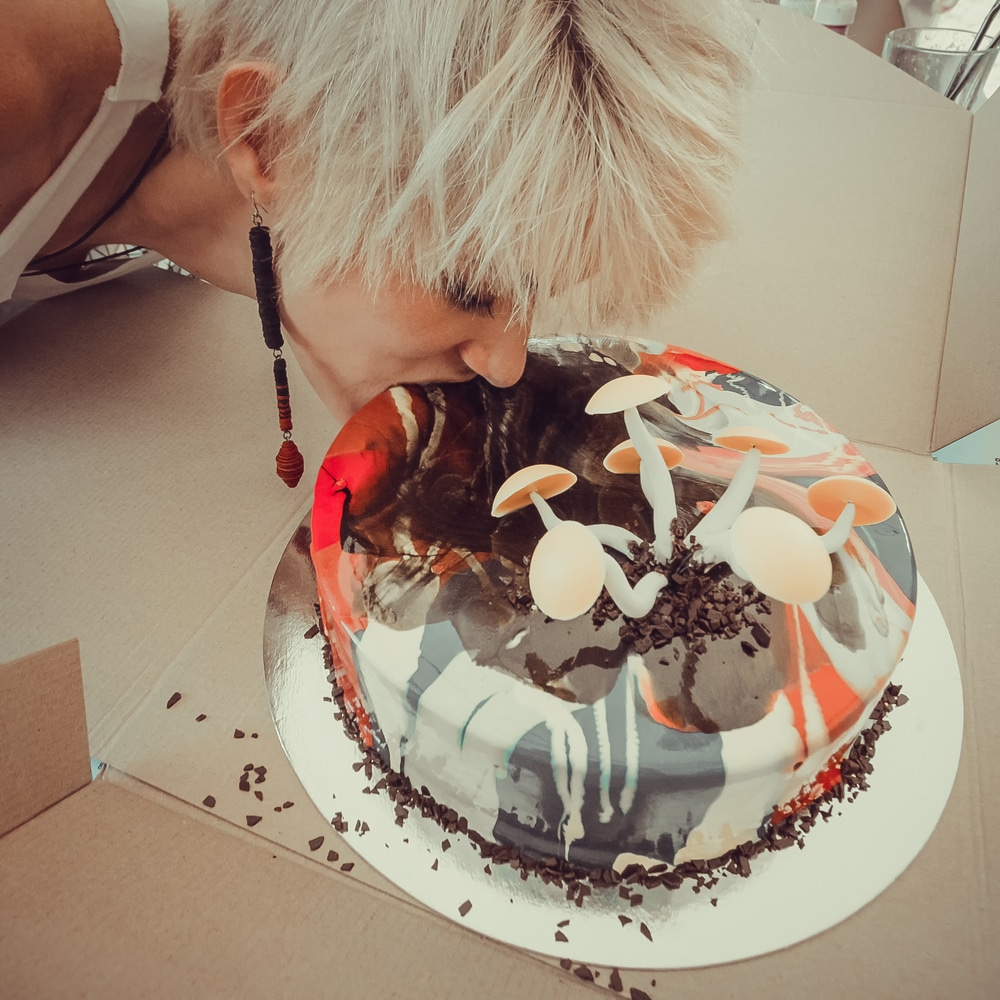 Contributing Factors of Polysubstance Abuse
Several factors contribute to polysubstance abuse, including:
Family: Most individuals diagnosed with polysubstance abuse usually have family members diagnosed with some form of addiction.
Social factors: Social aspects are also a huge contributor. Adults and teenagers who try multiple drugs at a time easily get addicted to the high. Consequently, they continuously crave the effect of the drug combinations.
Mental illness: Mental illness is also a possible contributing factor for polysubstance abuse. Most people fond of mixing drugs suffer from some form of mental illness, including depression and anxiety. They continuously abuse drugs to feel calm and have a positive outlook on life.
Street drugs: People who use street drugs may have no idea of possible altercations. Drug dealers often cut drugs with other substances to increase effects and also make more profits.
Consequences of Polysubstance Abuse
Polysubstance abuse has severe long-term and short-term effects. When you combine drugs, the side effects increase exponentially.
The effects also tend to be more potent than those of individual drugs. As a result, you are likely to have acute health problems, and your chances of overdose are much higher. Treatment of Polysubstance abuse is also complicated.
Hippie Flipping
Hippie flipping, also called flower flipping, refers to using psilocybin mushrooms and MDMA simultaneously.
When you hippie flip, you will experience a psychedelic and euphoric trip. Hippie flipping is quite common in clubs and other social settings.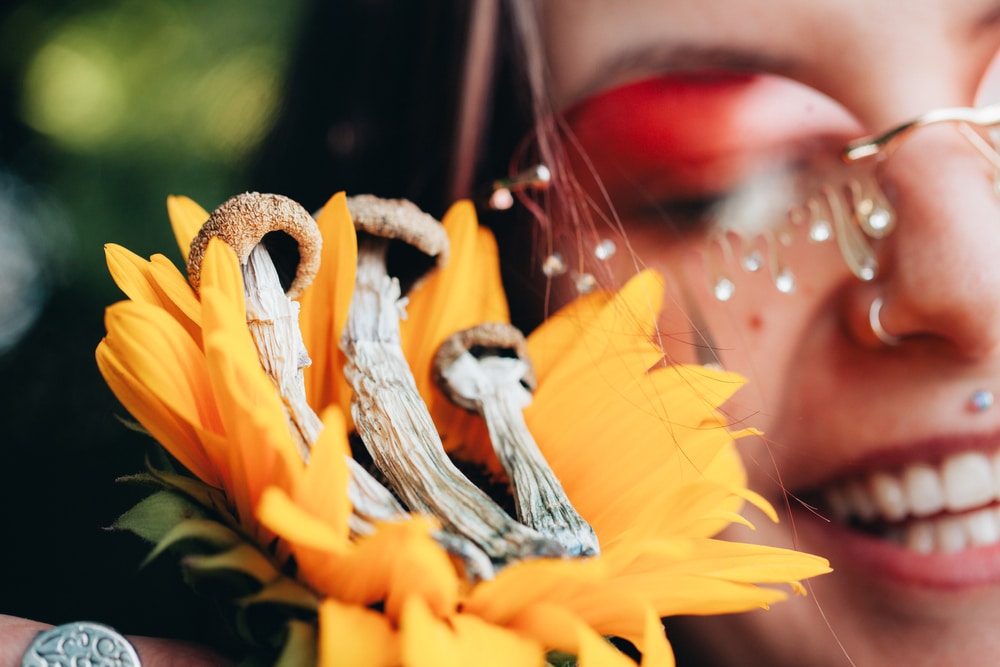 Effects of Hippie Flipping
The effects of hippie flipping depend on:
The order in which you took the mushrooms and MDMA.
The dose of each drug.
Amount of time in between taking each drug.
Purity of the MDMA.
Your unique psychology and body.
Your environment.
Since the above factors determine the effects of hippie flipping, the effects vary from individual to individual. However, the constant is a mosaic of different sensations and emotions.
Possible side effects are:
Elevated senses.
Euphoria.
Confusion.
Intense emotions.
Visual effects.
For How Long Does the Hippie Flipping Experience Last?
The length of your hippie flip depends on how you timed the two doses. The effects of MDMA last for 3-6 hours, while mushroom's effects last for 4-6 hours. For this reason, a hippie flip can last for anywhere between 6 and 12 hours. However, some people report experiencing side effects like headaches and lethargy two days after hippie flipping.
Risks of Hippie Flipping
Like most drug combinations, mixing mushrooms and MDMA has serious risks. MDMA can cause serotonin syndrome, resulting in high body temperature, cardiac arrhythmia, and muscle cramping. On the other hand, mushrooms prevent serotonin reuptake from your brain cells; thus, the drugs remain in your system for much longer.
Mushrooms and MDMA can potentially damage brain cells since they over-activate the cells. Other additional side effects include nausea, weakness, dry mouth, jaw clenching, insomnia, extreme thirst, dizziness, rapid eye movement, and more.
Comedown Effects of Hippie Flipping
If you start by taking psychedelic mushrooms before MDMA, you will likely have a standard MDMA crash at the end, which includes feelings of anxiety and extreme sadness. If you take the mushrooms last, the hallucinogenic effects of mushrooms may mask the MDMA crash. Although most hippie flippers prefer this, it often creates conditions for a bad trip. Most hippie flippers report that they feel spent and tired during the comedown.
Candy Flipping
Candy flipping refers to mixing LSD and MDMA. MDMA, commonly sold as ecstasy in pill form, is a psychoactive drug, while LSD, commonly known as acid, is a psychedelic drug.
Most people that candy flip start with LSD then follow it up with MDMA after approximately 4 hours. This way, they feel the peak effects of LSD first, then follow it up with the feel-good vibes of MDMA.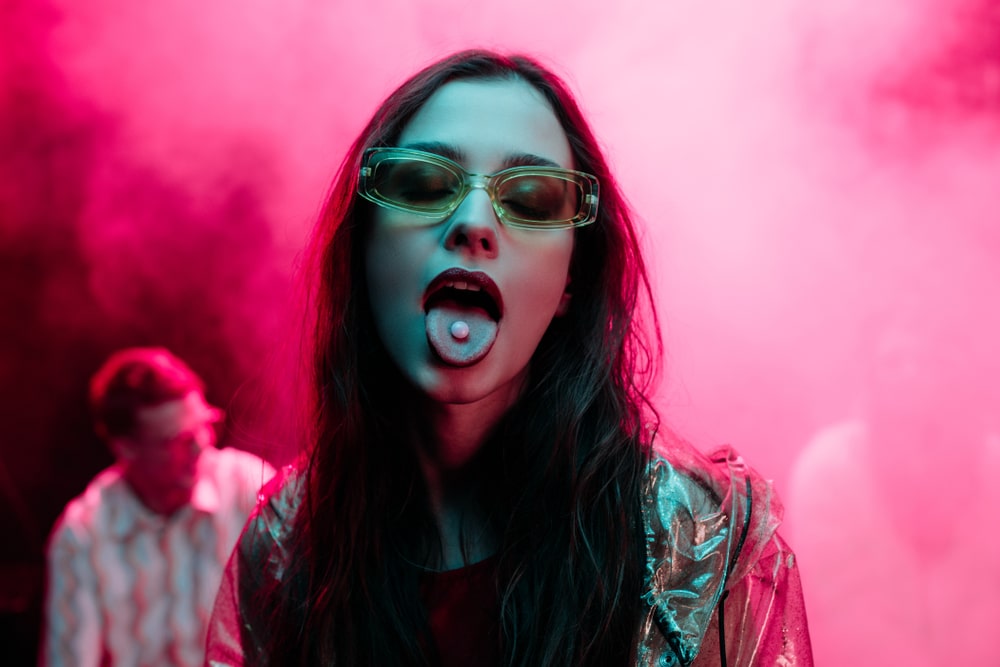 Effects of Candy Flipping
The effects and intensity of candy flipping vary from individual to individual. You may even experience different effects every time you candy flip. For this reason, it is challenging to say what its exact outcome will be.
Most candy flippers claim they experience intense MDMA-like effects, but others claim they experience the effects of both substances in equal measure.
According to the National Institute on Drug Abuse, common MDMA effects include:
Elevated energy and mood.
Increased empathy.
High sensitivity to touch.
Visual distortion.
Nausea.
Chills.
Increased body temperature.
Common LSD effects include:
Hallucinations.
Rapid mood swings.
Euphoria.
Confusion.
Intense feelings.
Paranoia.
For How Long Does the Candy Flipping Experience Last?
The candy flipping experience lasts for 12-24 hours because LSD effects last for 12 hours,
and MDMA effects last for 3-6 hours.
Risks of Candy Flipping
Candy flipping presents several severe and potentially dangerous risks. Besides the effects mentioned above, you may have a bad trip and hydration issues.
Comedown Effects of Candy Flipping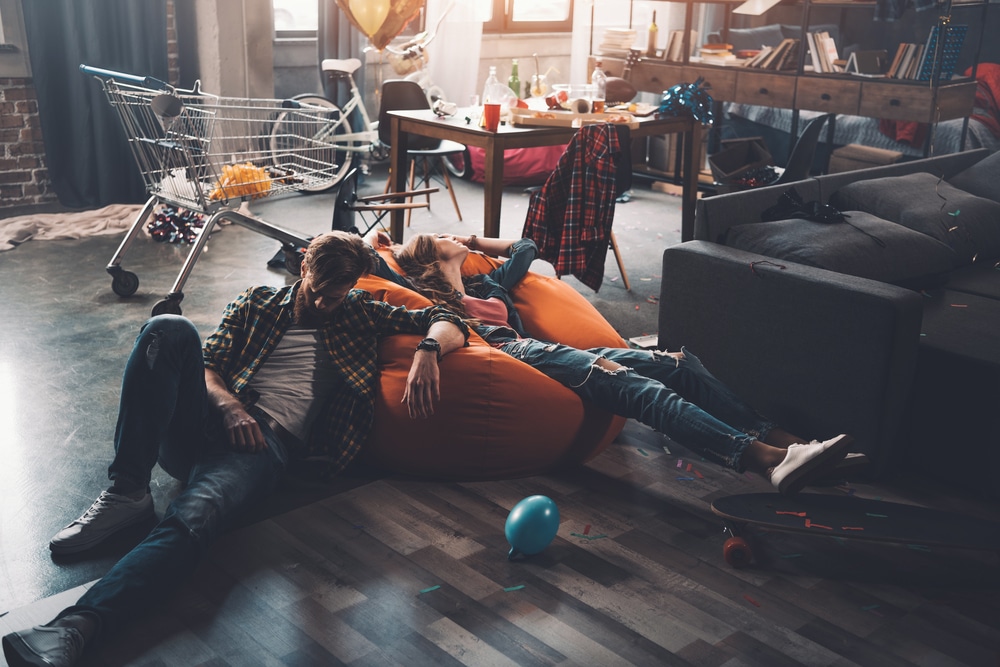 Candy flipping has an unpleasant comedown. The possible comedown effects are:
Memory issues.
Trouble concentrating.
Insomnia.
Reduced appetite.
Irritability.
Aggression.
You may also experience paranoia and depression. These comedown effects may last for several days.
Get Help Today
Mixing drugs and alcohol or different kinds of drugs increases your risk of harmful and potentially dangerous side effects. Besides the side effects discussed above, you will likely develop substance use disorders.
If you or your loved one are struggling with hippie flipping, candy flipping, or polysubstance abuse, it would be best to seek professional help. Several treatment programs are available, and you can choose one that suits you best.
It is not easy to tell that a loved one is abusing drugs, especially in the early stages of addiction. You may notice changes in their moods or behaviors, but that could be anything. However, if your intuition tells you there's a problem, it might be worth taking stock of your concern. A great place to start is to watch out for paraphernalia.
People who abuse drugs often use items like spoons, silicone bongs, glass bongs, beaker bongs, acrylic bongs, roach clips, etc., to produce, hide or administer drugs. So, if you find these items in their belongings, it could be a sign that they are abusing drugs. In which case, you may need to help them get the help they need to stop abusing drugs.
Abusing drugs doesn't always translate to addiction, but it is a precursor to addiction. Early intervention is therefore critical to preventing addiction and accompanying problems.
What does drug paraphernalia look like?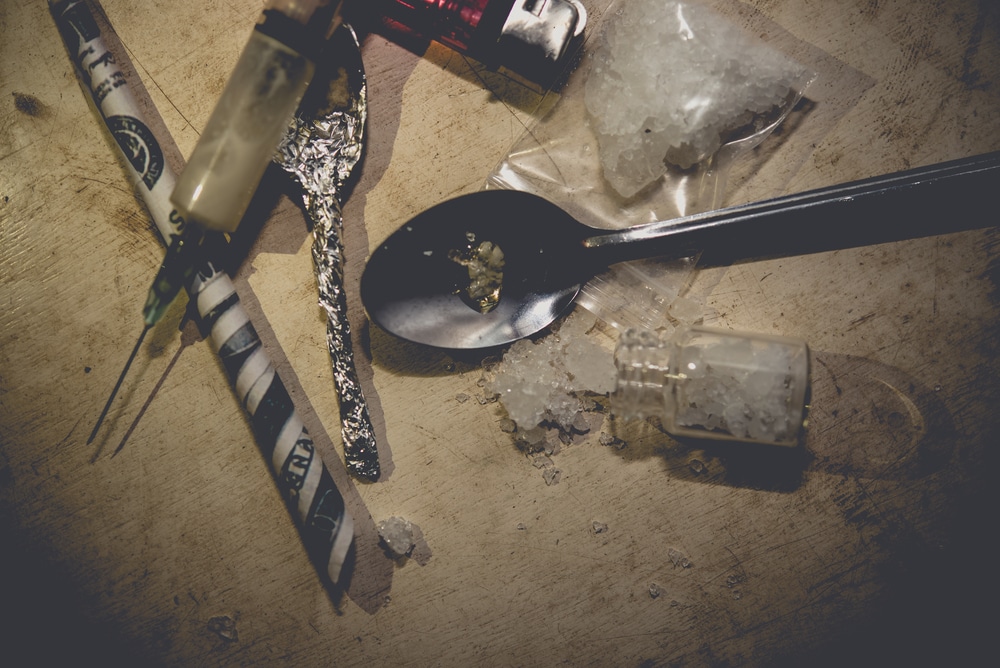 It can be challenging to identify drug paraphernalia because they look like legitimate items. Marijuana pipes and bongs for sale, for example, often have a disclaimer indicating they're meant to be used only with tobacco products.
While drug paraphernalia varies from one manufacturer to another, more manufacturers are making them in bright, trendy colors with designs like dragons, wizards, devils, and skulls. They do this to glamorize drug use and make their product appealing to their target market.
Examples of drug paraphernalia
An essential part of understanding drug use is identifying the items that drug addicts use to hide, consume or produce drugs. You may find these items in your loved one's backpack, car, or bedroom.
Note: If you come across any drug items in your loved one's belongings, you might be tempted to check them out. But you should not touch these items as some drugs may be absorbed through the skin.
Roach clips
Roach clips are great for pinning the hair back. But drug users may use them to hold the blunt or joint to avoid burning their fingers when they become too short to hold. You can also watch out for small joints and blunts in the trash can.
Smoking devices
Smoking devices like hand pipes, bongs, dab rigs, DIY disposable devices, and hookahs are also very common among those who smoke marijuana.
Tin foil pipe
Tin foil scraps or pieces of aluminum foil are everyday household items and could be easy to ignore. But if you find them in your loved one's belongings or the waste bin, it could be a sign they're smoking heroin or inhaling meth fumes.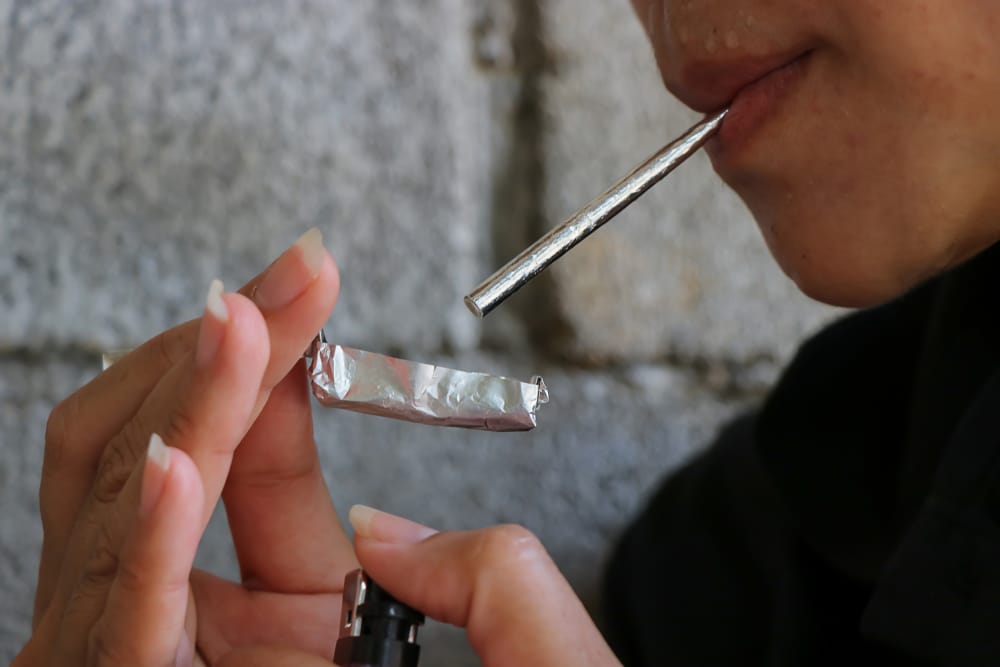 People who smoke drugs chop the crystals with razors or ATM cards and place them onto a foil. They then hold it over a lighter or candle. When it smokes, they use a dollar bill, rolled-up foil straw, metal straw, or glass straw to inhale the smoke.
Burnt bottle caps or spoons
One of the first signs that your loved one is using drugs is missing spoons. Suddenly, you'll notice your cutlery service for 12 is down to 8 spoons, etc.
Drug addicts use spoons for cooking powdered drugs. They place the drug in the spoon bowl, add some water, and heat it over the flame until it becomes liquid. But since they can't return the burnt spoon, they'll hide it for their next use.
Alternatively, they may use bottle caps and hold them with pliers. You may also find a burnt lighter as these go hand in hand.
Used needles
Needle tracks or "track marks" on your loved one's body are apparent signs of cocaine, heroin, meth, or prescription painkiller abuse. But like other addicts, your loved one may do a great job hiding the track marks. So, if you find needles or syringes along with some belt or elastic bands in their rooms or backpacks, that might be a clear indication they're using. Belts or bands are used to constrict the upper leg or arm to make the veins more prominent for injection.
Glass water pipe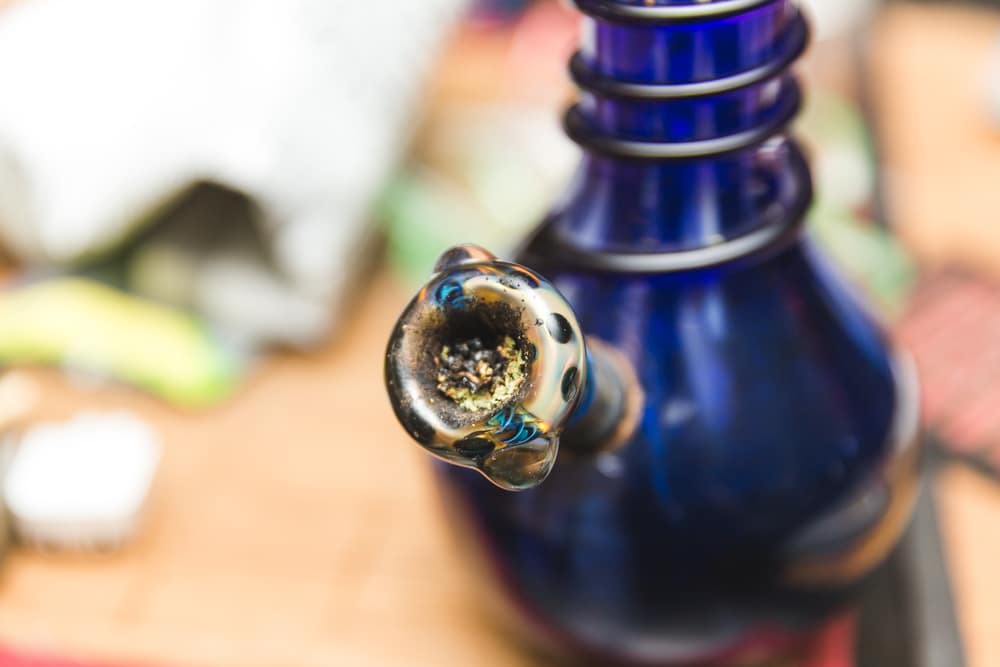 Glass water pipes or bongs indicate that someone is smoking cannabis, spice or other herbal substances like K2 or "spice". A bong is a portable filtration device with a bowl outside of a vertical tube and water at the bottom of the pipe for water filtration.
A glass water pipe is just one type of bong. Others include ceramic, plastic, metal, and bamboo. Bongs also come in different designs, including beakers, round base, percolators, straight tube, and multi-chamber. Multi-chamber pipes provide a smooth hit. They can also be incredibly small like a mini bong.
Plastic bags or small paper bags
These might be harmless. But when there's suspicion about drug use, it's best to pay attention to any plastic and small paper bags in their belongings. People who abuse drugs store and carry drugs in makeup bags and plastic baggies.
Pacifiers and lollipops
These two seem harmless but are often used by people who abuse drugs like meth or ecstasy. Usually, these drugs cause teeth grinding and jaw clenching. So, users use pacifiers or lollipops to prevent these side effects from happening while they're intoxicated.
Signs of addiction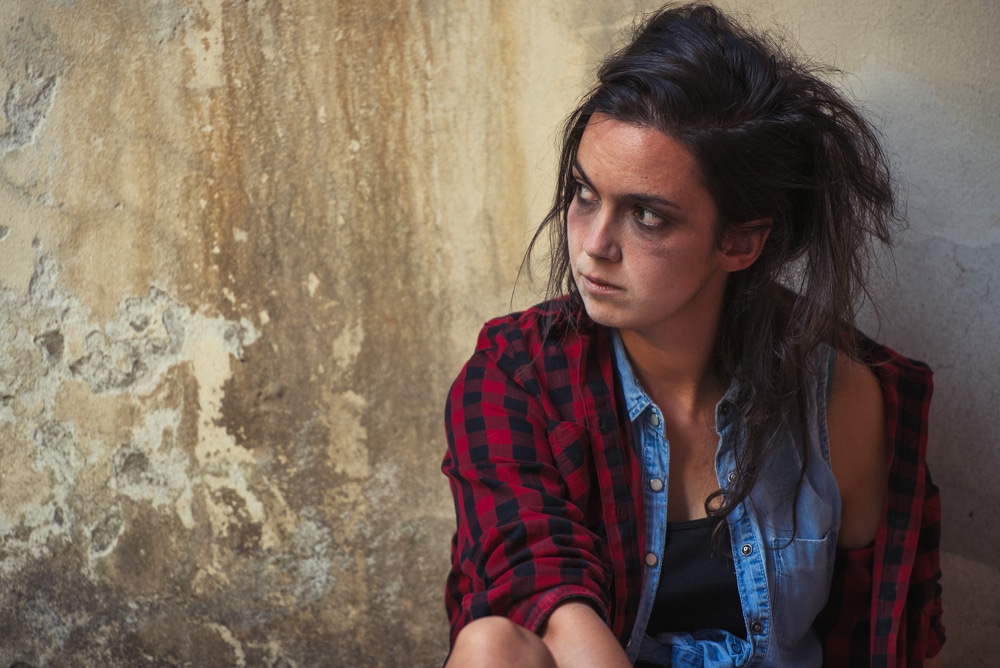 At the end of the day, finding these items in your loved one's belongings doesn't guarantee that they're struggling with drug addiction. It's, therefore, crucial to watch out for other signs before taking the next step. Some indications of addiction may include:
Behavioral signs include obsessive thoughts and actions, disregard for harm caused, loss of control, and denial of addiction or hiding drug use.
Physical signs like sudden weight loss or gain, insomnia, untidiness, poor physical coordination, unusual body orders, or slurred speech. They may also move around with their drug paraphernalia.
Psychological signs like anxiousness, unexplained paranoia, sudden mood swings, changes in personality or attitude, and lack of motivation. They may also display emotional withdrawal from people, irritability or angry outbursts, or lack of motivation.
Social signs like hanging around people who abuse drugs.
Seeking help
If your loved one has drug paraphernalia and is exhibiting some of the signs shared above, it's time to act fast. Start talking with professionals to determine treatment options suitable for your loved one. Remember, every addiction patient is different, so a one-size-fits-all approach may not apply in your case.
Using more than one drug at a time is dangerous, yet people still experiment with various drugs. Most drug combinations intensify the effects of each individual drug making them more dangerous than they were before.
Combining substances, whether illicit or prescription drugs may result in drug overdose, and in some cases, death. According to the National Institute on Drug Abuse, mixing drugs can change the way an active ingredient works. It can amplify the ingredient's effect on the body, make it less effective or have other unexpected results.
Some popular drug combinations that kill are:
· Gray death.
· Alcohol and benzodiazepines.
· Heroin and cocaine.
· MDMA and magic mushrooms.
Let's look at these popular drug combinations in detail.
Gray death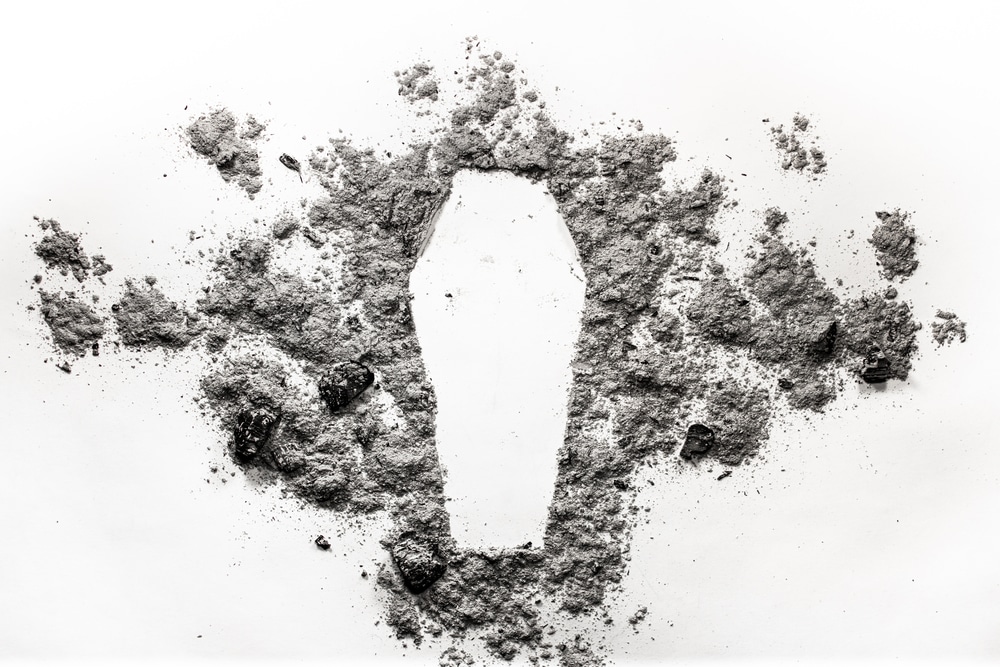 This is a lethal drug combination that is gaining popularity at a very high rate among the youth. It consists of different varieties of opioids such as:
· The powerful painkiller fentanyl
· An animal tranquilizer carfentanil
· Heroin
· U-47700 a synthetic opioid popularly known as "Pink".
The combination resembles gravel or concrete mixing powder which can be smoked, snorted, injected or swallowed. It is extremely dangerous even in small dose. In fact, it is so lethal, it can seep through the skin into the bloodstream if handled with bare hands.
Gray death causes a range of side effects like slow breathing, loss of consciousness and heart failure. This lethal combination has caused many opioid overdose deaths. According to the CDC, about 71,000 overdose deaths involved an opioid in 2019. These deaths occurred across the US.
Drug dealers sell the concoction cheaply in the streets, going for as low as $10. The low-price has made it easily accessible leading to an increase in the number of deaths resulting from overdose cases.
Since Gray death is a fairly new combo, most users are unaware of its adverse effects. In order to prevent more deaths from occurring, authorities around the world are creating awareness about the dangers of using this combination and encouraging those already using it to seek medical help.
Alcohol and Benzodiazepines
Mixing drugs and alcohol is dangerous. In addition to running a higher risk of side effects from mixing the two substances, you have a greater chance of overdose and death. That's why health care providers recommend avoiding this combination.
Benzodiazepines such as Valium and Xanax are central nervous depressants used to treat insomnia, stress and anxiety. They are generally safe when taken as prescribed. Mixing alcohol with benzos not only enhances the effects, but also increases the risk of overdose death. That's why every warning label on benzo containers caution against mixing the drugs with alcohol. Doctors also instruct their patients not to drink alcohol when taking benzos.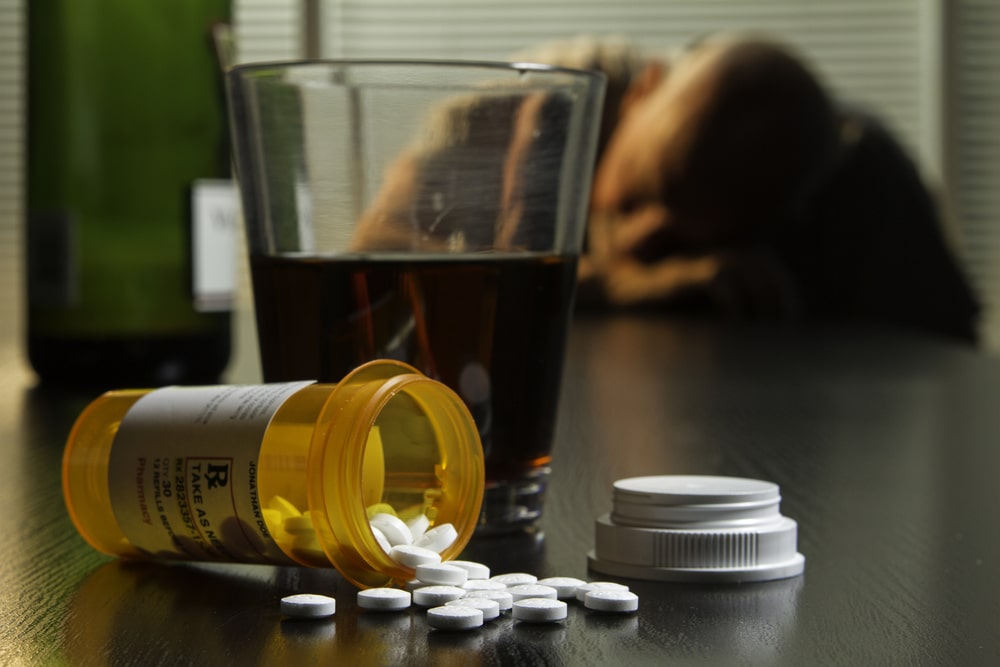 This combination is also known to cause side effects like:
· Organ failure
· Brain damage
· Unconsciousness
· Extreme drowsiness
· Slow breathing, causing insufficient oxygen supply to the brain
· Increased reduction in cognitive ability
· Increased risk of developing a substance use disorder
· Increased potential for unpredictable effects
· Death
Heroin and Cocaine
This is an injected combo of cocaine and heroin commonly referred to as "speedball". Both drugs affect the dopaminergic brain process leading to a combined effect. The combination is highly addictive.
Most drug users believe that when you combine heroin and cocaine, they cancel each other's effects since they have opposing effects. However, this is not the case. When you combine the two drugs, their negative effects of both are amplified. The combo leads to a state of "push-pull" in the body, putting a strain on circulatory and respiratory systems. As a result, your body becomes confused as it is processing two toxic substances which are complete opposite of each other at the same time.
Users who want to have the speedball effect dissolve both drugs in liquid and inject the mixture to achieve an extremely quick and intense high. Cocaine's high lasts for a short period, while that of heroin lasts much longer. Therefore, those who combine the two drugs use more cocaine to prolong the speedball effect.
Mixing heroin and cocaine increases the risk of drug overdose and death. It may also result in a number of deadly symptoms such as increased heart rate, cardiac arrest, blurred vision and even stroke. Over the years, many people have lost their lives to accidental overdose, with speedball overdose being one of the main causes.
It is important to create awareness on the risks of speed balling and also know how to identify danger signs in users and call for emergency help when the need arises.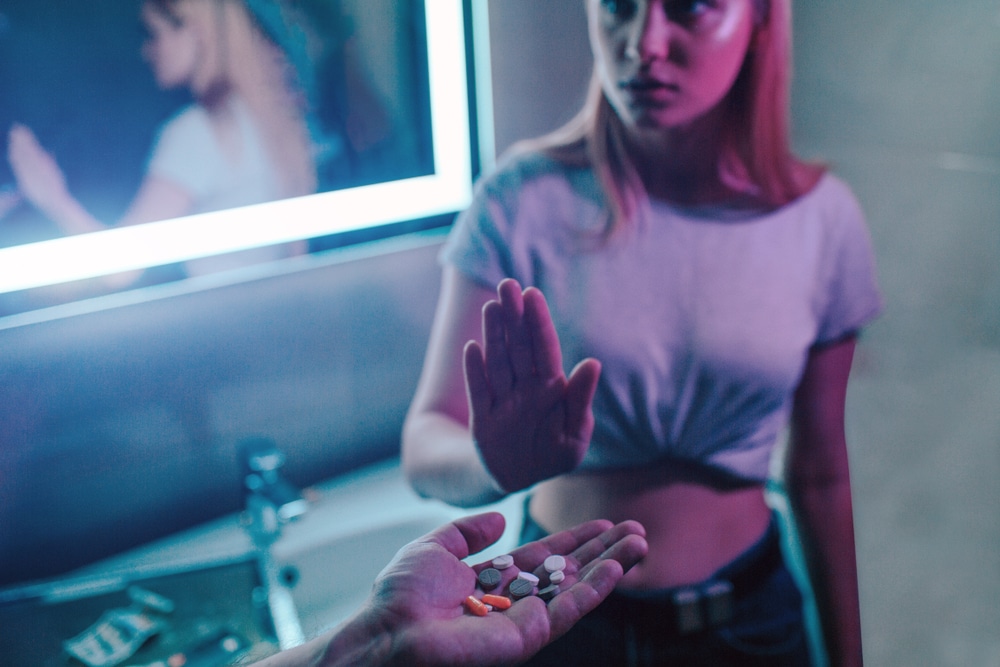 MDMA and Magic Mushrooms
Mixing MDMA (ecstasy) and mushrooms also known as "Hippie flipping" or "flower flipping" has been in practice for years. Users mix the two so that they can enjoy the synergy of their combined effects. They experience a feel-good high when trippy visuals of mushrooms meet with sensory elevation caused by MDMA.
Since both drugs affect the pleasure centre of the brain, the combined effect impacts the user's mood and temperament, inducing unusual sensory experiences. The hippie flipping feeling lasts about six hours although some users have reported feeling mild effects a day or two after.
There is a high risk of overdose and even death when mixing MDMA and Magic mushroom. MDMA can cause serotonin to be produced in the brain leading to increased heart rate, high blood pressure, muscle cramping and high temperatures. However, these effects vary based on factors such as the user's personality and mood, age and health status.
Conclusion
People that use these lethal drug combinations may be unaware of the danger involved until it's too late. There is a need for aggressive education and awareness on the risks of drug interactions, especially among the young people.
When you get addicted to using any of the above drug combinations, it would be best to seek treatment before the drugs significantly affect your physical or mental health.
Professionals will identify the root cause of addiction and take you through an individualized treatment program. You will undergo a medical detox and a rehabilitative inpatient program to help you through the early tough days of recovery. Afterwards, your doctor will refer you to support groups which will help you maintain your sobriety.