California Sober is a trending term that was popularized by singer-songwriter Demi Lovato. The singer released her song, California Sober, after a near-death opioid overdose in 2018. In her interview with CBS News, Lovato said she best identifies with the term California Sober.
But what exactly does the term California Sober mean?
While traditional sobriety is defined as abstaining from any drug or alcohol, the California Sober approach is about using certain drugs in moderation.
California Sober, or Cali sober, refers to abstinence from all substances except smoking weed or ingesting marijuana. People interpret the exceptions differently, but marijuana is the most commonly cited "acceptable" substance for those who consider themselves California Sober. The term, California Sober, is associated with Michelle Lhooq, who wrote an article on Vice.com explaining how she streamlines her substance abuse to improve her health. The writer stopped using all drugs except marijuana and some psychedelics when she relocated to California from New York.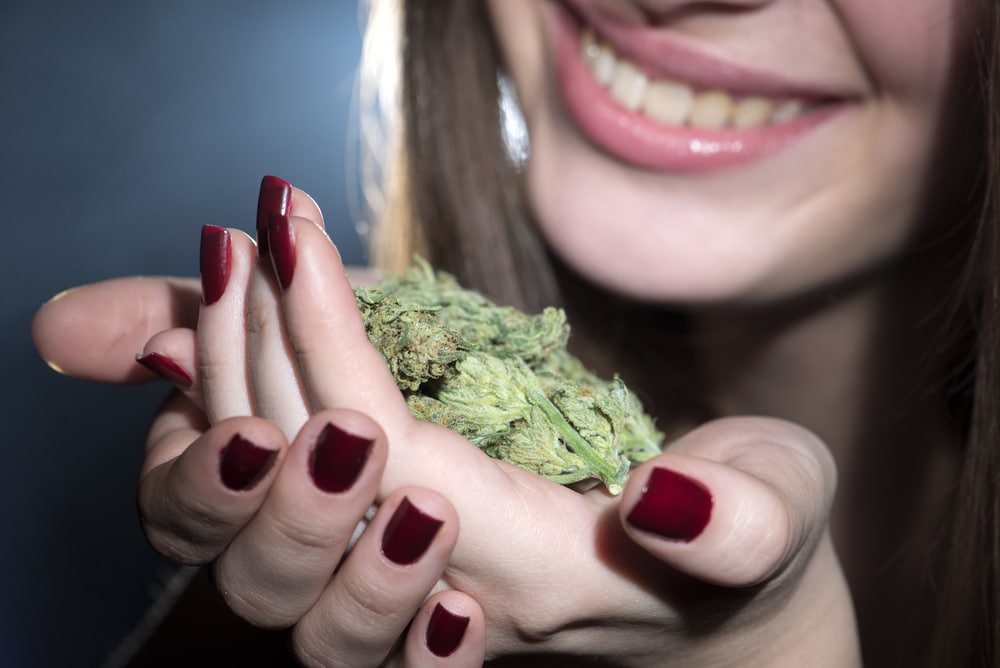 In their interview with CBS in her Los Angeles home, Demi Lovato said quitting drug use partially worked well for her. "I am cautious to say that, just like I feel the complete abstinent method isn't a one-size-fits-all solution for everybody, I don't think that this journey of moderation is a one-size-fits-all solution for everybody," she told CBS news. In their case, they replaced opioids with marijuana and alcohol.
But the singer now has a different outlook on things and believes that traditional sobriety is the way to go.
California Sober as a Harm Reduction
Harm reduction seeks to provide users with safer and healthier options to reduce the harm associated with substance abuse. The approach follows principles like: 
Accepting that drug use is part of our world and working to minimize its harmful effects rather than condemn or ignore them.
Providing resources and services to those who abuse substances as well as their communities to help them reduce attendant harm
Understanding drug use as a complex, multi-dimensional phenomenon entails a continuum of behaviors from severe abuse to total abstinence.
Not attempting to ignore or minimize the dangers associated with alcohol consumption or drug abuse.
By most definitions, Cali sober isn't harm reduction. This approach is primarily about replacing substances, like opioids and alcohol, with marijuana as a "softer" alternative. While this may work for some people, it doesn't necessarily change their relationship with drugs. It just shifts it from one substance to another, potentially a more accepted one.
When considering California Sober as a form of harm reduction, it's essential to speak with a medical professional or addiction specialist. They can guide how to safely reduce drug use and provide resources to those who wish to pursue abstinence.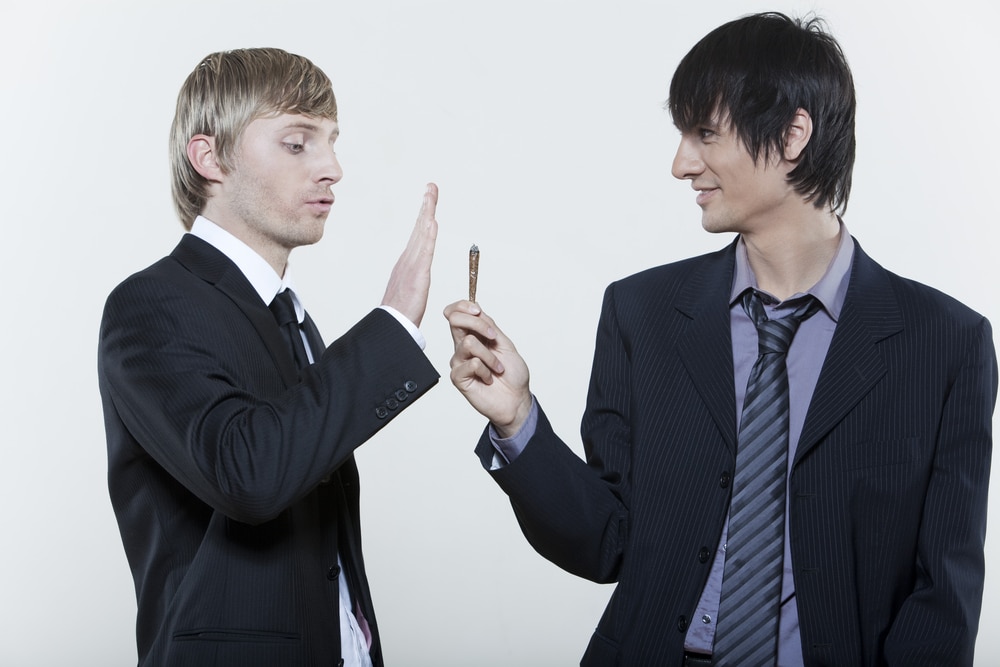 The Pros of Cali Sober
The main benefit of Cali Sober is that it allows individuals to reduce the risk associated with certain drugs while still getting some of the pleasure they seek. For example, a person who has struggled with alcohol abuse may find that using marijuana in moderation is a less risky alternative. The switch is also common among those who experience hangovers or sleeplessness.
The California Sober approach allows users to escape the strict abstinence-only models of traditional sobriety and gives them more leeway to experiment. This is especially important for those with no behavioral addictions or behavioral health issues like opioid or alcohol abuse. 
Marijuana is an addictive substance but carries fewer risks than drugs like opioids, heroin, cocaine, or fentanyl. It doesn't cause overdose or blood-borne disease and is legal in most states.
Dangers of a California Sober Lifestyle
There are some potential risks associated with the California Sober approach. Some common ones include:
Risk of Developing Cannabis Use Disorder
Finding the right balance between safe drug use and substance abuse can be tricky. According to the CDC, marijuana use can lead to addiction, especially for those who start using at a young age or use it frequently. Other factors like family history, mental health issues, peer pressure, social isolation, and lack of family involvement can also contribute to cannabis use disorder. And like any other substance use disorder, CUD can hurt one's physical and mental health.
Semi-Sober -- Substance Use in Moderation
Semi-sobriety involves setting limits on intake and gradually decreasing the frequency and amount of substance use over a period of time. It is often done with other strategies like lifestyle changes, alternative therapies, and counseling. But since the definition of moderation varies greatly, it's easy for some people to go overboard. For those who have a hard time controlling use, it can be a good idea to cut use completely.
Cali Sober is Open to Different Interpretation
While marijuana is the most commonly used drug in the California Sober approach, some individuals may use other substances like alcohol, tobacco, or even prescription drugs instead. Some may modify it further to use marijuana during the week and hard drugs over the weekend. The lack of rationalization of this approach can increase the chances of relapse. In contrast, the abstinence recovery model requires total abstinence from all mind-altering substances to ensure sobriety.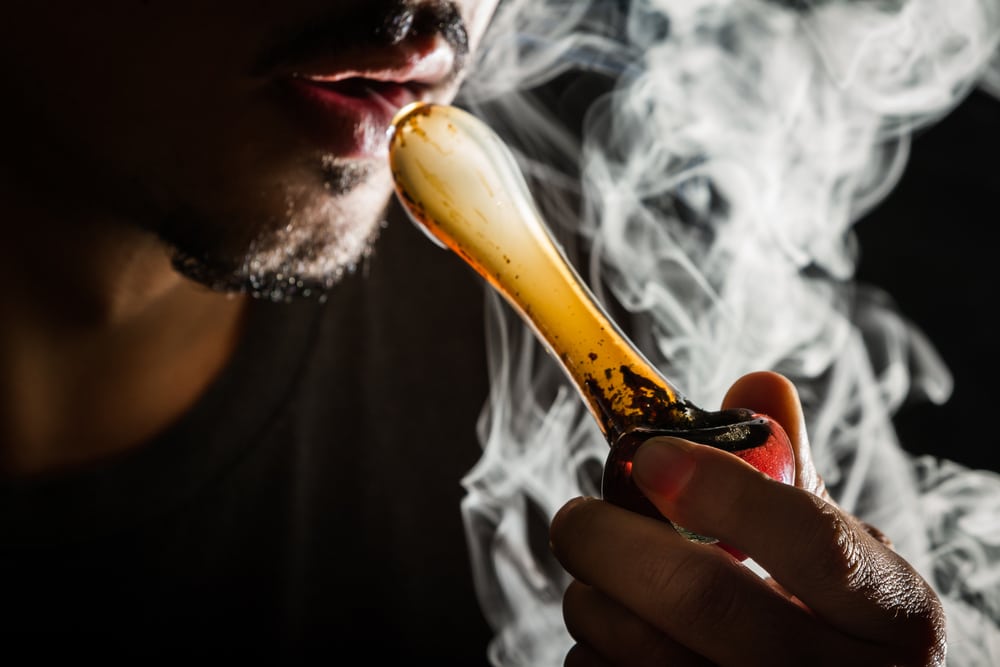 Deciding What's Acceptable Can be Taxing
When following the California Sober approach, one must constantly decide what is acceptable drug use and what isn't. For example, they'll need to figure out things like:
When to use
The amount to use
The type of substance to use
The side-effects
Whether they can adjust their decision to integrate other drugs
This can become exhausting and can lead to burnout, which has the potential to create a slippery slope back into addiction.
Address the Root Cause of Addiction
Ultimately, to ensure lasting recovery, people should be guided toward a holistic approach that looks at the underlying cause of addiction. This might include addressing mental health conditions and developing healthier coping strategies for stress or trauma. Treatment options like cognitive behavioral therapy, yoga, and meditation can also help build resilience to cravings.
To summarize, Cali Sober is an increasingly popular approach to sobriety that allows individuals to consume marijuana in moderation while giving up other drugs. However, it's essential to keep in mind that there are some risks associated with this approach, and it should be done thoughtfully. This approach can help individuals find a healthier balance between abstinence and drug use when used responsibly.
If you or someone you know is struggling with addiction, seek help from an addiction specialist. Recovery is possible, and taking the first step can make all the difference.
Sleep disorders and addiction share a complex and bidirectional relationship. People who suffer from a sleep disorder may be more likely to abuse drugs or alcohol to try and self-medicate and achieve better sleep. For instance, they may use stimulant drugs to compensate for daytime fatigue caused by lost sleep.
In other cases, they may use drugs because of issues like cognitive impairment. Conversely, people addicted to drugs or alcohol may also suffer from sleep disorders due to the negative effects these substances can have on the body and mind.
There is a strong link between sleep disorders and addiction. A review by the Addiction Science & Clinical Practice found that about 70 % of patients admitted for detox had sleep issues before admission, and 80 % of those with sleep problems connect them to alcohol or illegal drug use.
According to the review, the relationship between the two seems to be bidirectional, with chronic or acute substance use disorders increasing the risk of developing sleeping problems. The review also adds that there's evidence indicating that long-term abstinence from chronic drug or alcohol use can reverse some sleep problems. 
One of the most common ailments related to lack of sleep is depression. If you're wondering whether or not you or someone you know suffers from depression, one way to learn more is to take a depression test.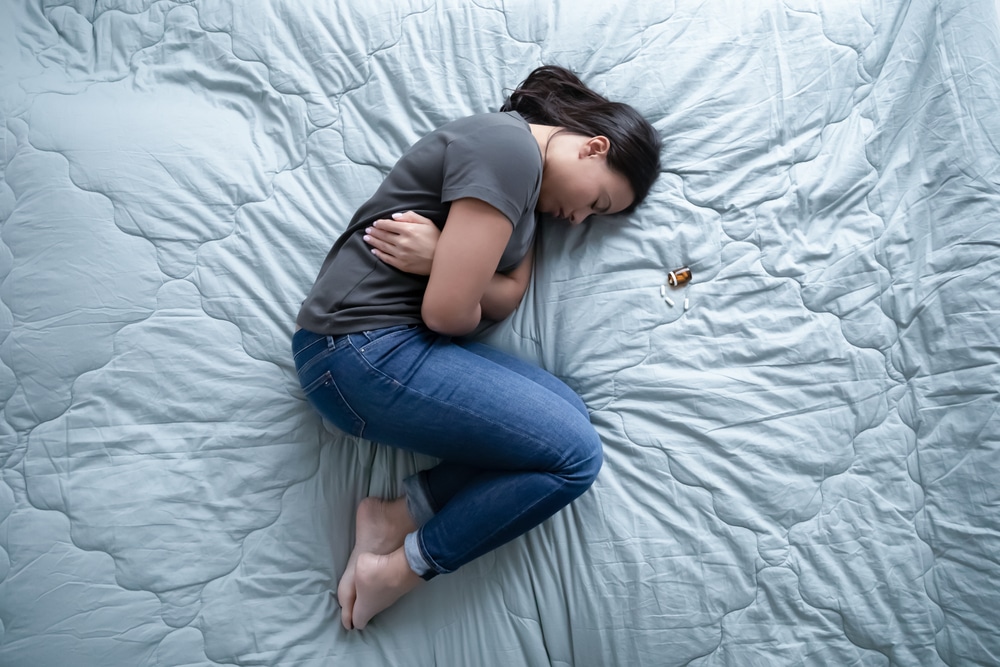 How substance abuse leads to sleep disorders
Addiction is a brain disease. Chronic alcohol or drug use interferes with the brain, changing its chemistry and circuitry. These changes result in compulsive drug use and sleeping problems. Drug and alcohol use disorders can cause short- and long-term sleep issues like insomnia and sleep apnea. 
Substance abuse also alters how a person through their sleep stages - messing up the rapid and non-rapid eye movement (REM and NREM). Generally, substance abuse can lead to:
Lower overall sleep time
Less "good" sleep
Strong daytime sleepiness (hypersomnia)
Nighttime wakefulness
Here is a quick look at how different drugs affect sleep.
Marijuana
Marijuana interacts with the endocannabinoid system (ECS) by binding to the cannabinoid receptors responsible for many roles, including regulating the sleep-wake cycle. This explains why more than 40% of those trying to quit marijuana experience sleeping problems. Many others experience sleep difficulty, strange dreams, and nightmares too. 
Opioids
Opioids like heroin bind to mu-opioid receptors, a body system that's also responsible for sleep regulation. In fact, the name morphine or morphia, a medical derivative of opium, comes from Morpheus, the Greek god of sleep and dreams. Opioid drugs can induce sleepiness but also derange sleep by increasing transitions between different sleep stages.
Those going through withdrawal from heroin addiction can experience terrible insomnia. Opioids can also regulate respiration and, when taken in high doses, can severely impede breathing during sleep. 
Depressants
Depressants like alcohol may help people fall asleep, but they often lead to disruptions in sleep patterns and can make it difficult to stay asleep. Chronic alcohol use causes:
Overall decrease in sleep time
Prolonged sleep latency
Decreased REM sleep
Decreased sleep efficiency
Early morning awakenings
Difficulty maintaining sleep
Nonrestorative sleep and fatigue
Cocaine and other stimulants
Stimulants like cocaine can make it difficult to fall asleep and cause people to wake up frequently at night. The sleep disturbances like insomnia and hypersomnolence mostly happen during cocaine intoxication and withdrawal. Other stimulants like amphetamine trigger dopamine release.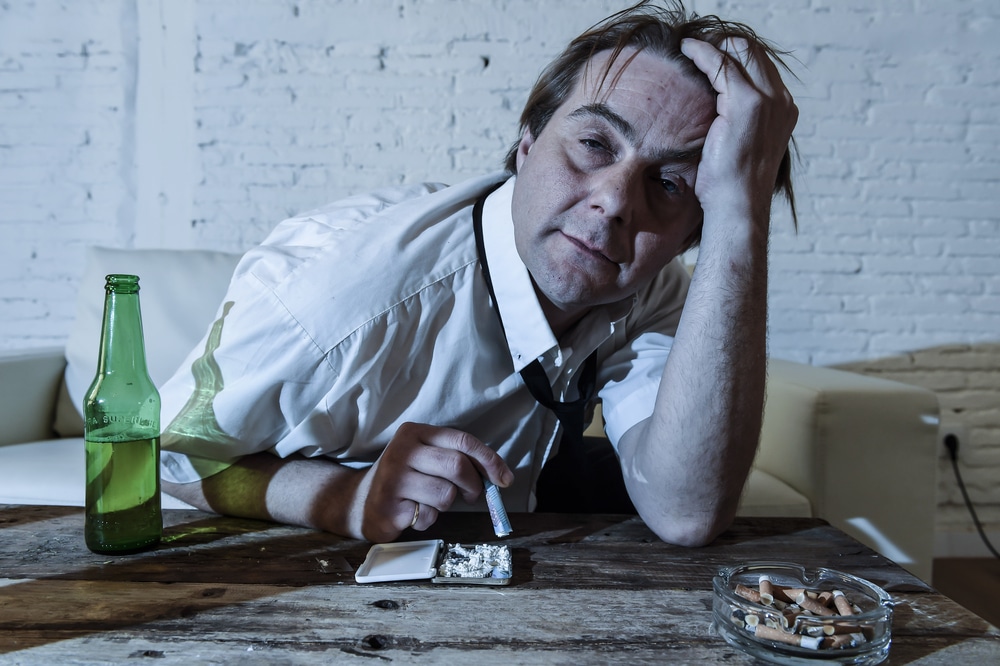 During acute administration, they can decrease total sleep time and sleep efficiency and increase sleep latency and the number of awakenings. In the withdrawal phase, there's a drop in sleep latency and a rise in total sleep time and efficiency.
Drug withdrawal and sleep disorders
Withdrawal from drugs can cause sleep disorders like insomnia, or other sleep problems, including restless legs syndrome, strange dreams, or broken sleep. These issues can take a toll on one's physical and mental health, making a recovery harder. Sleep problems are common when withdrawing from:
Alcohol
Marijuana
Cocaine
Stimulants
Prescription or nonprescription drugs
How sleep disorders lead to substance abuse
Sleep disorders can also lead to substance abuse. Many people with sleep disorders turn to substances as a way to self-medicate or try and improve their sleep. For example:
People with chronic insomnia may start drinking alcohol to fall asleep, or they may take prescription medications to fall asleep. Without these drugs, they may end up not getting a good night's rest and may use substances like caffeine or nicotine to stay awake during the day.
People with obstructive sleep apnea often experience periods of interrupted breathing during sleep, leading to sleep deprivation. This can cause them to feel tired during the day, leading them to abuse drugs or alcohol to get some relief.
Restless leg syndrome is a condition that causes an uncontrollable urge to move the legs, often accompanied by a feeling of pins and needles. This can make falling and staying asleep difficult, leading people to turn to drugs or alcohol to relax their muscles and drift off.
The dangerous cycle
As discussed earlier, people with sleep may take stimulants like caffeine, cocaine, or nicotine to stay awake during the day and then use alcohol or other drugs to fall asleep at night. Also, those struggling with addiction may disrupt their circadian system and end up with sleep disorders that lead them to use more substances to self-medicated. This can create a dangerous cycle in which they use substances to try and manage their sleep, but the substances themselves make it difficult for them to get the rest they need.
Sleep quality and addiction recovery
People who stop using drugs and alcohol often have better sleep. This happens because they are no longer disturbed by the side effects of those substances. When people get good sleep, they feel better and can concentrate more easily on their addiction recovery.
At the same time, people who sleep better don't need to use substances to cope with their fatigue. So, improving sleep can help break the cycle of addiction.
If you or a family member or someone you know is struggling with a sleep disorder and substance abuse, help is available. There are many treatment options that can address both issues at the same time. With treatment, it is possible to recover from both a sleep disorder and addiction.
There's no denying that drugs and music have always had a close relationship. For many people, using drugs is a way to enhance their musical experience, whether it's dancing all night at a club or losing themselves in an eclectic mix at a festival. However, it's worth noting that not all music fans use drugs, and many live performances are perfectly enjoyable without any chemical assistance.
Nevertheless, it's undeniable that drugs have played a major role in music history, especially when it comes to large live performances. Artists such as Pink Floyd and The Grateful Dead were known for their elaborate stage shows, often designed to be experienced while under the influence of drugs.
In recent years, electronic dance music has become closely associated with drug use, with festivals like Tomorrowland and Ultra becoming known as hotbeds of illicit activity.
What Are Music Concert Visuals?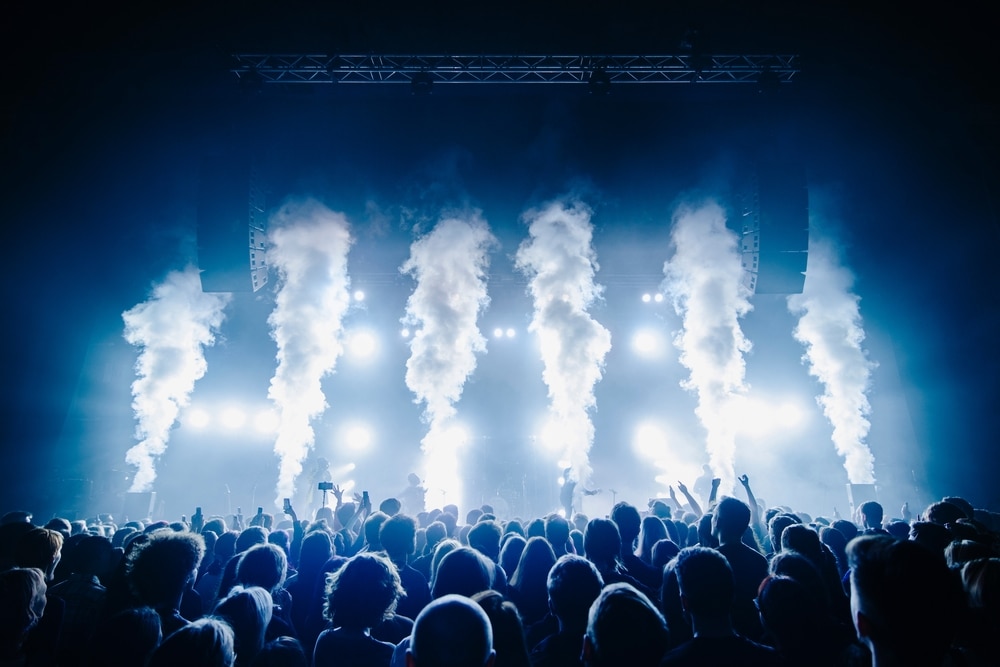 Music concerts are a visual feast for the senses, with bright lights, flashing colors, and dizzying patterns. But have you ever wondered where these visuals come from? It turns out that many of them are inspired by drug use.
For example, the trippy patterns used in concert visuals are similar to those experienced during an acid trip. And the flashing lights can mimic the effects of strobing lights on a dance floor. By creating visuals that are reminiscent of drug-induced states, concertgoers can feel like they're experiencing the music in a whole new way.
The Link Between Drugs and Music
Music and drugs have been linked together for centuries. In the early days, people commonly used psychoactive drugs to enhance their music experience. Drugs like alcohol and tobacco were used to relax and improve the taste of music. Amphetamines were also common, with rock and roll artists like Elvis Presley and Jerry Lee Lewis relying on them for their wild onstage antics.
In more recent times, illegal drugs like LSD and MDMA have been used by people searching for a more intense musical experience. Some claim that these drugs can help them appreciate music in a whole new way, while others enjoy the heightened sensations and feelings of euphoria that they can produce.
Music, in turn, has always been a part of the drug culture in the United States. Many drugs, especially psychedelics, are associated with specific genres of music, such as acid house or trance. For many people, taking drugs is an integral part of the musical experience, as it can help them feel more connected to the music and other people. Drug use can also be seen as rebelling against society's norms and expectations.
Besides, many musicians have experimented with alcohol or drugs in an attempt to improve their creativity. Some believe that substances can help open up the mind and allow new ideas to flow. However, it is worth noting that many successful musicians have composed great songs without resorting to drugs or alcohol.
Music, Drug Use, and Addiction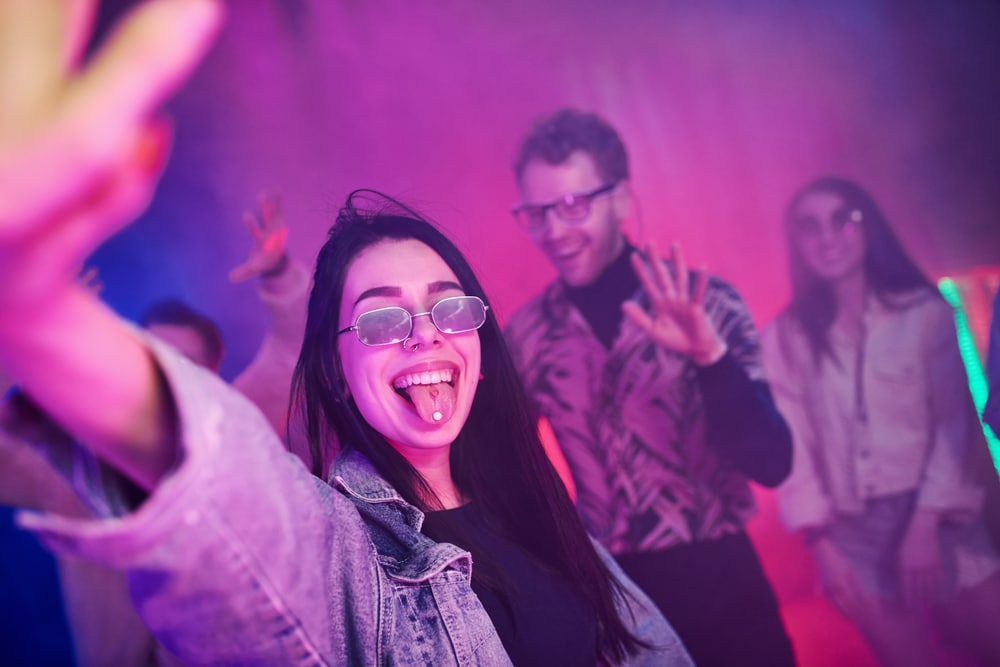 There's also a close link between music and substance use disorders. In some cases, people may use drugs to enhance their experience of listening to music. But in others, the connection between music and partying can lead to drug use or addiction or trigger mental disorders that cause them to turn to drugs to cope.
One of the most common drugs used at parties is MDMA, also known as "ecstasy" or "molly." MDMA is a stimulant that can cause feelings of euphoria, increased energy, and pleasure. It can also increase heart rate and blood pressure, dehydration, and anxiety.
When taken in large doses or combined with other drugs, MDMA can be dangerous and even life-threatening. Since MDMA is often used at all-night parties or nightclubs, people who use the drug may not get enough sleep, leading to fatigue, irritability, and memory problems. Long-term use of MDMA can also cause withdrawal symptoms, including depression, anxiety, and sleep problems.
For people struggling with addiction, the connection between drugs and music can be dangerous. According to the National Institute on Drug Abuse, party settings are risk factors for relapse, as they trigger cravings. At the same time, listening to music can make it harder to resist the urge to use drugs. The National Institutes on drug use research indicates that relapses are common, happening in 40-60% of the cases.
Music Concert Visuals and Drug Use
Many people who attend live music performances are using drugs. According to research by DrugAbuse.com, 57% of people admitted to using drugs or alcohol, with 93% consuming alcoholic beverages. Additionally, about 40% used marijuana at live music events, followed by 8% who used hallucinogens or MDMA (Molly or ecstasy).
Large live music performances often incorporate heavy visuals into their shows, expecting that many crowd members will be under the influence of drugs. These visuals help to:
Create a more immersive experience: Heavy visuals can help create a more immersive experience for the audience, making them feel like they are part of the performance.
Engage the audience: Heavy visuals can also help to engage the audience, keeping them involved in the performance.
Add excitement: Heavy visuals can add excitement to a performance, making it more enjoyable for the audience.
Create a memorable experience: Heavy visuals can help create a memorable experience for the audience, one they will remember long after the performance is over.
Many drugs cause users to experience sensory overload, and the introduction of visual elements can help ground them and prevent them from becoming overwhelmed.
Besides, drugs can alter perception and make it difficult to process complex information. As a result, simpler visual images are more likely to be comprehended by those under the influence. Also, bright colors and patterns can be more stimulating and enjoyable for people on drugs.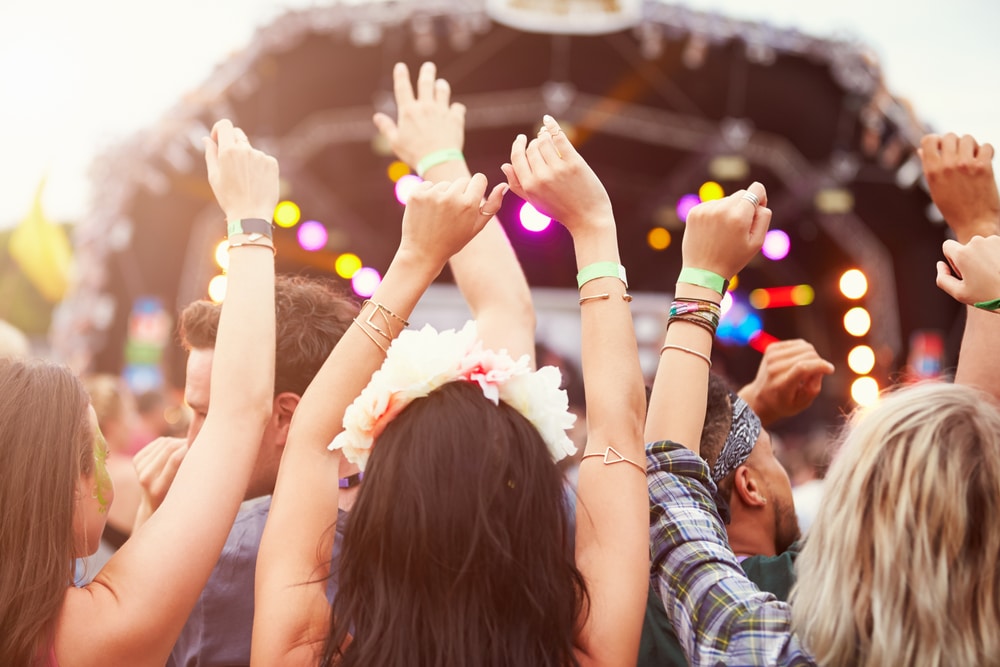 Stay Sober Throughout the Show
Going to a live music performance can be an incredibly exhilarating experience. Whether you're seeing your favorite band or exploring a new genre, there's nothing quite like being in a room full of people who share the same love of music. But you may worry about being around others who might be using drugs. While it is true that many concerts do use heavy visuals that can be enhanced by drug use, there are ways to enjoy the show while remaining sober.
Choose the right venue. If you're not comfortable with being around drugs and alcohol, then look for venues that have a strict no-tolerance policy.
Go with friends who share your same values and who you know you can rely on. If you find yourself in an uncomfortable situation, you'll have someone to turn to.
Pick a seat that is not too close to the stage. This will help to avoid being overwhelmed by the lights and sounds.
You may also want to arrive early and leave early before the crowd gets too wild.
Don't forget to stay hydrated and take breaks as needed.
Addiction Treatment
When most people think of drug addiction, they picture someone using illegal drugs like meth or heroin over prolonged periods of time. However, addiction can happen after a few tries and involve any drugs, including legal ones like alcohol and prescription medications.
Drug use is often glamorized in the media, especially in music. Concerts, in particular, can be a breeding ground for drug use.
Many people view drug use as a harmless way to have fun and let loose. However, drug use comes with serious risks. In addition to the risk of addiction, drugs can also lead to mental and physical health problems.
If you or someone you know is struggling with drug addiction, resources are available to help. Rehab facilities offer vast treatments for drug addiction, including detox, in-patient and outpatient care, and therapies. The Institutes of Health also recommends getting support from friends, family members and support groups.
Drug abuse or addiction is a huge problem in the United States. According to the 2018 National Survey on Drug Use and Health report, 164.8 million people aged 12 or older (60.2%) had used substances like illegal drugs, alcohol, or tobacco in the past month. Within that time, 47 million people smoked cigarettes, and 139.8 million drank alcohol. The survey adds that 19.4% of the population had used an illicit drug in the past year, with marijuana accounting for 15.9% of use. Prescription drugs misuse came second with 3.6%.
Sadly, the drug problem causes addiction, physical and psychological problems, and in some cases, death. In 2019 alone, there were about 71,000 drug overdose deaths in the country, and the trend seems to be holding up. While the drug use problem is rampant in the country, it's important to note that not all states are struggling with the same types of substances. Different states have different drug problems, each with varying severity. This article will look at how drug of choice differs across the United States.
Alcohol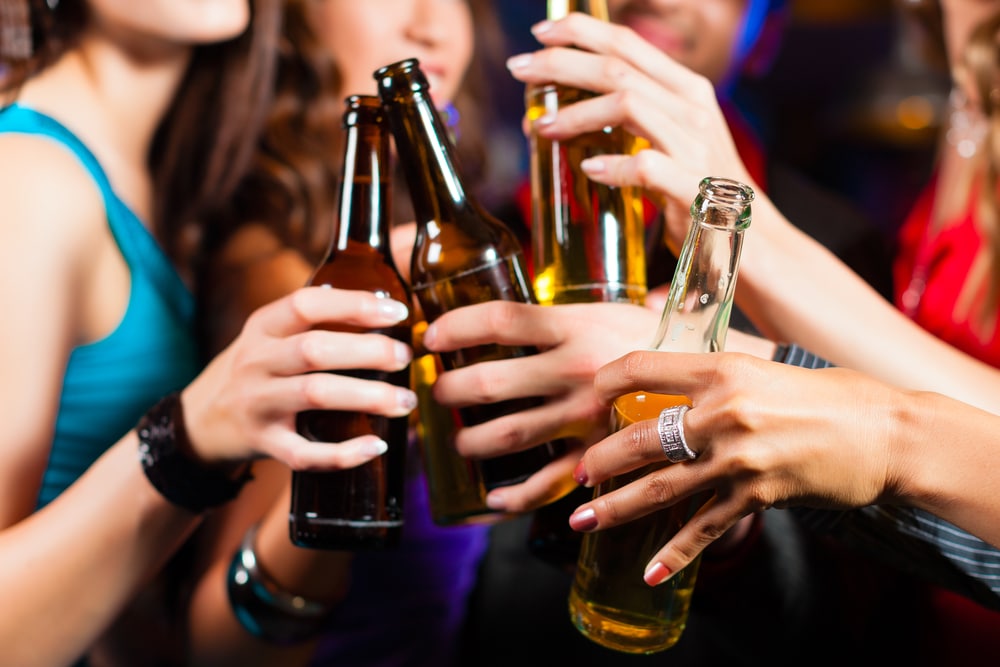 The legal drinking age in the US is 21 years old and is strictly enforced. However, statistics show that young adults in the country are also indulging in alcohol use. The National Institute on Alcohol Abuse and Alcoholism pointed out that most states had a 2.35 gallons per capita alcohol consumption in 2016, which exceeds the country's goal of 2.1.
Currently, New Hampshire is the state with the highest alcohol consumption per capita of 4.67 gallons. This is over double the country's set goal. But Statista notes that the state has lower rates of binge drinking than other states. States like Iowa, Wisconsin, North Dakota, and South Dakota have the highest rates of binge drinking. Binge drinking is the consumption of 4 or more drinks within 2 hours for women and five or more drinks with 2 hours for men. It is the most common form of excessive drinking and is linked to severe risks.
Utah is on the other end of the spectrum, with the lowest alcohol consumption per capita of 1.34 gallons. This is mainly attributable to the strict alcohol regulations in the state. Utah is one of the nine states with per capita less than 2.1 gallons.
Alcohol consumption per capita in the US ranked
Highest alcohol use per state
New Hampshire (4.67 gallons)
Washington (3.77 gallons)
Delaware (3.52 gallons)
Nevada (3.42 gallons)
North Dakota (3.16 gallons)
Lowest alcohol use per state
Georgia (1.90 gallons)
Oklahoma (1.85 gallons)
Arkansas (1.78 gallons)
West Virginia (1.74 51 gallons)
Utah (1.35 gallons)
Marijuana
The federal government classified marijuana as a schedule I drug, along with others like cocaine and heroin. However, 18 states and the country's capital have legalized marijuana use for adults, while 36 states, including the US Virgin Islands, Guam, District of Columbia, Northern Mariana Islands, and Puerto Rico, allow for comprehensive public medical marijuana programs. Consequently, the states with fewer marijuana restrictions tend to have higher use rates. In fact, states like Washington, Oregon, Colorado, and Alaska are among the top 12 states with the highest use rates.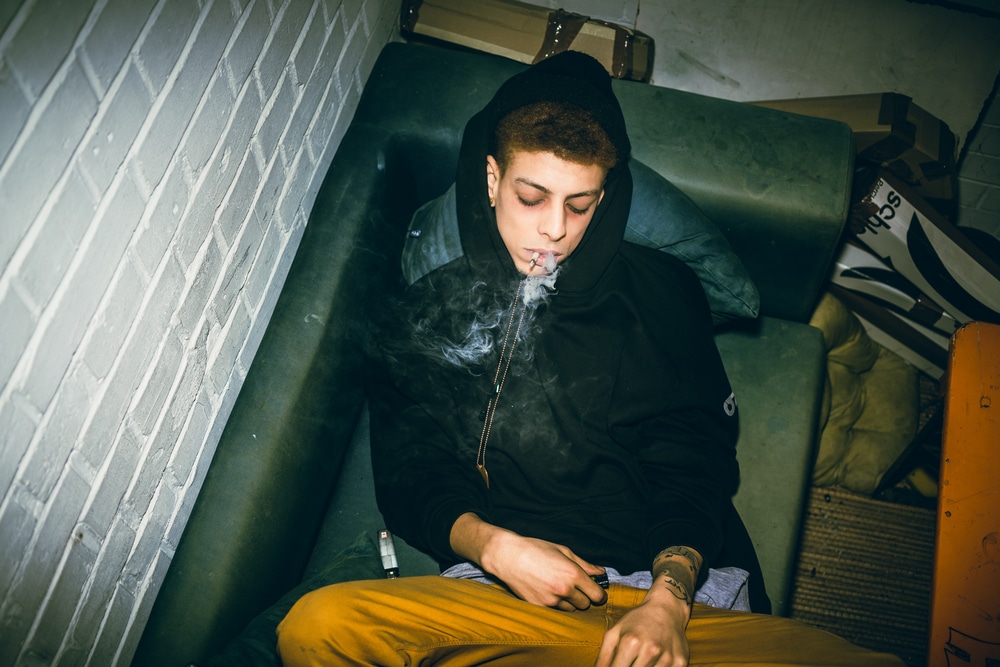 Currently, cannabis use among US adults in 2018-19 was highest in the District of Columbia, with about 27% of adults using the drug. South Dakota has the least marijuana use, with about 11.13%, according to Statista:
Marijuana use across the US states ranked
States with the highest marijuana use
District of Columbia 27.42%
Vermont 27.04%
Oregon 26.99%
Colorado 26.32%
Washington 25.58%
States with the lowest marijuana use
Virginia 12.23%
Texas 12.19%
Louisiana 12.15%
Mississippi 12.09%
South Dakota 11.13%
Prescription opioids and heroin
After pharmaceutical companies reassured the medical community that pain relievers wouldn't cause addiction, healthcare providers started prescribing these drugs at greater rates in the late 1990s. This led to vast misuse of both opioid drugs before it became apparent that they could indeed be highly addictive. According to NSDUH's 2020 survey, 10.1 million people misused prescription opioids in the past.
Studies show that prescription drugs are gateway drugs, leading people to use street drugs like heroin, fentanyl and cocaine. Prescription drugs have low opioid levels and are often used as pain-relievers. But chronic pain patients may need to take these drugs for a longer time, exposing themselves to the risks of drug addiction, and tolerance. So many chronic patients end up taking more pills each day, which can be expensive or inaccessible. As a result, they turn to alternatives like fentanyl and heroin to achieve the desired effect and avoid withdrawal symptoms.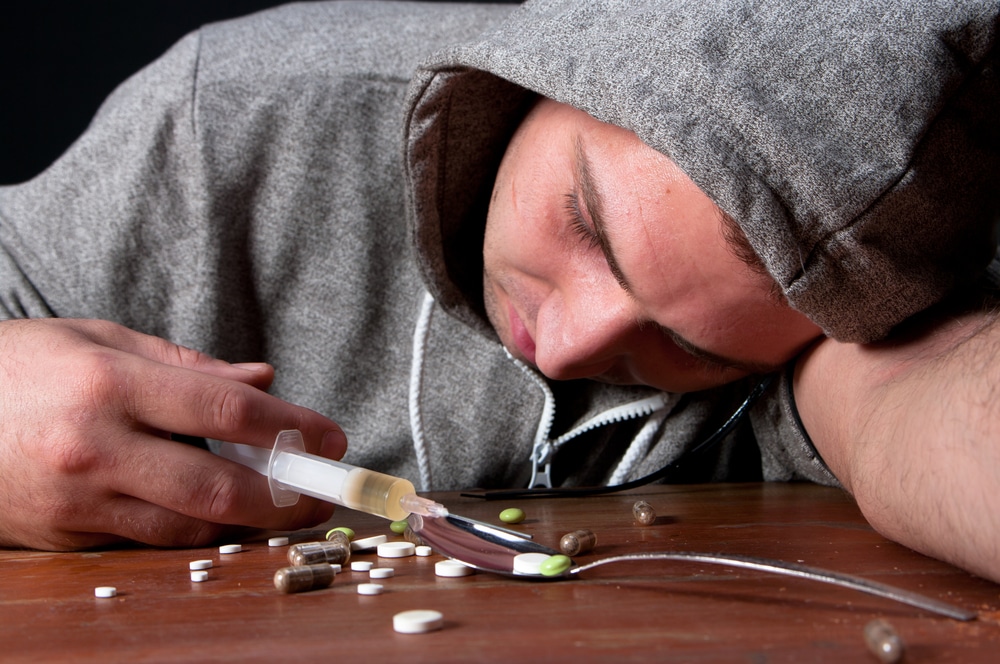 The escalating use of prescription opioids for pain management has contributed significantly to the opioid epidemic. Opioid is widely used across the US, but it disproportionately affects the states of West Virginia, Maryland, New Hampshire, and Ohio. According to the National Institute of Health, these states had the highest rate of fatal opioid overdoses, with 42.4, 33.7, 33.1, and 29.6 per 100,000 people, respectively. Hawaii, Iowa, Texas, and California had the least overdoses, accounting for 4.1, 4.8, 4.8 ad 5.8 per 100,000, respectively.
Aside from the overdose cases, opioids, alongside other drugs like heroin, are primarily used in populous states and those that serve as entry points. A survey based on HHS and the Substance Abuse and Mental Health Services Administration's ranked states by opioid misuse rates, and these were the findings:
Opioid use across the US states ranked
States with the highest opioid use
Alabama 5.3%
Oregon 5.3%
Kentucky 4.8%
Colorado 4.7%
Kansas — 4.7%
States with the lowest opioids use
New York 2.8%
Wyoming 2.7%
Illinois 2.5%
Nebraska 2.4%
South Dakota 2.4%
Other substances
While some states use specific substances more than others, the reality is that Americans are using alcohol or drugs and, sometimes, a combination of both. Alcohol and nicotine are legal and loosely regulated. The fact that they are affordable and easily accessible makes them a drug of choice for many people. Despite these, alcohol and nicotine carry a risk for addiction and even death.
Prescription medications are also technically legal. And since the doctors issue them, some Americans abuse them assuming it's safe. But prescription drugs are highly addictive and can serve as a gateway to other drugs like heroin and fentanyl. Besides, these drugs account for 30% of emergency room admissions.
And with the growing cases of mental illness across the country, many are self-medicating with cocaine, marijuana, or alcohol. Unfortunately, these mind-altering substances offer temporary relief but may lead to addiction and other health-related issues.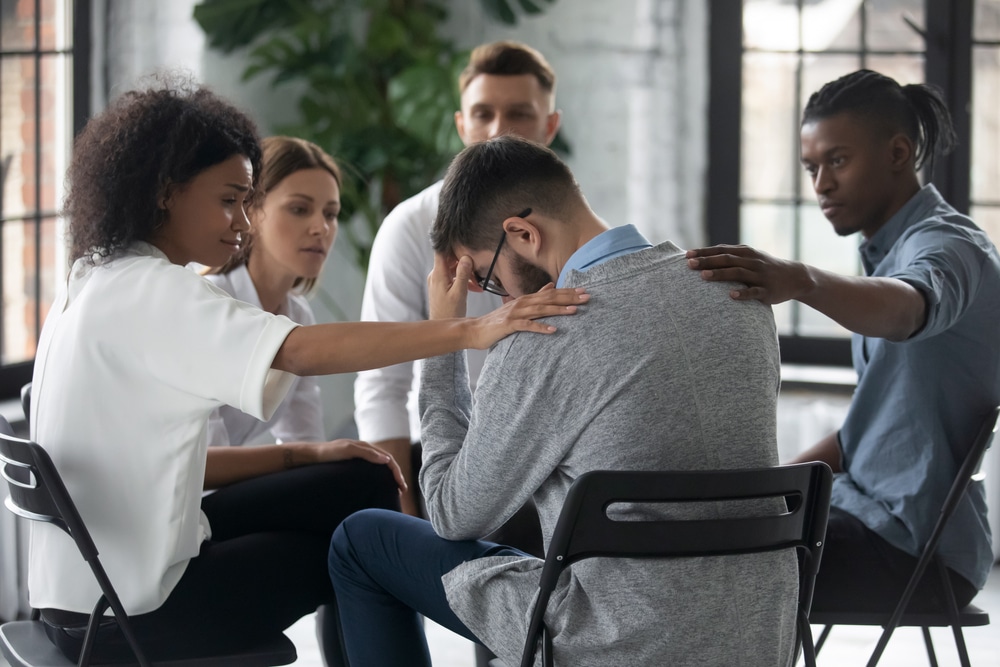 Americans use drugs and alcohol for various reasons. Some do so as a social activity, like after work or during holidays, while others use it to fit in. Availability, experimenting, self-medicating, feeling good, etc., are common reasons people use drugs across the country. But there are other risk factors like having family members who abuse substances that predispose one to use.
Drug of choice may differ from state to state due to availability, state laws, and influence. But all in all, the drug is still a problem irrespective of the type of drug. If you or someone close to you is addicted to drugs, it is best to seek substance abuse treatment. Many treatment approaches exist to help you lead a drug-free life.
A lesion refers to an abnormal change on a body tissue organ caused by an injury or disease. Lesions could be a result of using recreational drugs or some specific FDA-approved drugs.
Drug abuse affects most body organs, and unfortunately, the damage done may remain hidden for several years. For example, alcohol strains the liver, heroin damages the kidneys, and cocaine stresses the heart.
The skin is the largest body organ. Abusing alcohol or drugs for a long period can cause skin lesions. Skin lesions can either be benign (non-cancerous) or malignant (cancerous), basically skin cancer. They can manifest as sores, a variety of infections, and even rotting of the skin.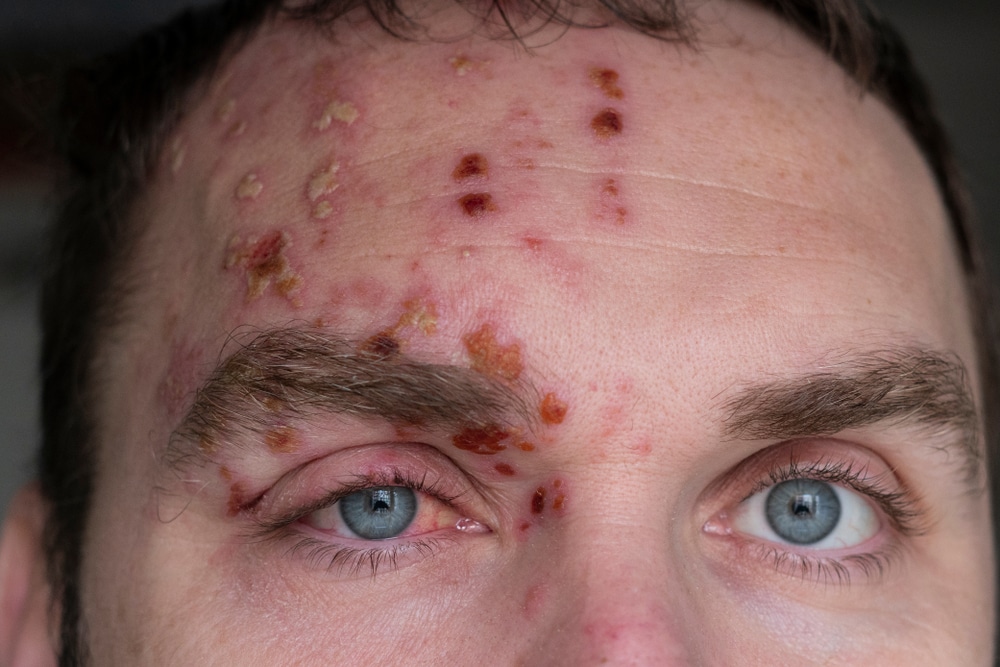 Four factors contribute to lesions. They include:
The drug itself
Method of drug delivery, e.g., drugs delivered intravenously.
Impurities that find their way into drugs while they are sold in the street. The contaminants may cause contact dermatitis where one is allergic to the impurities.
Unhealthy habits, e.g., not maintaining personal hygiene, poor diet, and lack of sleep, among others.
Here is how different addictive substances affect the skin.
Heroin
The effect of heroin on the skin is more noticeable in users who prefer injecting the drug with needles, instead of snorting or smoking. Heroin users repeatedly penetrate their skin while seeking veins. This may lead to venous sclerosis, which refers to scarring of the veins. Venous sclerosis can result in skin infections, cellulitis, and abscesses.
Users who inject themselves with heroin through skin risk contracting necrotizing skin lesions due to skin popping. Skin popping allows bacteria to penetrate the skin and also leads to tissue trauma.
Most heroin users also complain about dry, itchy skin. Additionally, some users end up having an itchy hives-like rash.
Cocaine
Cocaine can directly affect the skin, and it can also affect internal organs, which in turn cause skin damage.
Here are some effects that cocaine has on the skin:
Chronic skin ulcers
Blackening of the palms
Fibrous tissue formation in the skin
Death of skin cells (necrosis)
Pustulosis (where parts of the skin are filled with pus)
Buerger's disease causes veins to turn red and swell. This could also interfere with one's blood pressure.
You should also know that a variety of substances are used to cut cocaine. Some of the substances can cause rotting of the skin and ulcerating skin lesions. Additionally, cocaine could cause a heart attack since its users have an increased heart rate.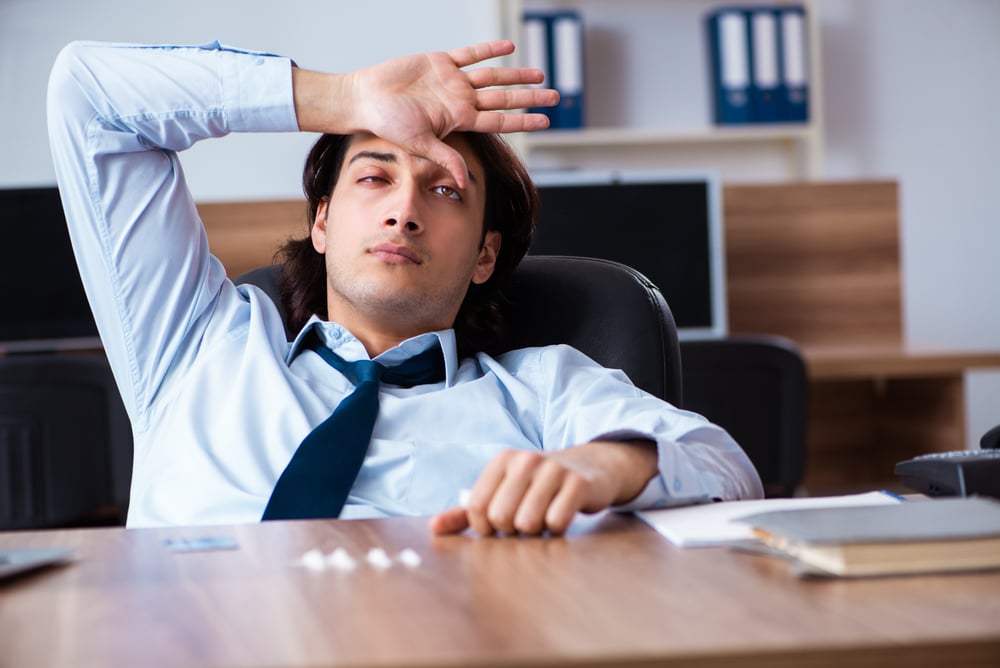 Alcohol
Most people are unaware of the fact that alcohol abuse can have noticeable effects on their skin. The most common effect of alcohol on the skin is spider angioma. Spider angioma manifests as red lacy patches on the neck, torso, hands, and face.
Alcohol abuse also causes Caput medusa, a skin condition that causes the addict's veins to swell and distend. The veins usually appear across the abdomen. Alcohol abuse also causes Porphyria Cutanea Tarda (PCT), a condition that causes scars on areas of the skin one exposes to the sun. Most people battling alcohol addiction have scars on their faces, hands, and feet.
Dermatologists also associate several dermatological conditions with alcohol abuse, including seborrheic dermatitis, rosacea, and eczema.
Methamphetamine
Most people who abuse methamphetamine (meth) end up having skin sores because they constantly pick their skin. Meth users pick at their skin because they, on several occasions, get the sensation of insects crawling even when they are not there. As a result, they easily develop sores. Some meth users also end up having dry skin.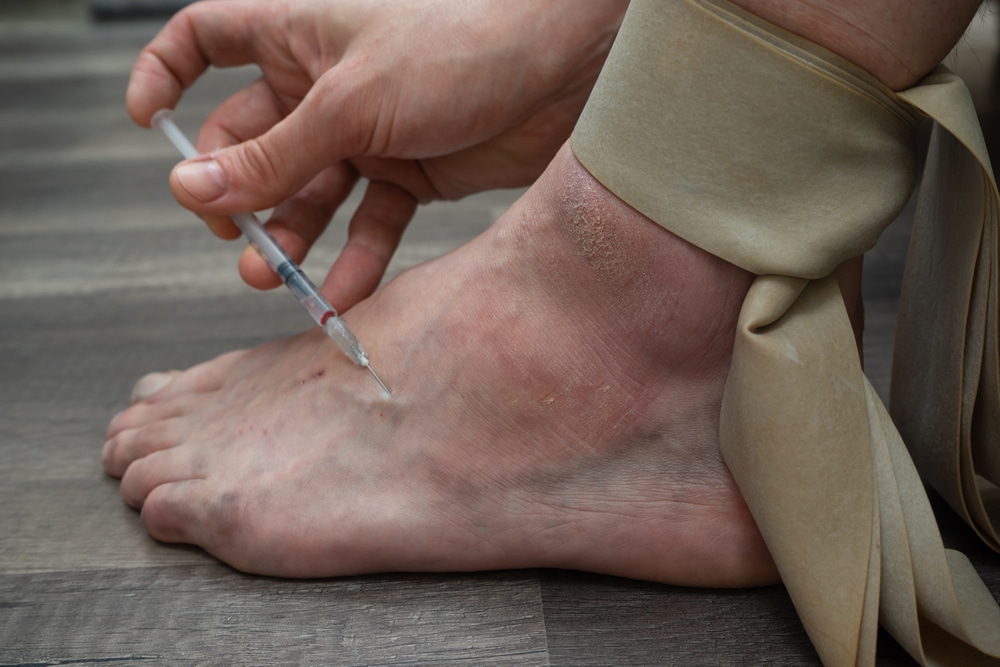 Meth users who inject themselves with the drug are also at risk of contracting skin infections. Research has shown that 11% of drug users that use injections report skin infections every few months.
Marijuana
Research has shown that marijuana can negatively affect your skin. The smoke from marijuana contains hydrocarbons. When the hydrocarbons come into contact with your skin, they interfere with your skin's collagen production.
Note that collagen protects your skin against inflammation and air pollution. If your skin does not produce enough collagen, your skin will age prematurely and become wrinkled since it loses its elasticity. Cannabis-induced arteritis, which is a direct result of marijuana use, also has effects on the skin.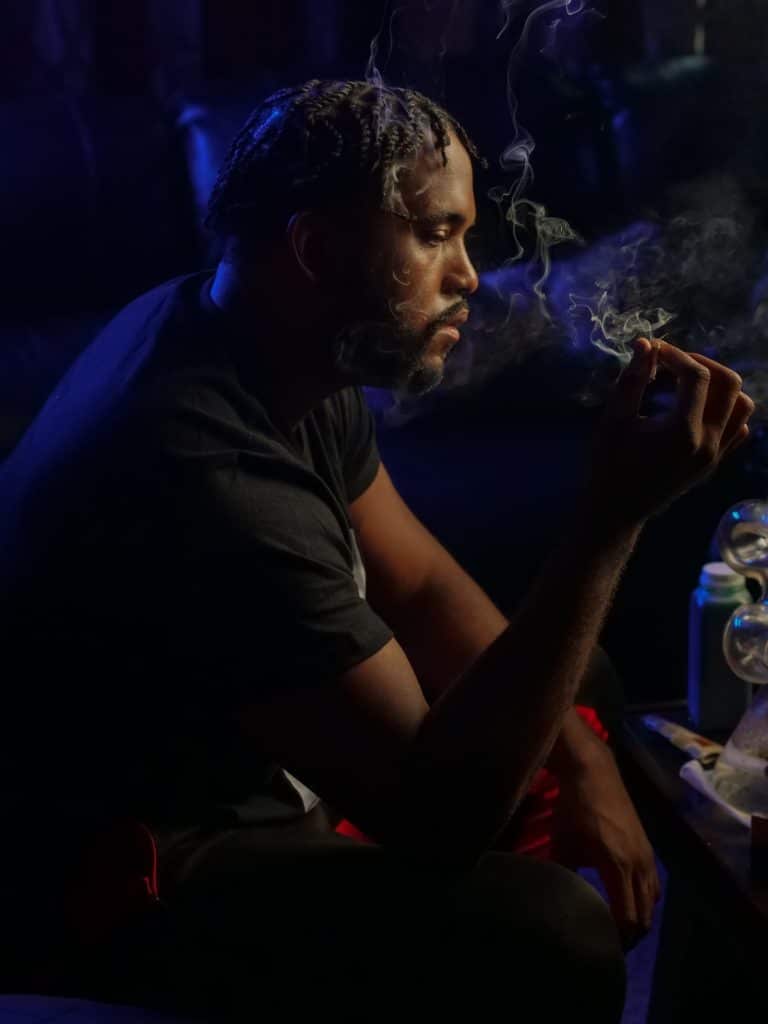 Desomorphine
The street name of desomorphine is "krokodil" because it turns the skin green and scaly. Eventually, the skin sloughs off.
Krokodil is a cheap form of heroin. It has been dubbed the deadliest drug globally because it rots the skin from the inside out. Consequently, it causes abscesses and gangrene.
How to deal with side effects of drugs and skin lesions
If you want to minimize the impact of drug abuse on your skin, the first thing you need to do is stop abusing drugs. Note that the more you abuse drugs, the more adverse effects they will have on your skin. Most people with addictions end up having very unhealthy skin.
If you are struggling with an addiction or substance use disorder, you should consider seeking medical advice, diagnosis, or treatment to beat the addiction. There are several treatment approaches to consider, so you should choose one that suits you best. If you have a supportive family, your family members will support you throughout your recovery journey, especially when dealing with withdrawal symptoms.
You may also have to undergo behavioral therapies to deal with unhealthy behaviors that destruct your skin or body organs in general.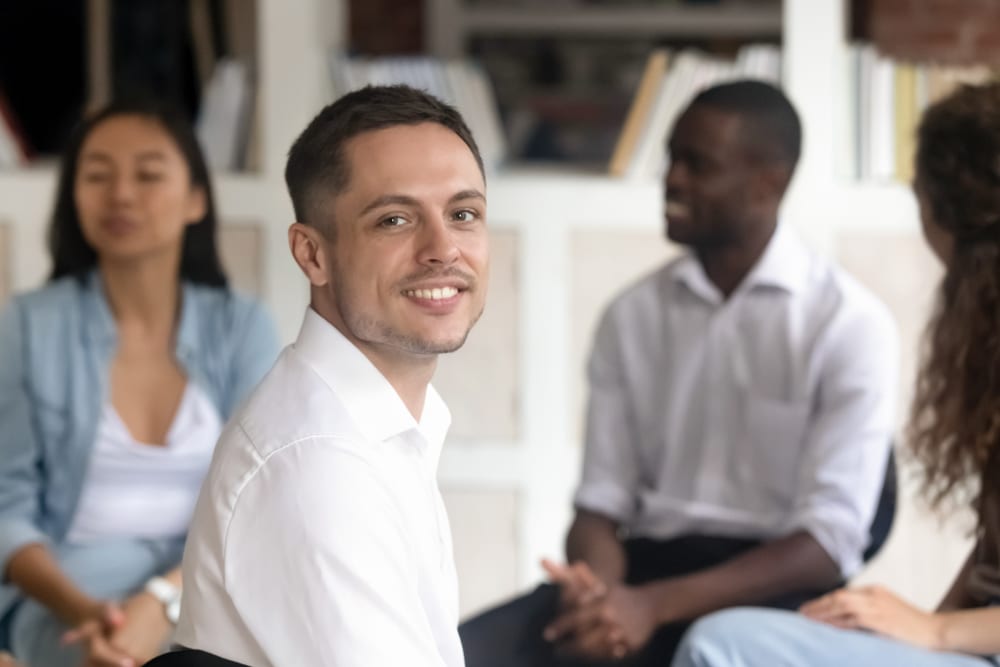 Various drugs affect the skin differently. However, once you deal with your drug use and addiction, some effects will fade naturally. If you want to speed up the process, you can consult a dermatologist. The dermatologist will prescribe medications and, in some cases, ask you to follow a consistent skincare regimen.
If you are in the United States and need drug information, especially when it comes to drug addiction, you can contact the American Society of Addiction Medicine or the National Institute on Drug Abuse for more information.
Conclusion
If you want to maintain healthy skin, do not abuse drugs. You should specifically stay away from drugs that contain fillers or compounds as they tend to have adverse effects on the skin. In addition, moisturize, wear sunscreen, and maintain good hygiene to keep your skin healthy.
Nothing scares a parent more than the thought of their child abusing drugs. But unfortunately, that's a reality that most parents may have to deal with at some point in time. According to the National Institute on Drug Abuse 2012 Monitoring the Future survey, 40% of 12th graders, 30% of 10th graders, and 13% of 8th graders had used a drug at least once in the past year. If you suspect that your child is smoking drugs, it's best to uncover the truth, and get them immediate help.
Many teens (and even adults) who smoke are new to drug use and are scared of injecting. They assume that smoking is safer and less addictive. But drugs are dangerous irrespective of how they're used. All ways of using drugs can lead to drug addiction – though smoking gets drugs to the brain more than other modes of administration, so it actually tends to increase the chances of one becoming addicted.
Catching drug use problems early can help prevent addiction, withdrawal symptoms, and other drug-related issues.
Common drugs that are smoked include:
Heroin
Marijuana
Cocaine
Opium
Powder and crack cocaine, amphetamine and methamphetamine
Mescaline
Tobacco
Dimethyltryptamine (DMT)
Prescription pain killers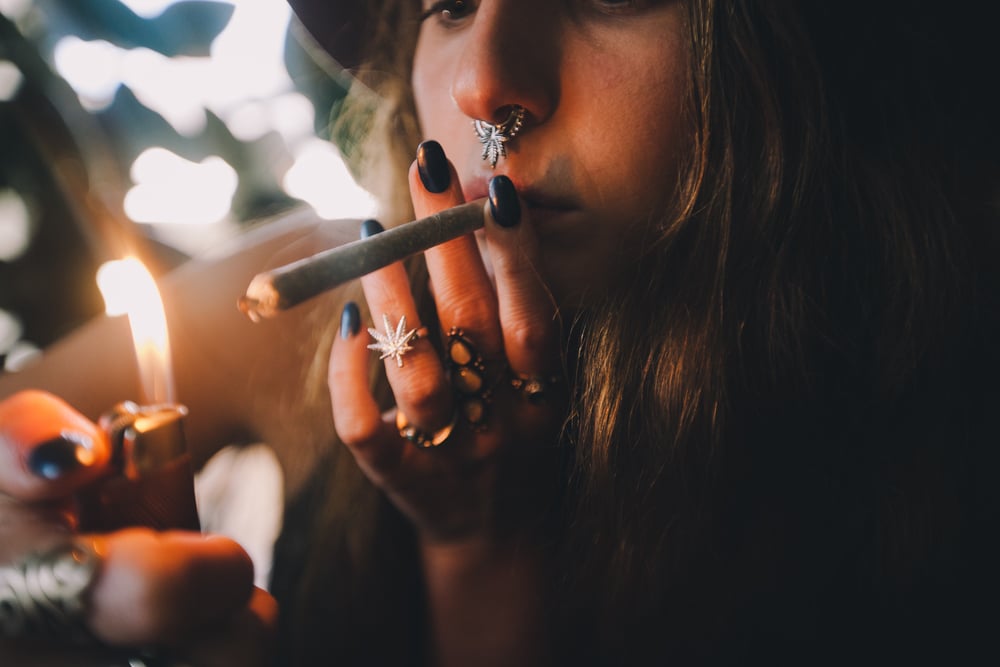 The dangers of smoking these drugs can be severe and include addiction, heart attack, lung problems, painful withdrawal, and deadly overdose. One may also run into problems with the authorities, including the drug enforcement administration. Fortunately, with suitable treatment options, freedom from substance abuse is possible.
Devices used to spot drug users
Drug abuse is a serious health care concern that needs immediate care. According to the American Addiction Centers, drugs can have permanent effects on the body. If you suspect that someone you love is smoking drugs, identifying these common and usually overlooked paraphernalia should serve as a warning to take action.
Aluminum foil
Recreational drug abusers use aluminum foil (or tin foil) to smoke various substances, including illicit drugs and diverted prescription pills. They put the drug on a flat piece of foil or shape the foil into a pipe before heating it with a lighter, a process called freebasing. Drugs in black tar or powder form are easy to use this way.
Examples of drugs that are often smoked with aluminum foil are:
Heroin
Cocaine (including crack)
Meth
Benzodiazepines
Marijuana
DMT
Opioid painkillers
Prescription stimulants (Ritalin and Adderall)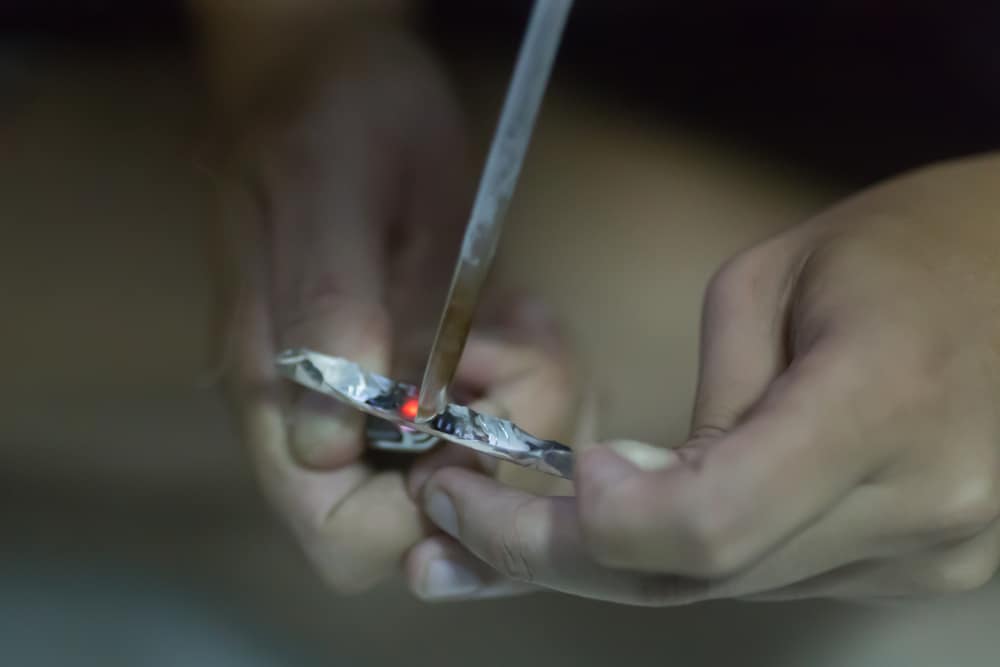 Look out for the presence of burned or discolored tin foil, as these are the most apparent signs of use. You may also want to check out fake-looking soda cans, beer cans, and aerosol containers. Some people use them to try to conceal scent. Using tin foil to smoke drugs may cause a series of risks and health problems, like:
A more pronounced cough and headaches
Burns because of how thin the aluminum foil is
Toxic exposure due to burning the food-grade oils that coat aluminum foils
Alzheimer's disease
Glass pipes and bowls
Glass pipes are designed for drug use. Many people smoke drugs out of glass pipes because they're easy to use, convenient, and comfortable compared to snorting or using foil. Different types of pipes exist for different illicit drugs. Knowing how to distinguish these pipes can help you identify the drugs which your loved one is abusing.
Crack cocaine pipe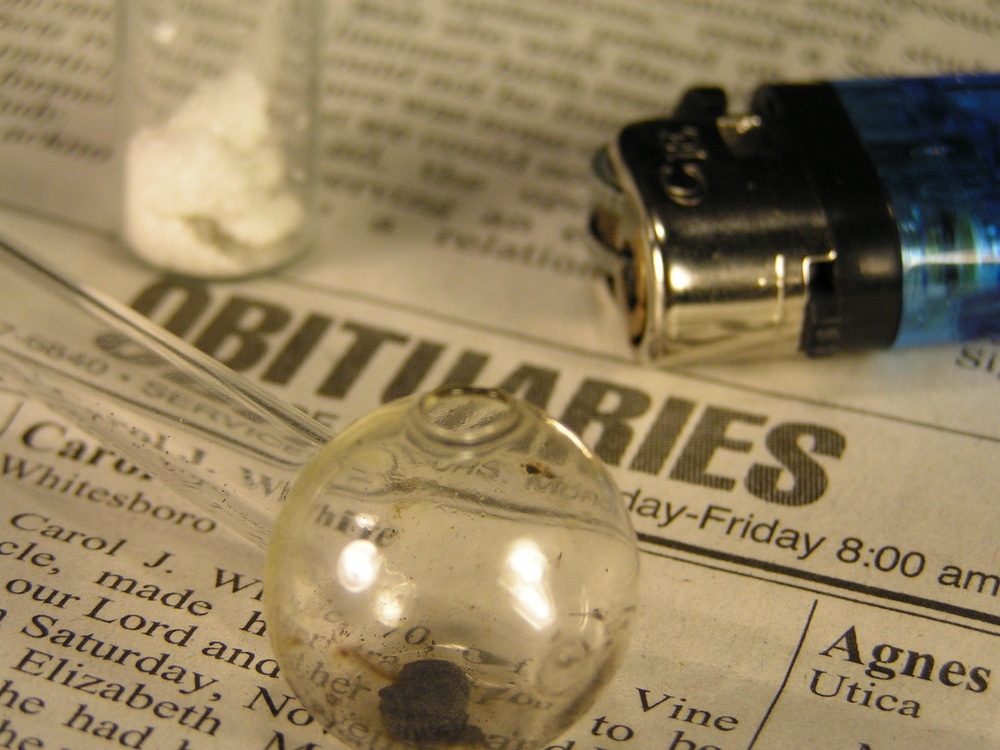 Glass pipes used to smoke crack cocaine have a unique shape. They're typically straight, long tubes of glass that are often sold as oil burners. If your loved one is smoking cocaine, you may catch a pungent smell that seems like a mixture of burning plastic and urine.
Crystal Meth pipe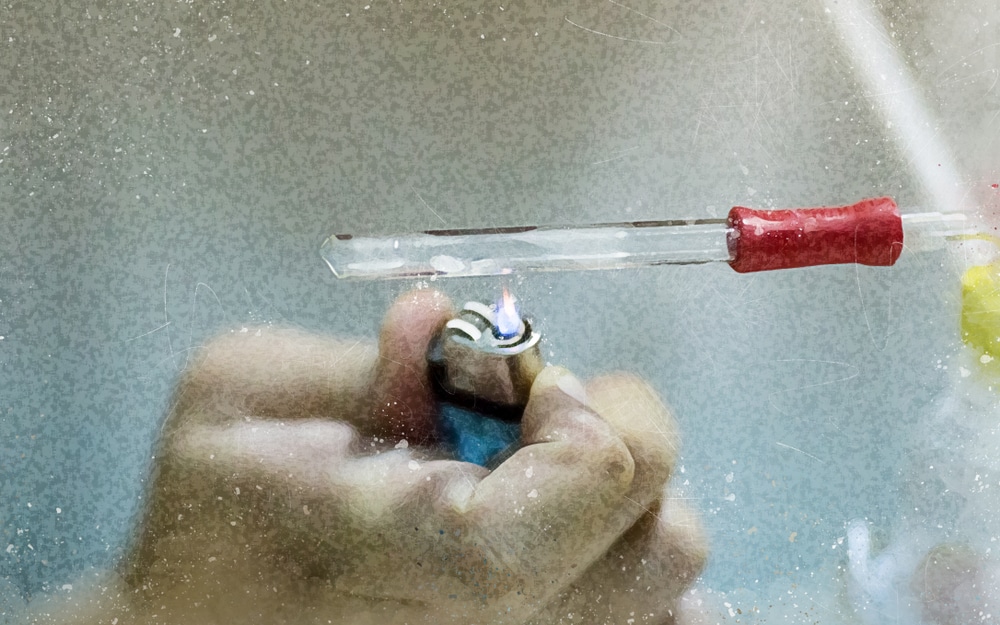 Glass pipes for meth have a bulb shape on one end of the pipe. If your loved one is smoking crystal meth, you'll notice a yellow or burnt residue on the glass. You may also smell a stale chemical odor – though it tends to disappear after a short while.
Marijuana pipe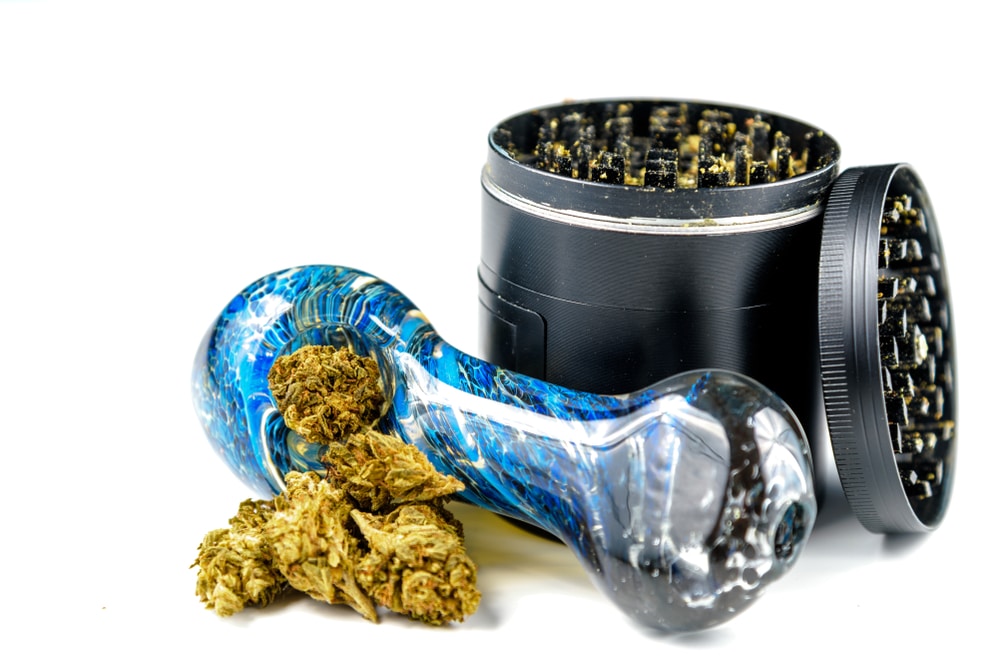 Glass pipes for marijuana resemble those for meth. However, instead of a bulb shape, marijuana pipes have a colorful open bowl with an elongated mouthpiece. If your loved one is smoking marijuana, you'll catch a lingering smell in the room and surrounding spaces. Marijuana can also be smoked out of a metal pipe or bong.
Heroin pipe
Heroin pipes look like a combination of meth and marijuana pipes – a glass cylinder with a sphere or enclosed bowl at the end. Heroin has a lighter, more subtle, and almost sweet smell, like some types of incense. It can also smell like vinegar, depending on how the heroin was made.
Cigarette rolling papers
In addition to a bong or pipe, drug users use tobacco rolling papers to smoke marijuana. They either roll the marijuana into a cigarette (or joint) or hollow out a cigar and replace the tobacco with marijuana. Cigarette rolling papers are also used to smoke heroin.
Users sprinkle the powder heroin on tobacco and roll a cigarette. Often, they can cook it (using heat and acid to liquefy) and spreading the mixture on a cigarette. Sometimes, marijuana is combined with heroin into a cigarette in a process called lacing.
Straw
Straw is used to inhale steam and smoke as it wafts off the heroin, cocaine, meth, prescription drugs, etc., on the aluminum foil, can, or container.
Side effects of smoking illicit and prescription drugs
Smoking is one of the most common forms of drug administration. It's also the fastest way to get the drug to the brain. However, smoking can lead to substance abuse and addiction. That's because tolerance to hard drugs builds quickly.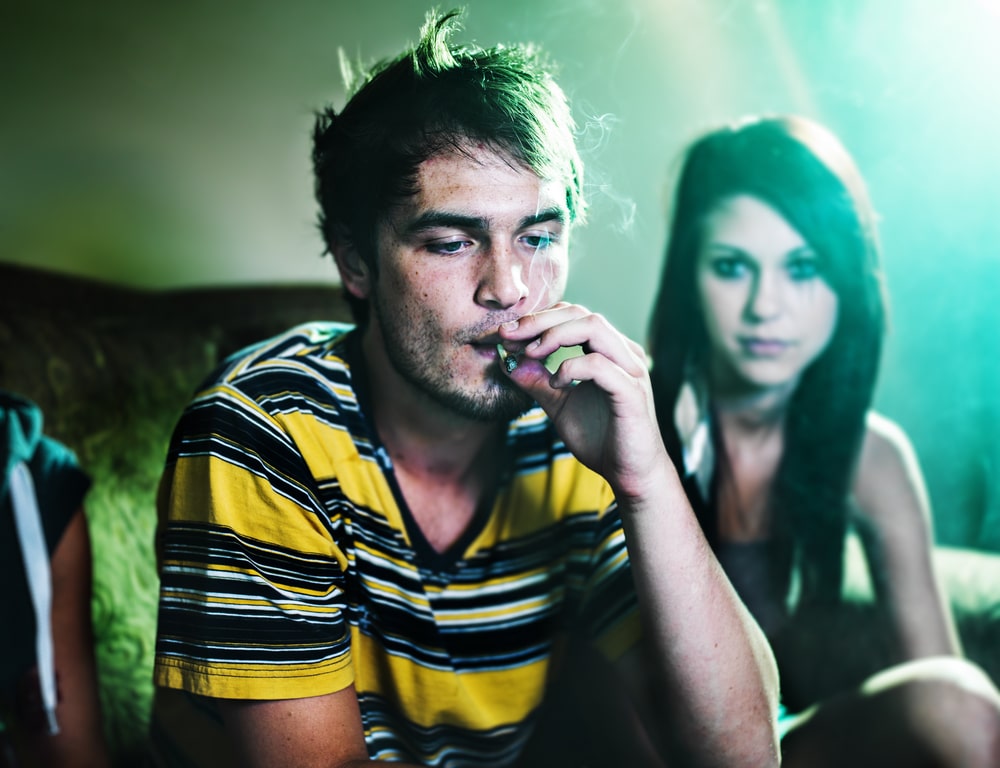 Addiction isn't the only problem. Smoking crack, heroin, meth, and amphetamine can damage the lungs, worsen asthma, and lead to a deadly overdose. It also increases the risk for pneumonia, bronchitis, and coughing. Smoking marijuana cigarettes laced with embalming fluid and PCP can cause body tissue, lung, and brain damage as well as inflammation and sores.
Besides, most street drugs aren't pure. Dealers cut them with other substances, which can cause other negative health effects.
Help your loved one find treatment
It can be disheartening to discover that your loved one is abusing drugs. But the good news is that it's never too late to get help. Various treatment facilities offer short and long-term rehabilitation programs to help patients get off of alcohol or drugs.
Some even offer counseling for patients and their loved ones and can be beneficial to you. Texas, is one of the states in the forefront of treatment options for patients including rehab centers.
So, go ahead and reach out to an addiction treatment center. As an option to learn more about how to spot the signs of smoking drugs, you can contact the editorial staff of the many public health periodicals and websites.
Like many people, you may notice that your social life – or even your business networking –involves plenty of drinking. In many places, when a friend or colleague says, "Let's meet for coffee," they mean a drink or two.
But despite how much people try to normalize drinking alcohol or using drugs, it is not suitable for you in any amount. Alcohol and drugs affect the brain in negative ways. According to the Department of Health, drug use can cause serious changes in the brain that influence the way you think and act. Some substances can cause cancer, heart disease, lung issues and mental disorders like depression.
So, although we are going to highlight some cool things to do while high, we recommend staying away from abusing substances as much as possible.
Decide to get off drugs forever
You probably are using drugs and alcohol to fill a void in your life or to feel better. It could be that you're feeling inadequate towards yourself or the world. However, abusing substances is never the solution. Once the high is over, you'll have to face reality again. Emotional, physical, and psychological issues don't resolve with drug use. If anything, it'll only make the situation worse. The best way to take care of these issues is to get professional help. So, take advantage of this time to decide to get off drugs forever. Drugs aren't the solution – they only add to the problem.
Drink iced water
Hydration is critical when you're high. It keeps your mouth moist and helps you to feel better the following day. Ice water is the best way to hydrate when you are high because it cools your body and keeps you alert.
Watch a movie
A great movie never disappoints – and the experience is even better when you're high. Grab some popcorn, turn off the light, and play a movie that you like. Thanks to platforms like Netflix, you have limitless options for the films. Here are some movie recommendations to get you started.
Inception
Fight Club
Pineapple Express
Eternal Sunshine of the Spotless Mind
Reefer Madness
Airplane
Rolling Papers
The Naked Gun
Devise a plan to get back your friends
One of the greatest downsides of abusing substances is strained relationships. If you are like many people who abuse drugs, you might have pushed some of your friends and loved ones away. In that case, this might be a great time to come up with a plan to win them back. Make a list of the people you've hurt with your drinking and note down how you're going to fix the relations.
Listen to music
Music has some of the most incredible therapeutic benefits. Certain tunes trigger the production of dopamine and serotonin in the brain. These neurotransmitters enhance the feelings of well-being and happiness. Listening to music is definitely one of the things you should do while high. Not just because of your mental well-being and physical health alone. Research shows that enjoyment goes way beyond the present moment because it influences the outcome of your hormones and cognitive functioning. Listening to music sober is a lot of fun, but it's even better when you're high. The parts of the brain that draw relations between ideas are stimulated when you're high.
Here are some cool songs to listen to when you are high:
Let It Happen by Tame Impala
Terrapin Station by The Grateful Dead
The Kids Turned Out Fine by A$AP Rocky
Futureworld by Com Truise
Magical Mystery Tour by The Beatles
10,000 Days by Tool
Happy Colored Marbles by Ween
Dark Side of the Moon by Pink Floyd
Turtles All The Way Down by Sturgill Simpson
Future Sex/Love Sounds by Justin Timberlake
You Enjoy Myself by Phish
Numb & Getting Colder by Flume
Play video games
Video games promote a healthy lifestyle, increases social activity, and make you a better decision-maker. Studies show that gaming can help people suffering from cravings or addiction to reduce the intensity of their desires. But that's not all. A nice game can help you form stronger relationships with your friends and family members because of their matching love of games. If you are homebound, you can pair couch lock and couch co-op for a fantastic time. You can also play board games if that's what is available or what you prefer.
Read a book
Reading a book sober is always better – but it doesn't mean you can't do it when you're high. Since your attention span tends to diminish when high, it might be good to go for short reads. You may also want to find an exciting fiction book. Here are some books to read while high:
The Hobbit by JRR Tolkien
Fear and Loathing in Las Vegas by Hunter S. Thompson
The Lord of Rings by JRR Tolkien
Naked Lunch by William S. Burroughs
The Metamorphosis by Franz Kafka
Wonder Boys by Michael Chabon
The Sirens of Titan by Kurt Vonnegut
Drop City by T.C Boyle
On the Road by Jack Kerouac
Alice in Wonderland by Louis Carrol
Zen and The Art of Motorcycle Maintenance, by Robert M. Pirsig
The Bone Clocks, by David Mitchell
Do some dancing
If you are in a club and are feeling extra energetic or adventurers, you can hop on to the dance floor and whip out a couple of dance moves. Dancing is a fun and refreshing activity and is also a great exercise. Going to a local dance club allows you to get some social interaction, do some incredible exercise, and create new experiences. If you are at home, you can learn or practice dance steps to stimulate your mind.
Shower regularly 
It is always a good idea to keep clean. The easiest way to do so is to take a quick shower and put on some clean clothes. A long bubble bath can also work the magic. In this case, you want to turn out the lights and light some candles. You can also play your best music or listen to an educative podcast, to learn a few things.
Find your Zen
Activities like Pilates, yoga, meditation are great for flexibility and core strength. They are also good for your brain. Many people get high before a long and relaxing meditation session – you can do this too. Find some chill place, roll your yoga mat, light some candles, and find your inner Zen. You can even meditate about a sober and fulfilling life.
Individuals who struggle with addiction suffer from psychological, emotional, behavioral, nutritional, and physical issues. They are also prone to a range of severe health conditions like damage to the skin, brain, heart, lungs, liver, and even teeth.
Although many people assume that dental health isn't as critical as that of heart or other major organs, the link between addiction, dental illness, and life-threatening conditions is undeniable. Oral health issues, especially when left untreated, can lead to other more critical conditions.
A Review of Health Effects and Care by the National Institute of Health indicates that oral health issue is one of the most prevalent addiction-related comorbidities that need more attention by both policymakers and clinicians. Individuals with substance use disorders (SUDs) have more oral health problems than the general population but are less likely to receive care. This is because they spend most of their time intoxicated or trying to find more drugs. Dental visits or personal hygiene are often the least of their worries.
How drug use affects the teeth
Drugs like heroin, methamphetamine, ecstasy, cocaine, and marijuana can cause teeth and gum problems. In most cases:
These drugs cause your mouth to dry (xerostomia). Xerostomia is a condition where your salivary glands don't make enough saliva to moisturize your mouth. Saliva prevents tooth decay by washing away food particles, regulating acids produced by bacteria, and restricting bacteria growth.
These drugs are stimulants and potentially make you grind or clench your teeth (bruxism). Common effects of teeth clenching or grinding include tooth wear or damage, increased tooth sensitivity or pain, jaw pain, gum recession, injury to the tongue or cheeks, and so on.
 These drugs are highly addictive and have a way of making people not care about their overall wellbeing. Using them makes it less likely to practice good oral hygiene. When you stop brushing your teeth, you'll develop cavities and/or periodontal disease, both of which are painful and can cause teeth to fall out. Again, addiction makes it likely to miss dental appointments, which are essential for your oral health.
Nutritional deficiencies often arise due to poor feeding habits or severe damage to the major organs. When body organs are damaged and cannot absorb nutrients, or when you do not take adequate nutrients to support dental health, then you'll experience teeth problems. The same applies when you use drugs that limit the absorption of essential nutrients.
Many individuals who abuse drugs have some form of teeth deformity. Even the public health advertisement shows that meth abuse harms the teeth. But like most people, you may not have the slightest idea of how the damage happens, how quickly it occurs, or the type of drugs that affect the teeth. So, here's a list of common drugs and how each one of them can affect your dental health.
Different drugs and their effects on teeth
Opioids and opiates
Regular use of opioids and opiates can restrict the production of saliva and dry out oral tissues. Saliva naturally lubricates the mouth and keeps tissues moist. It also clears any leftovers from the gumline and between teeth. Most importantly, it regulates oral acids and bacteria that destroy enamel and cause decay. Again, opioids reduce pain, which makes it hard for users to detect changes in their gums and teeth. Studies reveal that some users apply opioids directly into the gums and teeth to dull dental pain. Unless it gets out of hand, they won't seek professional help.
Club drugs 
Club drugs like MDMA, ecstasy, K2, and molly cause users to grind their teeth, resulting in wear and tear of the enamel. In several studies, 93-99% of club drug users experienced a dry mouth. This dryness can persist for up to 48 hours after use – or even longer after a higher dose. Club drug users turn to soft drinks (which are acidic and sugar-rich) to relieve dry mouth, dehydration, and hyperthermia from vigorous dancing. Add that to reduced saliva secretion and buffering ability, and the rate of tooth enamel erosion will skyrocket. Again, club drug users report vomiting and nausea as a side effect, which could also increase erosion of the teeth.
Methamphetamine (Meth)
According to the American Dental Association (ADA), a survey on 571 meth users revealed 96% had cavities, 58% had untreated tooth decay, and 31% had six or more missing teeth. Meth causes serious oral problems commonly described as "meth mouth," – which presents as extensive gum disease and tooth decay. Once the harm begins, it is near impossible to reverse the effects and, in many cases, results in multiple tooth extractions. What's more, meth rots teeth very quickly. Meth dries up the saliva, making the teeth more susceptible to decay and cavities. It also causes users to grind their teeth due to stress. Additionally, meth makes one thirsty and leaves them craving for sweet drinks. Sugar feeds bacteria that harm tooth enamel – a process that's aggravated when there's no saliva.
Cocaine (Coke)
Coke users experience an increased rate of tooth decay for a range of reasons: first, the powder is an acidic salt with a low pH (4.5). When applied to the oral or nasal route, it mixes with saliva and raises its acidity levels. This mixture is harmful to enamel as well as the hard dentin tissue underlying the enamel. Secondly, cocaine may cause transient chorea, a movement disorder that manifests in mouth and jaw-related muscle spasms that mimic a strange smile or grinding the teeth. Teeth grinding causes wear and tear and may result in damage to the jaw, surrounding gums, and the enamel.
Marijuana and tobacco 
Smoking cigarettes or marijuana cuts oxygen supply to the bloodstream causing infected gums not to heal. Gum disease is the most common cause of tooth loss in adults. Smoking also leads to dry mouth. Marijuana use is associated with cannabinoid hyperemesis, a condition that causes vomiting. When one vomits regularly, he or she exposes the teeth to stomach acid that causes decay and cavities. Tobacco, on the other hand, can cause bad breath, gum disease, and damage. According to research, smoking may account for about 75% of periodontal disease in adults.
Finding help for your addiction
Substance use is detrimental to one's overall health. If you or a loved one is suffering from drug addiction, it's best to seek treatment and rehabilitation. Although some dental health concerns like enamel degradation, cancer, and tooth loss cannot be reversed, there's still plenty that can be done to help restore a healthy mouth and smile. Rehabilitation facilities will also help treat addiction and any co-occurring disorders that contribute to user's difficulty in maintaining their oral health.
The accelerated spread of the novel coronavirus has brought the global economy to a standstill. Predictions of potential impacts of the pandemic's shock on the worldwide economy vary considerably. Yet many agree that the economy is facing the most severe challenge of the post-war era due to the sudden halt in economic activity in both developing and advanced countries.
Five months into the pandemic and businesses of all shapes and sizes are either shaping up or shipping out. The lockdown regulations have seen more and more companies change the way they do business. However, there is an industry that's taking a massive hit with the travel ban and border regulations – illegal drug trade.
The COVID-19 pandemic is dealing heavy blows on the illicit drug trade – or at least for now. The closure of all ports of entry and travel restrictions has made it difficult for drug cartels to ship their products across borders. That's not the only problem. There's also a significant disruption in the supply chains. As it turns out, drug traffickers depend on chemicals produced in China to make profitable drugs like fentanyl and methamphetamine. But with everything that's happening, they have a hard time accessing these drug supplies.
Illicit drug market shortage
The extensive disruption is causing shortages of illicit drugs in the US and UK, according to a United Nations report released on April 1. For instance, meth supply has decreased in most parts of the US, causing its price to skyrocket. Heroin and cocaine have seen the same uptick in price. These could be attributed to the shift in demand and supply equilibrium. The report further revealed that illicit drug trade is still thriving in other countries including, Australia and parts of Asia amid the pandemic.
Marijuana, heroin, cocaine, and meth
As mentioned earlier, most drug traffickers get their synthetic drug supply (like crystal meth) from countries like China. But the air travel restrictions and flight cancellations are disrupting the normal operations.
The opiate seizures in the Indian Ocean show the impact that Coronavirus is having on the heroin business, considering these drugs are often trafficked by land.
Then there's cocaine, which is mostly trafficked along maritime routes. The drugs have been detected in the European ports in the past few months.
Marijuana seems to be the only drug that hasn't been widely affected by the virus since it's grown and produced near places where it's bought and sold. Still, smugglers aren't very willing to ship marijuana across borders or regions under lockdown.
Potential causes of illicit drug shortages 
The supply and distribution of most illicit drugs (especially those that rely on ingredients sourced from China, Afghanistan, Colombia, etc.) are restricted as countries close their borders to control the deadly Coronavirus. Several reports show a reduction in supplies of synthetic marijuana, cocaine, and heroin.
A post on Forbes speculates that the Covid-19 lockdown is putting darknet drug cartels out of business. It further states that the lockdown is hitting pubs, clubs, bars, and other drug-taking hotspots, but darknet dealers accept bitcoin as payment too. Bitcoin, which allows users to purchase illicit drugs, stolen goods, and even guns, has seen a significant drop in spending since the onset of the virus.
Again, with the transit routes through South America having shut down, drug trafficking cartels are unable to cross the Southwest border. There has also been a dramatic reduction in the foot and car traffic to and from Mexico, a major source of America's heroin. Not to mention the stay-at-home orders and increased law enforcement (police presence) that discourages both buyers and dealers from meeting in public.
The report from the UNODC highlights the potential effects the pandemic may have on drug production in countries like Afghanistan, which cultivates about 90% of the global illicit opium. With March to June being the critical months for the opium harvest in the country, this year's yields could go to waste if laborers won't be willing (or able) to travel to where the poppies are grown.
People are "panic-buying" drugs
Those who manage to access illicit drugs like cocaine are panic-buying so that they don't run out of stock should the supply run out. An anonymous drug dealer told The Guardian that they do not expect any more cocaine shipments from abroad for six weeks. He said, "I sell cocaine and cannabis to suppliers in the north of England. I have 20 guys on the street servicing about 200 regular clients. But right now, we have two major concerns: sourcing drugs and making enough cash. With the looming shortage, my customers are buying ridiculous amounts of cannabis."
Harmful patterns affecting public health
Of course, as you would expect, people won't behave rationally, whether it's about buying sanitizers or marijuana. What we have seen happen with essential goods is a depiction of what's happening in the drug world. Whenever possible, some users stock up on their drug of choice, leading to supply issues. Stockpiling might cause users to consume more drugs than usual. And when they exhaust their stock, and cannot get more, they could end up with withdrawal syndrome.
Inevitably, they'll try alternative drug which exposes them to harm because they may not be used to the drug or know the safe doses. The same applies to the group that cannot stock up because of different reasons – like lack of money. They also will turn to substitutes, like diazepam, fentanyl, benzodiazepines, and so on. This shortage is increasing the number of IV (injection) users who are sharing needles to share what's available. This exposes them to the risk of contracting hepatitis, HIV/AIDS, and Coronavirus itself.
Drug cartels are getting smarter
The UN warns that the Covid-19 pandemic may present new opportunities to some cartels. Indications reveal that drug smugglers are adapting their strategies, with some having started to take advantage of the situation to boost their image among the population by offering solutions to the vulnerable. This prompted the Trump administration to launch a war on drugs to combat drug trafficking amid Coronavirus pandemic.  In the briefing, the president said the country must not let the drug kingpins and smugglers exploit the Corona outbreak to threaten American lives. He added that the US Southern Command would increase surveillance and seizures and disruption of the drug shipment.
The medical marijuana craze has ignited a multi-billion dollar industry. From oils to tinctures to lotions to lattes to e-cigarettes in all shapes and sizes, for pain, anxiety, depression, seizures, autism, soft skin, hangover, etc., marijuana is everywhere. In fact, those who invested in top marijuana companies in 2016 are potentially up more than 1000%. Yet another danger lurks under the guise of "synthetic marijuana", "K2", or "spice".
It is not a surprise that marijuana is gaining popularity globally, including on Wall Street. After all, cannabinoid (CBD) –the second most prevalent ingredient in marijuana – has been touted for different health issues. It's also backed scientifically for its effectiveness in treating the worst childhood epilepsy syndromes like Lennox-Gastaut Syndrome and Dravet Syndrome which fail to respond to antiseizure drugs. Studies have also shown its effectiveness in addressing anxiety and chronic pain too.
But the main concern with CBD products is that they are mainly sold as a supplement as opposed to medication. At the moment, the FDA has only approved Epidiolex for a prescription, and does not control the purity and safety of dietary supplements. So it is hard to tell whether a product has active ingredients at the dose as indicated or other unknown elements.
One study tested 84 CBD products from 31 companies and revealed that 69% were mislabeled. Some had too much CBD; some had no CBD at all. Some contained too much THC – the active ingredient in marijuana that's associated with the "high". Other surveys indicated that a fraction of the products contained harmful synthetics that are health hazards.
Medical marijuana can be safe and beneficial to human health. The only reason marijuana is still federally illegal is because of THC, which affects one's ability to concentrate, focus and even keep track of time. But with the rising popularity and demand of the legal natural marijuana, numerous companies have sought to simultaneously minimize production time and boost profits by creating synthetic cannabinoids.
What is Synthetic Marijuana?
Synthetic CBDs are a large family of chemically unrelated compounds that act on the same brain cell receptors as THC. Synthetic marijuana products are human-made, but mimic THC, the primary psychoactive ingredient in marijuana. They are misleadingly marketed as legal and safe alternatives to real marijuana. However, synthetic cannabis affects the brain more than natural marijuana, and their effect can be dangerous or even life-threatening. Unsuspecting users (mostly teens and young adults) assume that the fake weed is harmless – but that's a grave mistake.
Synthetic marijuana is either sold as a liquid to be vaporized and inhaled or sprayed onto plant material to be smoked. It goes by several other names:
Fake pot
Spice
K2
Synthetic cannabis
Synthetic CBD
AK47
Kush
Scooby Snax
Mr Happy
Black Mamba
Joker
Kronic
About synthetic cannabinoids
Synthetic cannabinoids are not one drug. Manufacturers produce and sell hundreds of different synthetic chemicals. Each year, new products with unknown health risks make entry into the market. As mentioned earlier, fake weeds are prevalent because consumers believe they are legal and relatively safe. This can be linked to the misconception that many users have, that marijuana is a naturally occurring weed and is, therefore, safe to use (but that's not all there is to it). Depending on what's available or personal preference, synthetic cannabinoids is either:
Added to food, herbal tea
Mixed into a liquid as a smoke spice
Sprayed onto plant material
In 2010, over 11,000 individuals were admitted to the emergency room due to synthetic marijuana use, according to the National Institute on Drug Abuse. And in 2016, 2,695 calls were made to poison control centers about people who were harmed by using synthetic CBD. What's disturbing is that 75% of these people were between 12 and 29 years old.
K2 Users beware
Most K2/Spices are illicit. So, manufacturers try to get around the laws by producing new drugs with different ingredients or by marking them as "not fit for human consumption." They are labeled not for human to mask the intended purpose and avoid the FDA's control of the manufacturing process.
Synthetic cannabis products are not safe. And since there are no standards for producing, packaging or distributing the chemicals, it might be hard to tell the contents of products and the potential reaction. Again, synthetic CBD can have varying levels of chemicals between batches, or even within the same batch. The products may also be contaminated with toxic chemicals or drugs.
Side Effects of Synthetic Marijuana
Synthetic marijuana can have adverse effects on the brain and overall health. Common side effects of synthetic cannabinoids include:
Breathing issues
Muscle damage
Kidney damage
Gastrointestinal problems
Fast heart rate, heart attack, stroke, high blood pressure
Seizures
Dizziness and sleepiness
Delusions, hallucinations, violent behavior, suicidal thoughts
Concentration issues
Confusion
Agitation and irritability
Note that these effects may vary based on factors like the type of synthetic marijuana, the dose and duration of use. K2 can be addictive, meaning a person may experience withdrawal symptoms when they quit cold turkey.
Incidences Involving Synthetic Marijuana
The CDC issued a warning after receiving reports of multiple cases from the Department of Public Health, including deaths among those who used fake K2. Other states have also reported the same cases. The warning urged everyone who's bought a product that goes by names (spice, K2 or synthetic marijuana) to throw it out. It also encouraged those who had already used to call for help or go to the closest healthcare facility in case they experience severe, unexplained bruising or bleeding.
In another report, synthetic marijuana –which is 85 times more potent than THC – led to a "Zombie Outbreak" in New York City in 2016. For several hours, users were staring blankly, moving slowly and occasionally groaning. 18 out of the 33 people who displayed signs were transported to the hospital. The incidence happened after using K2 that Reddit users describe as "out-of-this-world potent."
In 2018, 71 people overdosed from synthetic CDB in Connecticut. A significant percentage of the cases occurred on the New Haven Green. And although no deaths were reported, six or more victims had near-death experiences. In the same year, the drug was linked to 22+ cases of severe bleeding from gums, nose and in urine in the Chicago area.