There's no denying that drugs and music have always had a close relationship. For many people, using drugs is a way to enhance their musical experience, whether it's dancing all night at a club or losing themselves in an eclectic mix at a festival. However, it's worth noting that not all music fans use drugs, and many live performances are perfectly enjoyable without any chemical assistance.
Nevertheless, it's undeniable that drugs have played a major role in music history, especially when it comes to large live performances. Artists such as Pink Floyd and The Grateful Dead were known for their elaborate stage shows, often designed to be experienced while under the influence of drugs.
In recent years, electronic dance music has become closely associated with drug use, with festivals like Tomorrowland and Ultra becoming known as hotbeds of illicit activity.
What Are Music Concert Visuals?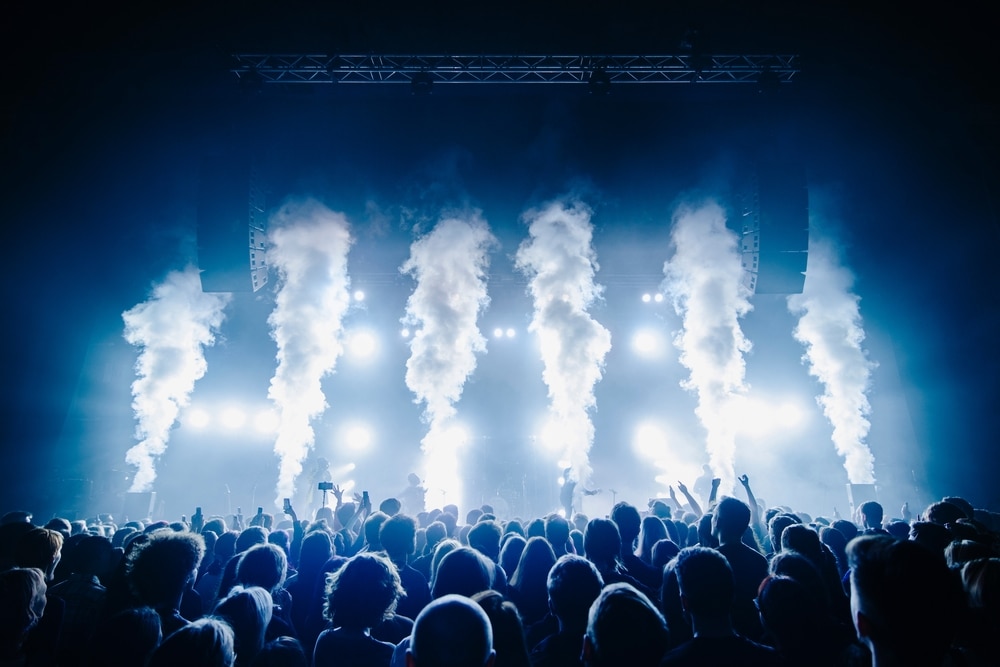 Music concerts are a visual feast for the senses, with bright lights, flashing colors, and dizzying patterns. But have you ever wondered where these visuals come from? It turns out that many of them are inspired by drug use.
For example, the trippy patterns used in concert visuals are similar to those experienced during an acid trip. And the flashing lights can mimic the effects of strobing lights on a dance floor. By creating visuals that are reminiscent of drug-induced states, concertgoers can feel like they're experiencing the music in a whole new way.
The Link Between Drugs and Music
Music and drugs have been linked together for centuries. In the early days, people commonly used psychoactive drugs to enhance their music experience. Drugs like alcohol and tobacco were used to relax and improve the taste of music. Amphetamines were also common, with rock and roll artists like Elvis Presley and Jerry Lee Lewis relying on them for their wild onstage antics.
In more recent times, illegal drugs like LSD and MDMA have been used by people searching for a more intense musical experience. Some claim that these drugs can help them appreciate music in a whole new way, while others enjoy the heightened sensations and feelings of euphoria that they can produce.
Music, in turn, has always been a part of the drug culture in the United States. Many drugs, especially psychedelics, are associated with specific genres of music, such as acid house or trance. For many people, taking drugs is an integral part of the musical experience, as it can help them feel more connected to the music and other people. Drug use can also be seen as rebelling against society's norms and expectations.
Besides, many musicians have experimented with alcohol or drugs in an attempt to improve their creativity. Some believe that substances can help open up the mind and allow new ideas to flow. However, it is worth noting that many successful musicians have composed great songs without resorting to drugs or alcohol.
Music, Drug Use, and Addiction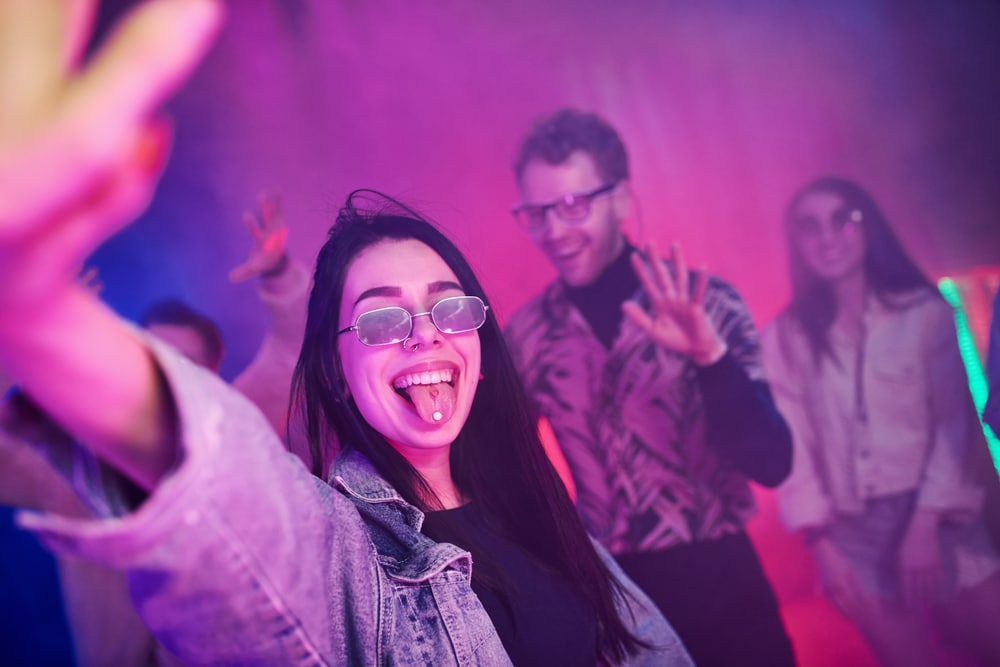 There's also a close link between music and substance use disorders. In some cases, people may use drugs to enhance their experience of listening to music. But in others, the connection between music and partying can lead to drug use or addiction or trigger mental disorders that cause them to turn to drugs to cope.
One of the most common drugs used at parties is MDMA, also known as "ecstasy" or "molly." MDMA is a stimulant that can cause feelings of euphoria, increased energy, and pleasure. It can also increase heart rate and blood pressure, dehydration, and anxiety.
When taken in large doses or combined with other drugs, MDMA can be dangerous and even life-threatening. Since MDMA is often used at all-night parties or nightclubs, people who use the drug may not get enough sleep, leading to fatigue, irritability, and memory problems. Long-term use of MDMA can also cause withdrawal symptoms, including depression, anxiety, and sleep problems.
For people struggling with addiction, the connection between drugs and music can be dangerous. According to the National Institute on Drug Abuse, party settings are risk factors for relapse, as they trigger cravings. At the same time, listening to music can make it harder to resist the urge to use drugs. The National Institutes on drug use research indicates that relapses are common, happening in 40-60% of the cases.
Music Concert Visuals and Drug Use
Many people who attend live music performances are using drugs. According to research by DrugAbuse.com, 57% of people admitted to using drugs or alcohol, with 93% consuming alcoholic beverages. Additionally, about 40% used marijuana at live music events, followed by 8% who used hallucinogens or MDMA (Molly or ecstasy).
Large live music performances often incorporate heavy visuals into their shows, expecting that many crowd members will be under the influence of drugs. These visuals help to:
Create a more immersive experience: Heavy visuals can help create a more immersive experience for the audience, making them feel like they are part of the performance.
Engage the audience: Heavy visuals can also help to engage the audience, keeping them involved in the performance.
Add excitement: Heavy visuals can add excitement to a performance, making it more enjoyable for the audience.
Create a memorable experience: Heavy visuals can help create a memorable experience for the audience, one they will remember long after the performance is over.
Many drugs cause users to experience sensory overload, and the introduction of visual elements can help ground them and prevent them from becoming overwhelmed.
Besides, drugs can alter perception and make it difficult to process complex information. As a result, simpler visual images are more likely to be comprehended by those under the influence. Also, bright colors and patterns can be more stimulating and enjoyable for people on drugs.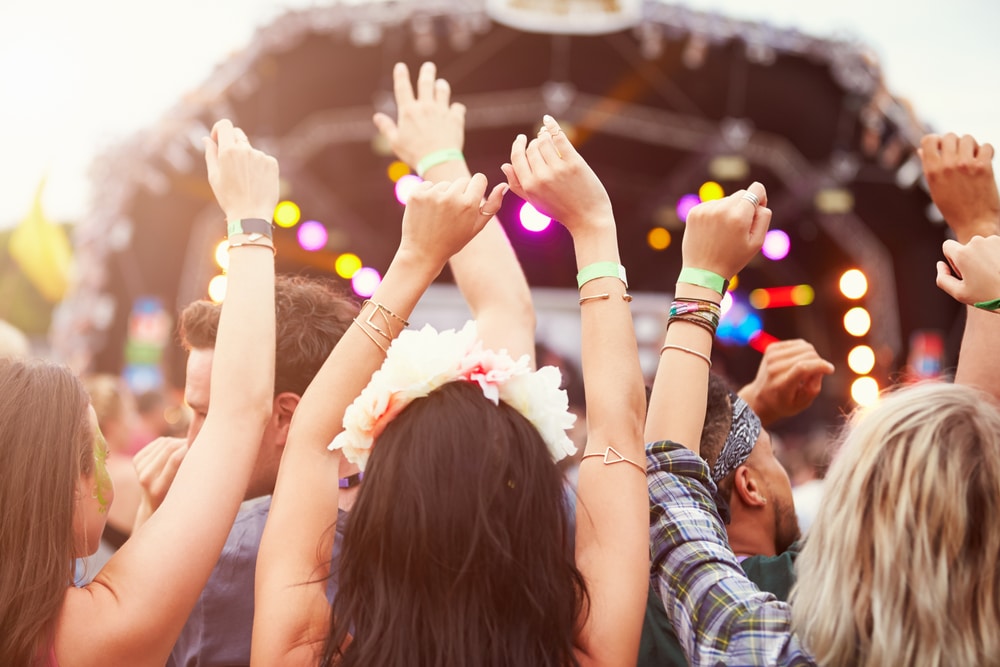 Stay Sober Throughout the Show
Going to a live music performance can be an incredibly exhilarating experience. Whether you're seeing your favorite band or exploring a new genre, there's nothing quite like being in a room full of people who share the same love of music. But you may worry about being around others who might be using drugs. While it is true that many concerts do use heavy visuals that can be enhanced by drug use, there are ways to enjoy the show while remaining sober.
Choose the right venue. If you're not comfortable with being around drugs and alcohol, then look for venues that have a strict no-tolerance policy.
Go with friends who share your same values and who you know you can rely on. If you find yourself in an uncomfortable situation, you'll have someone to turn to.
Pick a seat that is not too close to the stage. This will help to avoid being overwhelmed by the lights and sounds.
You may also want to arrive early and leave early before the crowd gets too wild.
Don't forget to stay hydrated and take breaks as needed.
Addiction Treatment
When most people think of drug addiction, they picture someone using illegal drugs like meth or heroin over prolonged periods of time. However, addiction can happen after a few tries and involve any drugs, including legal ones like alcohol and prescription medications.
Drug use is often glamorized in the media, especially in music. Concerts, in particular, can be a breeding ground for drug use.
Many people view drug use as a harmless way to have fun and let loose. However, drug use comes with serious risks. In addition to the risk of addiction, drugs can also lead to mental and physical health problems.
If you or someone you know is struggling with drug addiction, resources are available to help. Rehab facilities offer vast treatments for drug addiction, including detox, in-patient and outpatient care, and therapies. The Institutes of Health also recommends getting support from friends, family members and support groups.
If you have, at any point in your life, interacted with drug addicts, you are likely aware of just how far they would go to ensure they get their high any time they want. Even though they are addicts, they go out of their way to conceal their drugs from other people.
They may go to great lengths when hiding a stash, using creative and sometimes elaborate methods, like hiding them in body cavities, such as the rectum or vagina, stashing them in hollowed-out books or other objects, or wearing multiple layers of clothing to create hidden pockets. In some cases, addicts may even swallow condoms filled with drugs in an attempt to smuggle them into a treatment facility or detox center.
However, these methods are not foolproof, and addicts often eventually get caught. If you suspect that someone you know is struggling with addiction, look for signs of drug paraphernalia or hidden stash spots. You can also look for changes in behavior, such as secrecy, lying, or unexplained absences. Your loved one can be creative, but if you look close enough, you'll uncover any addiction behaviors and help they get the help they need.
This article reveals the common ways addicts conceal their drugs. If you are worried that your loved one is abusing drugs, read on to see where they may be hiding their illicit drugs or drug paraphernalia.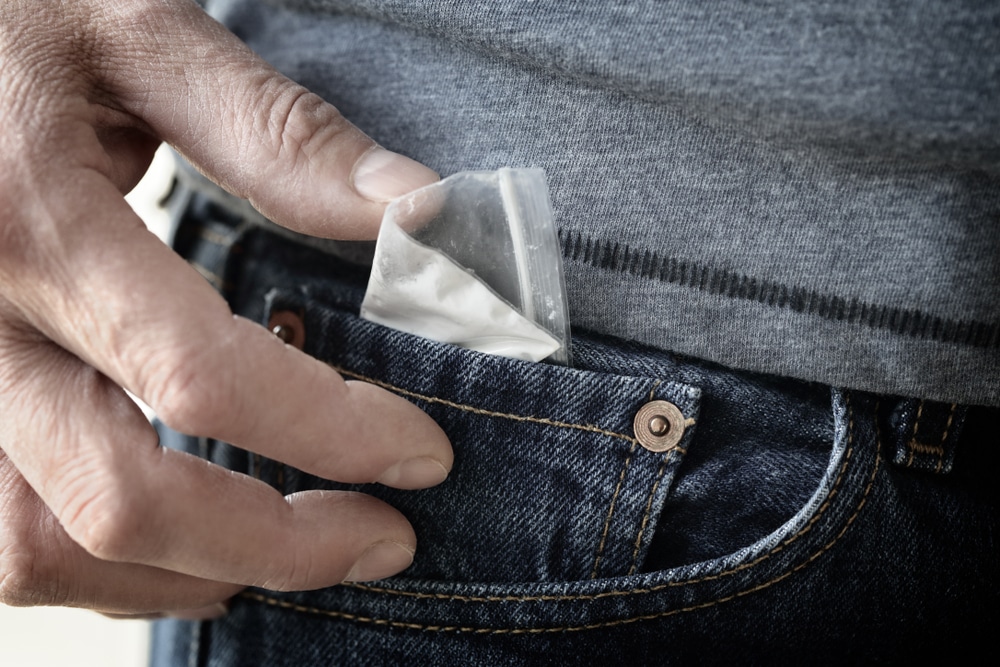 Common ways addicts conceal their drugs
The dangers of drug addiction are well-known, but the ways in which addicts hide their drugs might surprise you. One popular method is called "stash clothing." This involves hiding drugs in clothing that can be easily accessed, usually in a pocket , sleeve or sewn into clothing. The advantage of this method is that it allows addicts to keep their drugs close at hand without being obvious about it.
But sometimes, addicts may take it a notch higher. For example, some women hide their marijuana stash in altered tampons and hairbands. Those who work in transporting illegal drugs can sew the drugs in wigs and have the wigs glued to their heads to go past border and customs without being suspected. Unfortunately, doing so may cause complications and necessitate emergency room electrolysis.
Let us discuss a little more about how addicts hide contraband in clothing and footwear.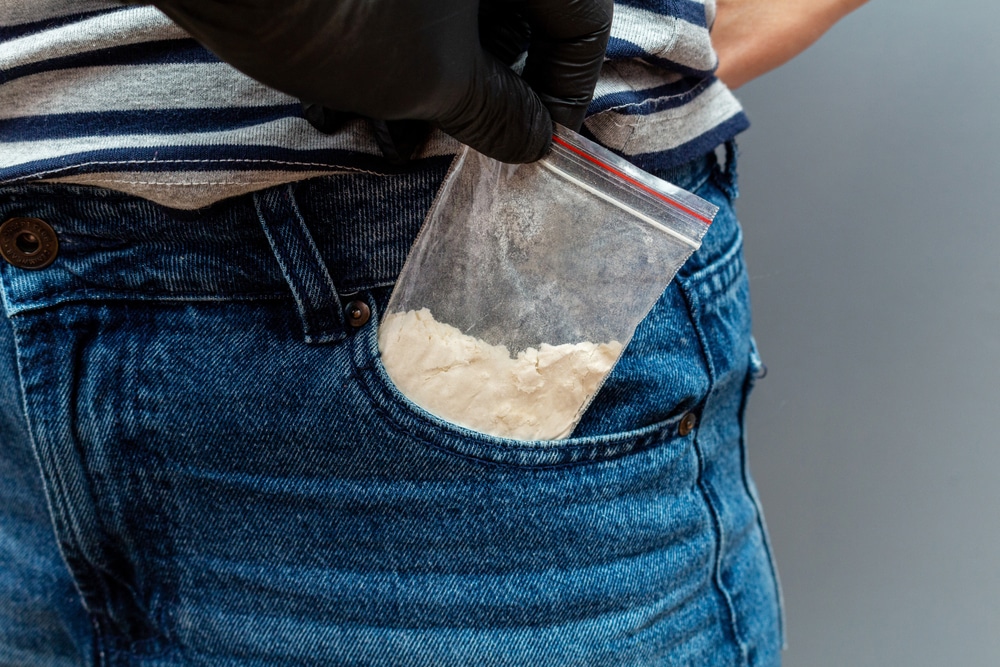 Clothing and footwear
You would be surprised at how many different places addicts hide their stash, especially at music festivals. They know the consequences of drug possession, so they need to ensure they don't get caught. No one wants to spend time in jail, not even them.
They roll the contraband into jeans, sew them into jacket linings, or hide them in coin pockets or socks. Unfortunately, addicts or smugglers that have children conceal the contraband in their kids' clothing, hoping that the officers won't search the children. Those with babies hide them in baby blankets.
Since police officers realized that coin pockets are a popular hiding place, young adults became more cunning. They either buy clothes with hidden pockets or opt to make the hidden pocket themselves.
Addicts' demand for clothes with hidden compartments made entrepreneurs mass-produce clothes that can easily conceal drugs. These clothes are readily available on the internet, and they are relatively famous for cocaine storage and hiding weed.
Clothing made for drug stashing
It is rather unfortunate that some brands specialize in clothing for carrying drugs. These clothes are sold online and in stores. Some of the most popular garments for stashing drugs include
·     The Rolla Wear brand has a hoodie that features a hidden hood pocket and a suru board in its front pocket for rolling joints.
·     Eagle Creek mass-produces an undercover stash bra. The bra has a hidden pocket that can be used as a drug pocket.
·     Annabiss manufactures stylish bags and purses that are very popular during the festival season. However, the bags have hidden compartments that addicts use to conceal their lighters, vape pens, marijuana stash, and mints.
Men, too, hide their stash in intimate pieces of clothing. Speakeasy Briefs is a brand that mass-produces briefs that feature a hidden compartment on the crotch. Addicts can easily use it to stash their drugs.
· Vaprwear manufactures hoodies that connect to vape cartridges. Addicts vape through the hoodie's drawstring.
· Dailyshoes manufactures a range of boots with large front pockets. Most addicts use the compartments to hide their drugs of choice.
· Zero grid sells belts that have hidden pockets. Some addicts use their hidden pockets to hide their drugs.
· 555 soul sells bomber jackets that have several hidden pockets. Those who abuse drugs may use the hidden pockets for their stash.
These are just a few examples of mass-produced clothing addicts use to stash their drugs. Although the clothes may not have been made explicitly for drug hiding, they are famous for their ability to hide contraband properly, and some articles promote them as such.
Other places addicts hide their drugs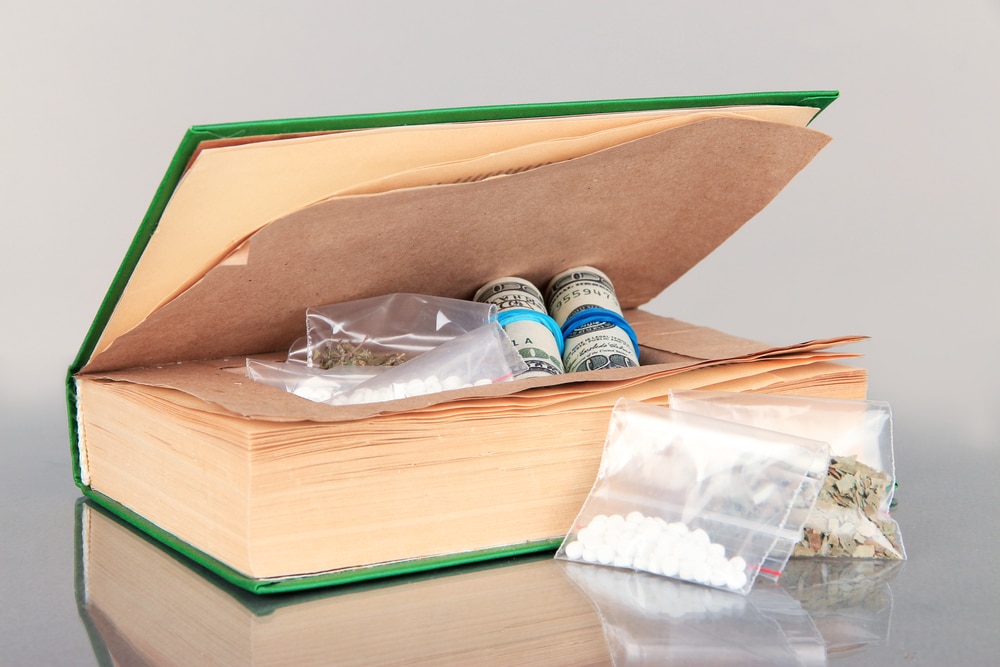 As discussed above, addicts can be very creative with hiding their drugs. Other than hiding them in their clothing and footwear, they may also hide them in:
Makeup and hygiene supplies- most makeup supplies come in tubes that addicts can hollow out and store their drugs.
Wall hangings and posters are popular hiding places inside the house since it is unlikely that anyone would look behind posters and wall hangings.
Candy containers and soda cans.
Air vents- since air vents can easily be removed and are inconspicuous, they make for a good hiding place for drugs.
Vehicles- most addicts that don't want their loved ones to know they are using hide their stash in their cars since no one would check there.
Inhalers- it is unlikely that you would check anyone's inhaler for drugs. This makes it a popular hiding place for drugs.
Electronics, e.g., game consoles.
Belt buckles.
Conclusion
Addicts are always secretive about where they hide their drugs. But by knowing the common hiding spots, you can uncover their behavior and help them get the care they need.
Like music, rave outfits have evolved over the years. Most rave outfits do not trend for too long. Partygoers ditch them to try something new that is trendy at the time.
Rave outfits are a significant part of the rave scene. They allow partygoers to express themselves without necessarily feeling the pressure to conform to societal and cultural norms. People don't go to raves to impress anyone. They go to have a good time and do things they can't do in their day-to-day lives. It is no wonder that those who don't party find the outfits somewhat nonsensical.
Raves made a debut in the mid-'80s. At the time, the rave scene was all new, so the dress code wasn't defined. Most people who attended the 80s raves were hippies and part of traveling communities. From them, it was all about peace, love, unity. They did not pay much attention to what they wore to raves. However, most of them wore lots of makeup, had big hair, and had extravagant outfits.
In the early 90s, people started paying more attention to their rave outfits, and a dress code developed. Most people wore similar outfits to fit in the rave scene. The dress code changed frequently as the years went by. Today, it is unlikely that you will see anyone showing off midriffs or donning phat pants that were go-to outfits in the early 90s. Instead, they wear more revealing outfits.
This article will discuss how festival fashion has changed with time. We will look at rave outfits in the early 90s, late 90s to early 2000s, mid 200s to late 2000s, and today's rave outfits. Let's dive in.
The early 90s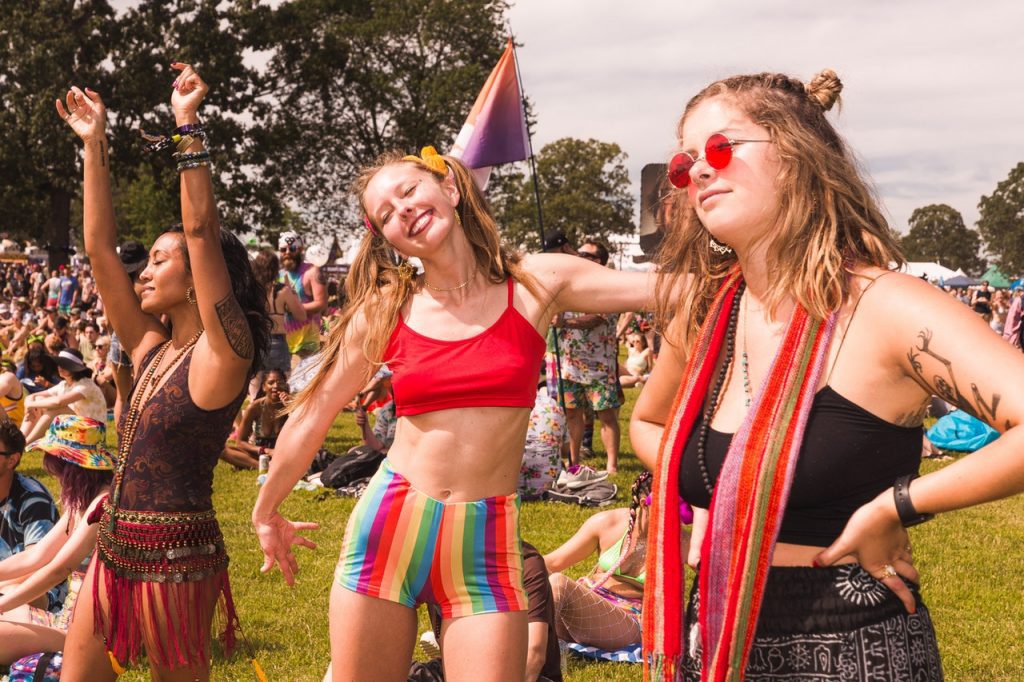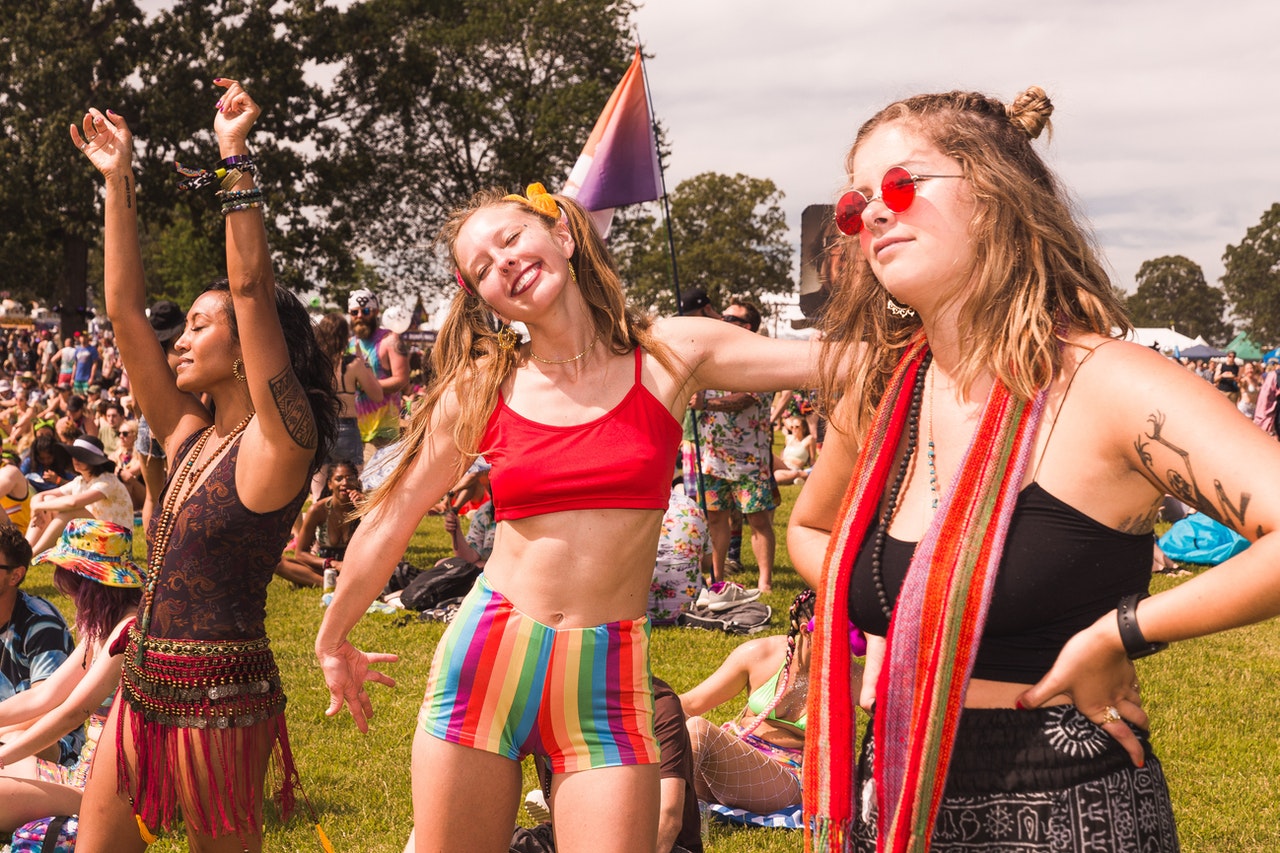 Raves started gaining popularity in the early 90s when rave music somehow found its way to mainstream music. Note that the rave scene was still disorganized during this time, and most parties were held outside.
Those going to raves wanted to seem friendly, fun, and happy. Therefore, they opted for brightly-colored clothes.
Most festival outfits in the early 90s were functional. Sometimes, the outfits included hydration packs. Other than comfortable outfits, everyone opted for comfortable shoes. It was not unusual to see people donning brightly colored tie dye t-shirts paired with comfortable pants heading to a rave festival.
Neon colors were also the go-to option at the time. Wearing revealing clothes was not an option since most music festivals were held in the open.
With time, raves became more organized. Ecstasy also became more popular when partygoers discovered the euphoric feeling it gives them. The ecstasy combined with sophisticated light and sound encouraged people to try psychedelic outfits like boiler suits.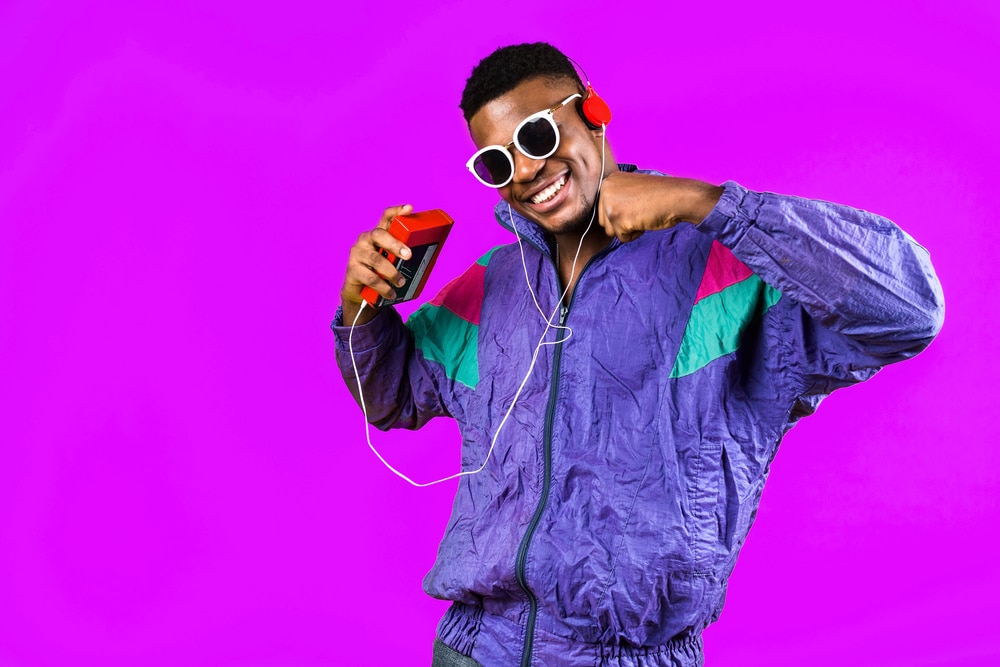 Boiler suits gained popularity when PA's like Dye Witness and Altern-8 wore them during their sets. Their fans copied their style, and in no time, they wore them to every rave. Reportedly, the masks partygoers wore at the time were full of menthol substances that helped them enhance the effects of illegal drugs they took at the event, including MDMA, LSD, mushrooms or whippets.
The late 90s to early 2000s
In the 2000s, most people shifted to wilder looks and outfits. Rave fashion featured string vests, fluffy boots, neon tank tops, hair bands, whistles, and Day-Glo paints. Like the early 90s, they preferred bright colors as opposed to dull ones.
Both boys and girls went to raves to be seen. The boys saw it as an opportunity to express themselves, and the girls wanted to look attractive.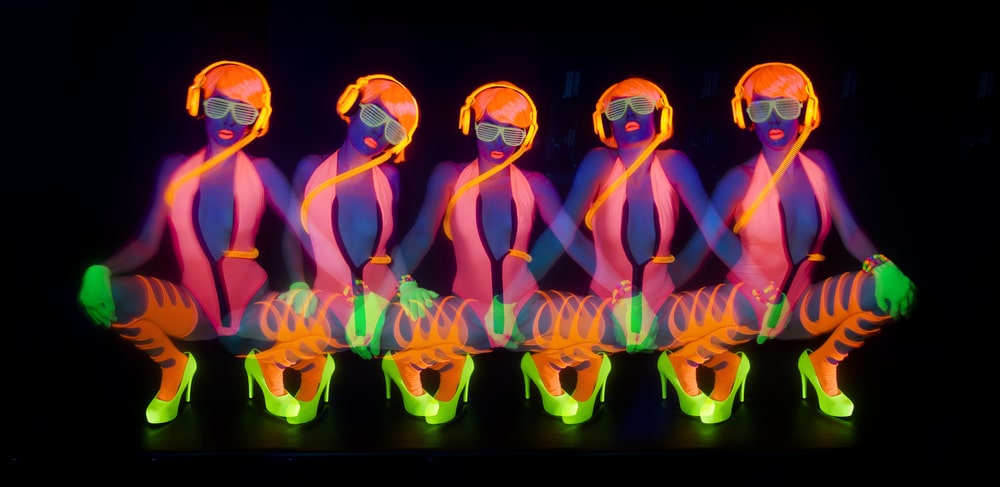 In the early 2000s, people also embraced cyber wear, which featured dummies (pacifiers and lollipops) and glow sticks. Dummies reportedly prevented people who had taken ecstasy from grinding their teeth, while glow sticks improved the rave experience.
The mid-2000s to late 200Os
Generally, people toned down their outfits in the mid to late 2000s. The main reason for this is that raves happened more often, almost every weekend, and everyone wanted to be comfortable on the dance floor. Additionally, most festivals, including every EDM festival, were held in clubs instead of open fields.
Rave wear in the mid to late 2000s mainly was streetwear, which means people wore what they would typically wear on the streets. Jeans, hoodies, trainers, and tracksuits became common in the rave scene.
Streetwear became popular because partygoers were mainly from the new generation, and modern fashion styles and street styles greatly influenced them.
Today's rave outfits
Today, people wear whatever they want when going to raves. It is unlikely that you'd see anyone wearing neon outfits, fluffy boots, tank tops, string vests, and other rave wear that people used to wear in the past.
Like the other years, people go to raves to have fun. Therefore, they try to express themselves with what they wear based on the music and artists they love.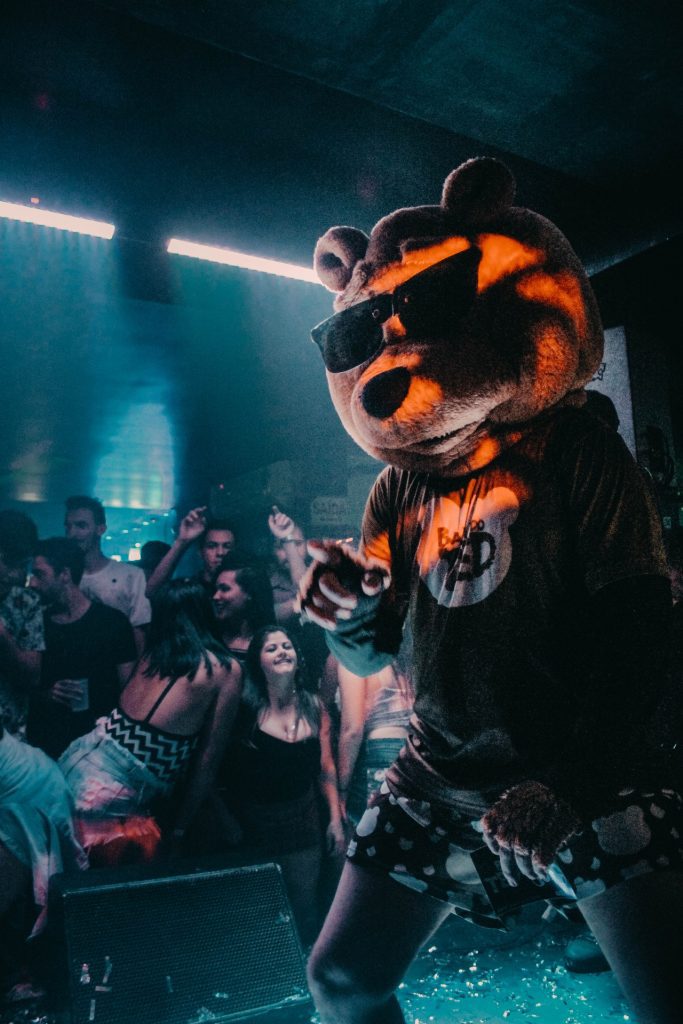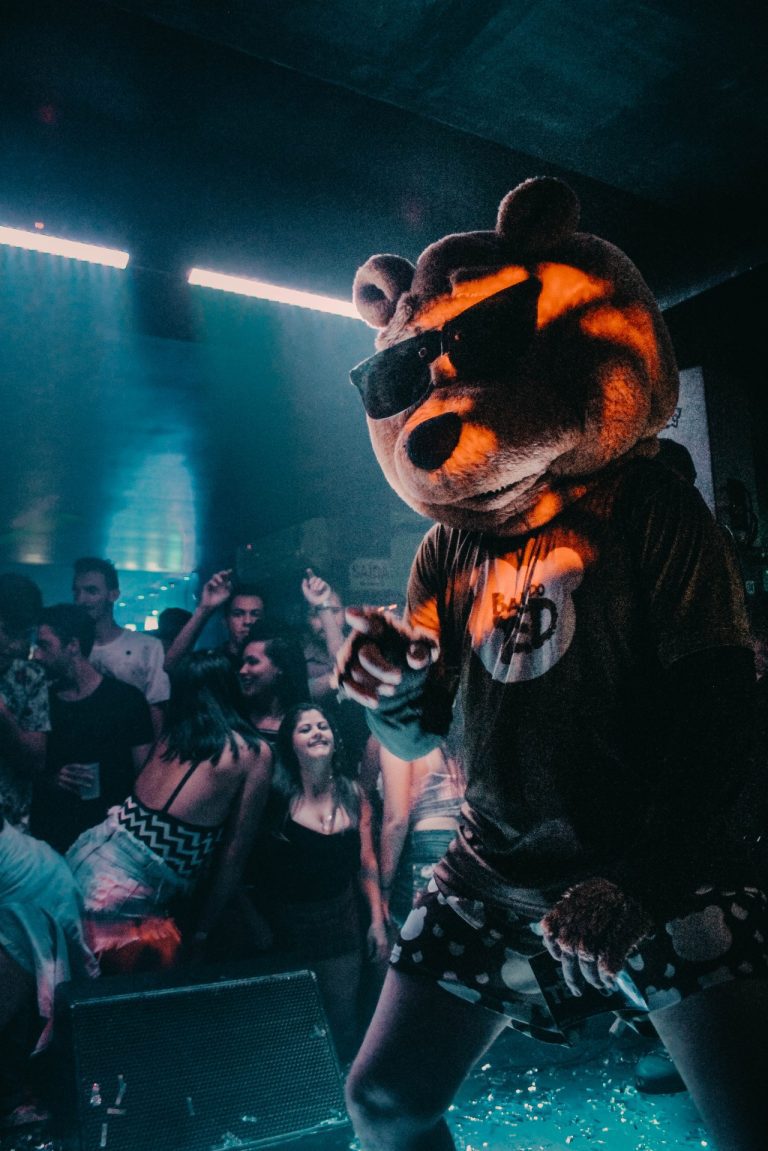 You may also notice that the rave clothing people wear while going to clubs is different from what they wear while going to festivals. Most times, festivals are held outdoors during summer, so people don't dress up much. For festival clothing during summer, girls prefer wearing bikini tops or a crop top paired with booty shorts and a pair of sneakers, while the boys wear shorts.
There are a few instances when people try to mimic old rave gear by wearing bright-colored outfits and accessories, especially during festivals when they want to express themselves. However, this doesn't necessarily mean they are re-embracing the old rave outfits.
Fashion trends in the EDM community
The EDM community has always had a unique fashion sense. Currently, kandi culture is trending.
A few years back, members of the EDM community mostly wore tulle and neon-colored outfits. Today, they have embraced earthy and pastel colors. The girls mostly wear micro shorts and micro skirts that have cutouts.
Festival wear in this community also comprises samba bras, plunge bras, pasties, sheer tops, and halters. The most common prints are psychedelic prints, aliens, holograms, and mermaids.
Conclusion
As discussed, rave outfits are constantly evolving. The only thing that remains constant is the ability of rave goers to express themselves and feel empowered by their outfits.
Trends change constantly, but the best thing about rave fashion is that you can wear whatever you want without feeling the pressure to fit in because you are free to express yourself in whatever way.