Needle exchange programs (NEPs) or syringe services programs (SSPs) are public health initiatives that provide clean needles and other injection equipment to people who inject drugs. They aim to reduce the transmission of blood-borne infections, such as HIV and hepatitis C, among drug users. NEPs also often offer other health services, such as:
Facilitating safe disposal of used syringes
Naloxone distribution and education
Abscess and wound care
Screening for sexually transmitted diseases
Screening, treatment, and care for viral hepatitis and HIV infection
Referrals to drug treatment and other social services
Vaccinating against Hepatitis A and B
Providing access to condoms and providing education on safe sex practices
Educating about safer injection practices and overdose prevention
How Needle Exchange Programs Work
Needle exchange programs provide needles and syringes to people who inject drugs. The program allows injection drug users to safely dispose of used needles and access new sterile ones. This helps reduce the spread of HIV/AIDS, hepatitis B and C, and other blood-borne diseases that can be transmitted through sharing or reusing needles. NEPs also provide additional services mentioned above.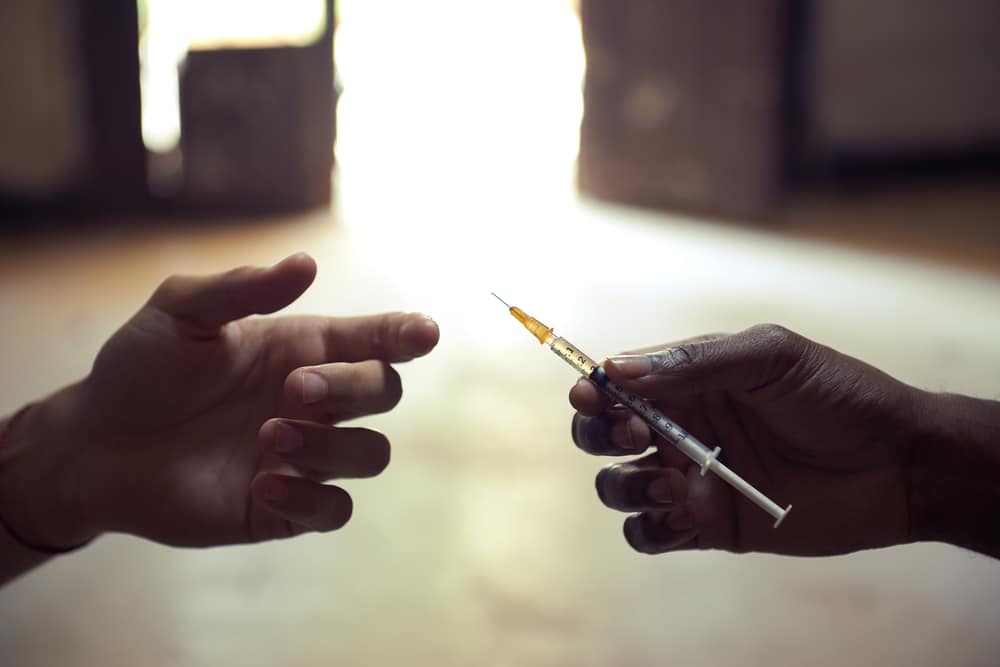 NEPs are usually located in pharmacies, clinics, and organizations that provide health or community services. But the services can be delivered at fixed sites, outreach programs, mobile programs, and syringe vending machines.
Fixed sites remain in one location, making it easy for drug users to drop used syringes and needles and pick new ones. These programs provide consistency for those who need clean needles, as well as other additional services like HIV screening, health care, and counseling.
Mobile programs bring services directly to the users, often operating out of tents or vans. These target places where drug users may already be, such as alleys and parks. Mobile programs are often more accessible than fixed sites, especially for communities with lower populations.
Outreach programs generally employ workers on the streets in high-traffic areas to engage drug users and connect them with services. The goal is to reach injection drug users who don't have access to a fixed site or may not visit one due to addiction stigma, lack of trust, or fear of law enforcement.
Lastly, syringe vending machines provide needles in a more anonymous and convenient way for those who don't have access to fixed sites or outreach programs. They are unmanned and accept coins or tokens in exchange for clean injection kits. These machines are currently only available in European countries and are the only way that syringes and needles are made available 24/7.
Are Syringe Services Programs Effective?
Studies have shown that NEPs are extremely beneficial to public health. The Centers for Disease Control (CDC) shared a summary of information on the safety and effectiveness of SSPs, which included data from 30 years of research on the matter.
According to the report, comprehensive NEPs are safe, effective, and economical and don't promote crime or illegal drug use. In fact, new program users are 3x more likely to stop using drugs and 5x more likely to join addiction treatment than those who don't use SSPs. The report also points to the effectiveness of NEPs in reducing the transmission of HIV and other blood-borne diseases.
Beyond the CDC report, other bodies, including the United States Department of Health and the National Institute of Health, endorse the program's effectiveness in reducing HIV transmission and saving lives without losing ground in the battle against illegal drugs.
In addition to harm reduction, NEPs are cost-effective. They have reduced healthcare costs by preventing HIV, hepatitis, and other infectious diseases, including endocarditis. A 2014 analysis revealed that each dollar spent on syringe exchanges saves the government about $7 in HIV-related healthcare costs.
The programs have also effectively reduced dangerous conditions in the communities where they are implemented. They do this by providing addicts with a safe, healthy place to dispose of used needles, thus eliminating the need to discard them on streets or playgrounds. This helps keep neighborhoods cleaner and reduces the risk of injury from discarded needles.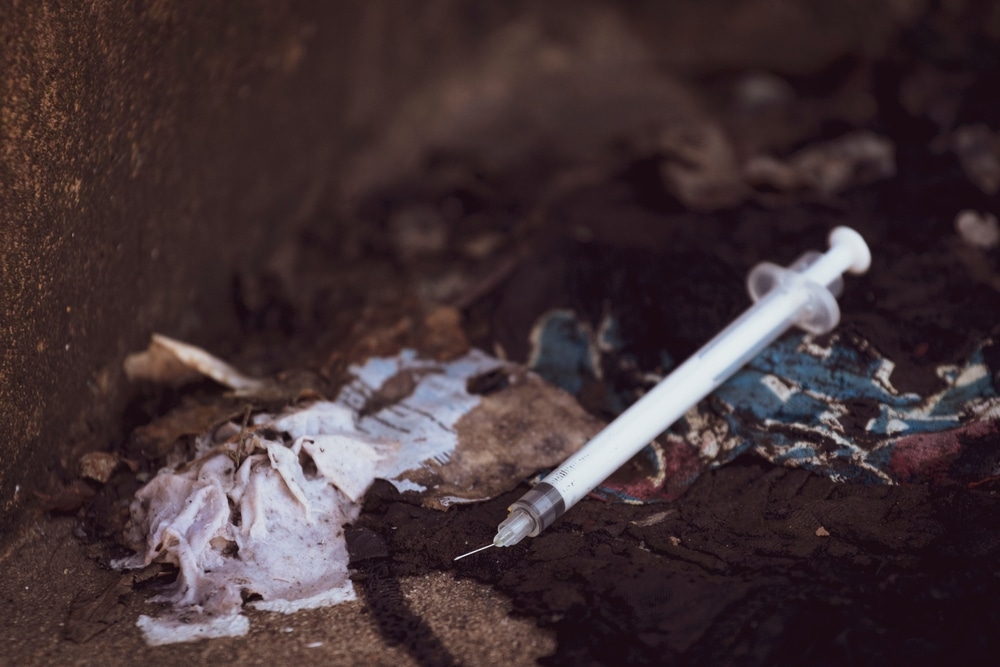 How Needle Exchange Programs Help Addicts
NEPs Reduce Public Health Risk
NEPs are designed to reduce the spread of HIV/AIDS and other blood-borne diseases by providing a safe place for injection drug users to access sterile needles and dispose of used ones. This can help break the chain of transmission through sharing or reusing needles, as well as connect these individuals with substance abuse services.
Some argue that NEPs encourage substance abuse. But evidence from reputable sources, including the CDC, NIH, and Department of Health, shows that NEP does not promote drug use. The few cases indicating increased drug use should be analyzed to establish the circumstances under which negative effects might occur.
However, these scattered cases should not be used as a basis for discrediting the overall effectiveness of NEPs. These programs have reduced public health risks and provided a much-needed entry point into treatment and support services for people struggling with addiction.
NEPs Save Lives
Syringe services programs save lives by training drug users to prevent, quickly identify, and reverse opioid overdoses. Many NEPs give drug users and community members "overdose rescue kits" and educate them on how to recognize an overdose, give rescue breathing, and administer naloxone. Based on measures like hospitalizations for drug overdoses, there is no proof that community norms change in favor of drug use. For example, there were no increases in new drug users after the introduction of NEP in New Jersey, Hawaii, California, etc.
NEPs Protect the Public
According to studies, NEPs protect the public and first responders by offering safe needle disposal and reducing the presence of needles in the community.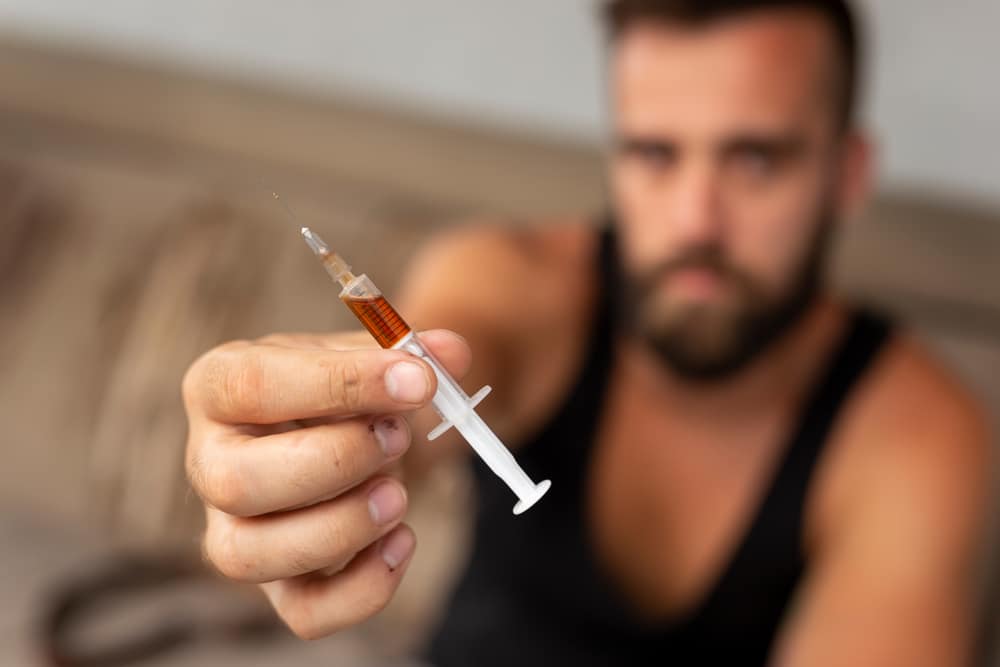 Needle Exchange Programs Work
SSPs do more than improve health. Because they're so practical and far cheaper than the lifetime cost of treating HIV and viral hepatitis, they save taxpayers money. There have been a lot of politics surrounding the programs, with most states and local governments limiting or prohibiting SSPs. However, some restrictions have been lifted, providing further opportunities to assess their effects.
NEPs are effective at reducing the spread of HIV and other infectious diseases, promoting safe needle disposal, and providing access to evidence-based addiction treatments and support services. They are cost-effective and have been shown not to encourage drug use in the communities they serve. With proper implementation, NEPs can help reduce the burden of infectious diseases, drug use, and overdose-related deaths in communities worldwide.
A lesion refers to an abnormal change on a body tissue organ caused by an injury or disease. Lesions could be a result of using recreational drugs or some specific FDA-approved drugs.
Drug abuse affects most body organs, and unfortunately, the damage done may remain hidden for several years. For example, alcohol strains the liver, heroin damages the kidneys, and cocaine stresses the heart.
The skin is the largest body organ. Abusing alcohol or drugs for a long period can cause skin lesions. Skin lesions can either be benign (non-cancerous) or malignant (cancerous), basically skin cancer. They can manifest as sores, a variety of infections, and even rotting of the skin.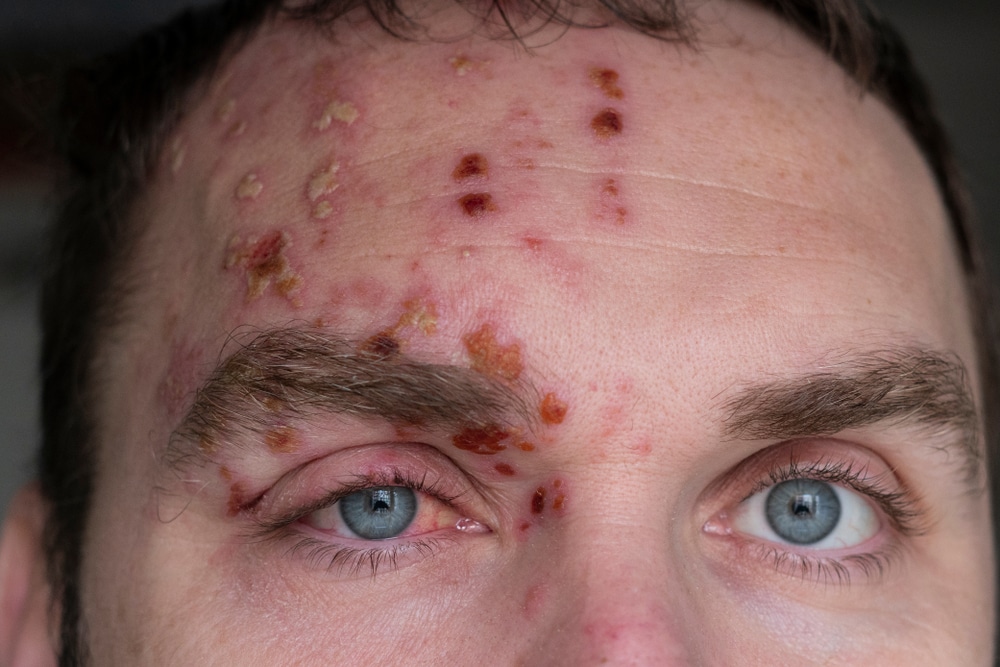 Four factors contribute to lesions. They include:
The drug itself
Method of drug delivery, e.g., drugs delivered intravenously.
Impurities that find their way into drugs while they are sold in the street. The contaminants may cause contact dermatitis where one is allergic to the impurities.
Unhealthy habits, e.g., not maintaining personal hygiene, poor diet, and lack of sleep, among others.
Here is how different addictive substances affect the skin.
Heroin
The effect of heroin on the skin is more noticeable in users who prefer injecting the drug with needles, instead of snorting or smoking. Heroin users repeatedly penetrate their skin while seeking veins. This may lead to venous sclerosis, which refers to scarring of the veins. Venous sclerosis can result in skin infections, cellulitis, and abscesses.
Users who inject themselves with heroin through skin risk contracting necrotizing skin lesions due to skin popping. Skin popping allows bacteria to penetrate the skin and also leads to tissue trauma.
Most heroin users also complain about dry, itchy skin. Additionally, some users end up having an itchy hives-like rash.
Cocaine
Cocaine can directly affect the skin, and it can also affect internal organs, which in turn cause skin damage.
Here are some effects that cocaine has on the skin:
Chronic skin ulcers
Blackening of the palms
Fibrous tissue formation in the skin
Death of skin cells (necrosis)
Pustulosis (where parts of the skin are filled with pus)
Buerger's disease causes veins to turn red and swell. This could also interfere with one's blood pressure.
You should also know that a variety of substances are used to cut cocaine. Some of the substances can cause rotting of the skin and ulcerating skin lesions. Additionally, cocaine could cause a heart attack since its users have an increased heart rate.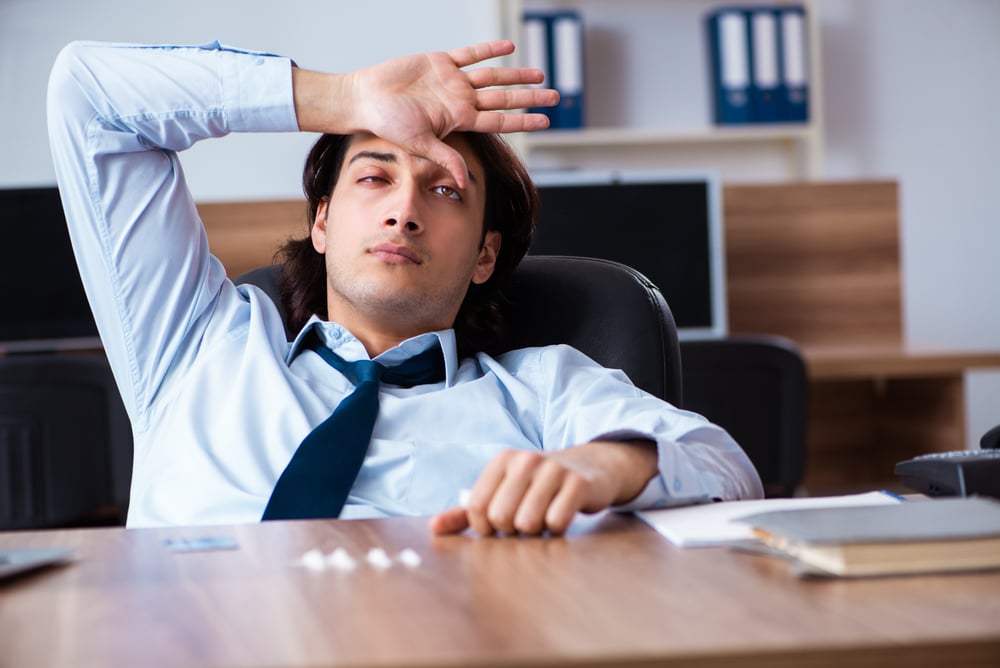 Alcohol
Most people are unaware of the fact that alcohol abuse can have noticeable effects on their skin. The most common effect of alcohol on the skin is spider angioma. Spider angioma manifests as red lacy patches on the neck, torso, hands, and face.
Alcohol abuse also causes Caput medusa, a skin condition that causes the addict's veins to swell and distend. The veins usually appear across the abdomen. Alcohol abuse also causes Porphyria Cutanea Tarda (PCT), a condition that causes scars on areas of the skin one exposes to the sun. Most people battling alcohol addiction have scars on their faces, hands, and feet.
Dermatologists also associate several dermatological conditions with alcohol abuse, including seborrheic dermatitis, rosacea, and eczema.
Methamphetamine
Most people who abuse methamphetamine (meth) end up having skin sores because they constantly pick their skin. Meth users pick at their skin because they, on several occasions, get the sensation of insects crawling even when they are not there. As a result, they easily develop sores. Some meth users also end up having dry skin.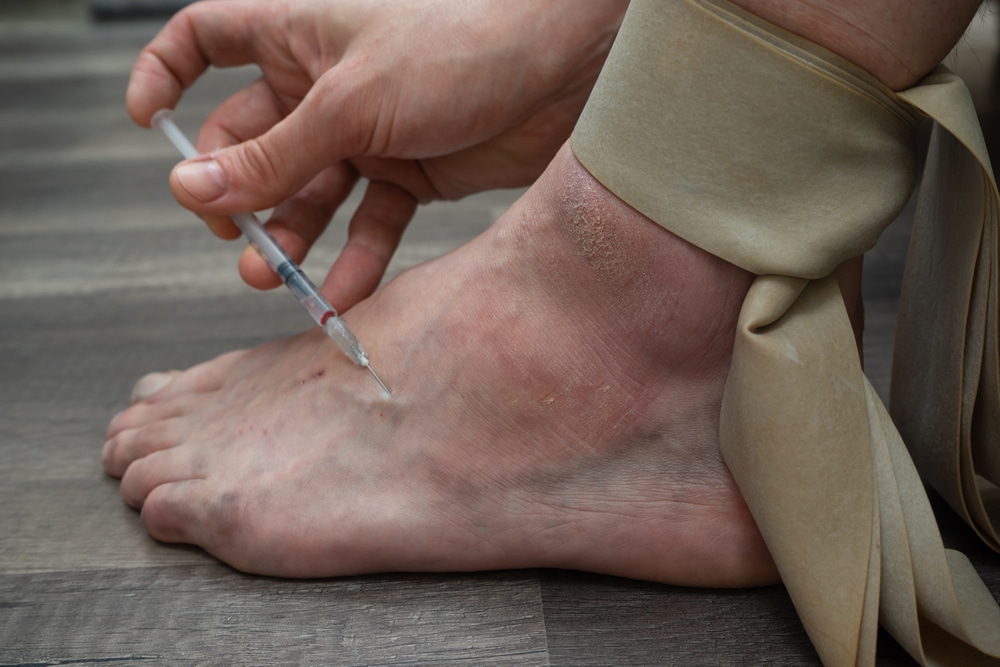 Meth users who inject themselves with the drug are also at risk of contracting skin infections. Research has shown that 11% of drug users that use injections report skin infections every few months.
Marijuana
Research has shown that marijuana can negatively affect your skin. The smoke from marijuana contains hydrocarbons. When the hydrocarbons come into contact with your skin, they interfere with your skin's collagen production.
Note that collagen protects your skin against inflammation and air pollution. If your skin does not produce enough collagen, your skin will age prematurely and become wrinkled since it loses its elasticity. Cannabis-induced arteritis, which is a direct result of marijuana use, also has effects on the skin.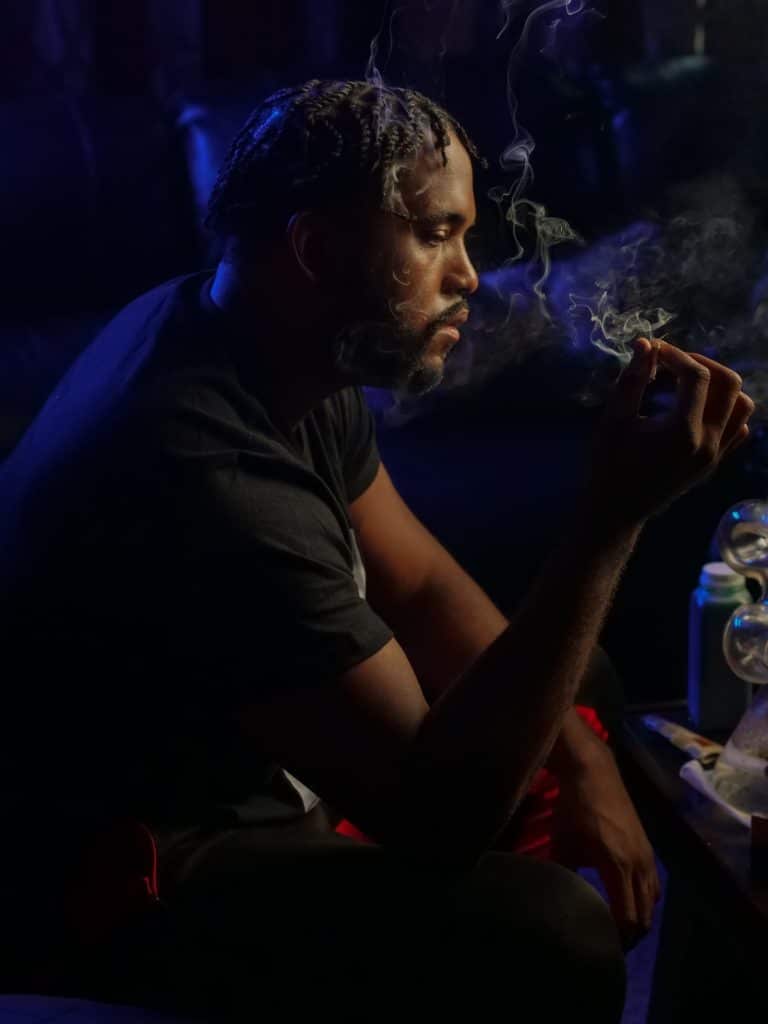 Desomorphine
The street name of desomorphine is "krokodil" because it turns the skin green and scaly. Eventually, the skin sloughs off.
Krokodil is a cheap form of heroin. It has been dubbed the deadliest drug globally because it rots the skin from the inside out. Consequently, it causes abscesses and gangrene.
How to deal with side effects of drugs and skin lesions
If you want to minimize the impact of drug abuse on your skin, the first thing you need to do is stop abusing drugs. Note that the more you abuse drugs, the more adverse effects they will have on your skin. Most people with addictions end up having very unhealthy skin.
If you are struggling with an addiction or substance use disorder, you should consider seeking medical advice, diagnosis, or treatment to beat the addiction. There are several treatment approaches to consider, so you should choose one that suits you best. If you have a supportive family, your family members will support you throughout your recovery journey, especially when dealing with withdrawal symptoms.
You may also have to undergo behavioral therapies to deal with unhealthy behaviors that destruct your skin or body organs in general.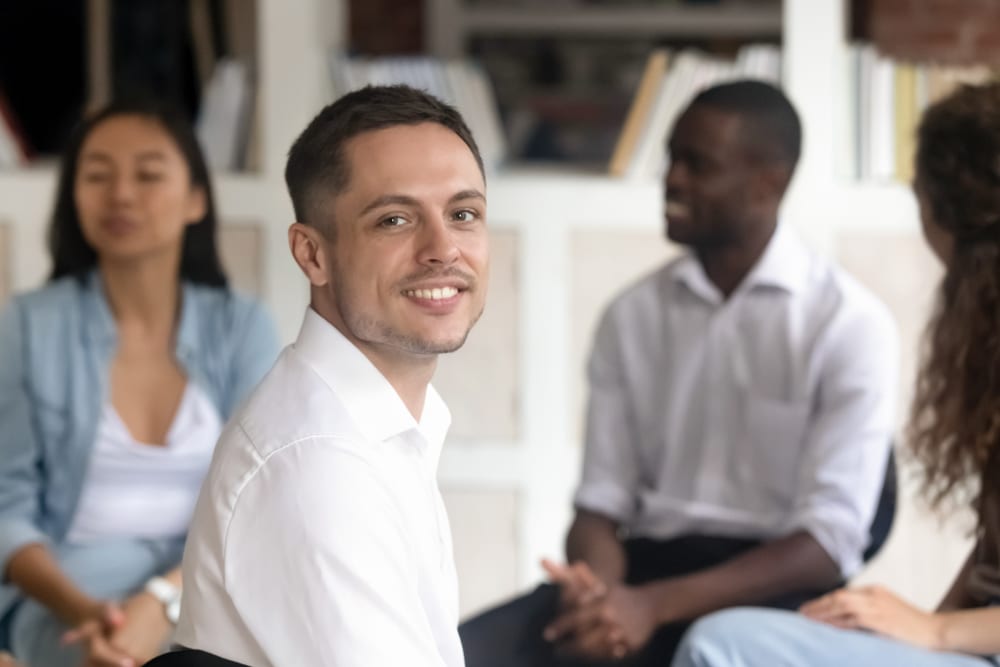 Various drugs affect the skin differently. However, once you deal with your drug use and addiction, some effects will fade naturally. If you want to speed up the process, you can consult a dermatologist. The dermatologist will prescribe medications and, in some cases, ask you to follow a consistent skincare regimen.
If you are in the United States and need drug information, especially when it comes to drug addiction, you can contact the American Society of Addiction Medicine or the National Institute on Drug Abuse for more information.
Conclusion
If you want to maintain healthy skin, do not abuse drugs. You should specifically stay away from drugs that contain fillers or compounds as they tend to have adverse effects on the skin. In addition, moisturize, wear sunscreen, and maintain good hygiene to keep your skin healthy.
Heroin addiction is a global problem. According to the World Health Organization, 58 million people around the world used opioids in 2018. In the same year, 46,802 opioid-involved overdose deaths occurred in the US. This was followed by a significant rise in 2019 to 49,860 overdose deaths.
The problem with the opioid drug is that it is highly addictive. Even those who take prescription opioids have an increased risk of developing an addiction. And when they develop an addiction, a good number of them turn to heroin because it is cheaper and easier to access. Heroin is typically sold as a white or brown powder that's cut with starch sugars, synthetic opioids, or even powdered milk.
Pure heroin is a white powder. People who use pure heroin often sniff or smoke it. Any dark powder or black powder may indicate impurities. The same applies to heroin that's hard as coal or sticky as tar. The dark color in black tar heroin results from crude process methods that don't eliminate impurities. Those who use impure heroin dilute and inject it into the muscle, veins, or under the skin with an intravenous needle. This leaves behind track marks that can visually give away their drug use problem.
What are track marks?
These are physical scarring that happen when one injects drugs repetitively. It's common to spot profound track marks on people who are struggling with addiction because they are often injecting drugs, leading to scarring. Injecting the same place repeatedly disrupts the skin's natural barriers and mutilates and bruises the veins in that area. So many drug users shift to other places like the ventrogluteal muscle to try to prevent or hide scarring. This makes it hard to discover their using habits.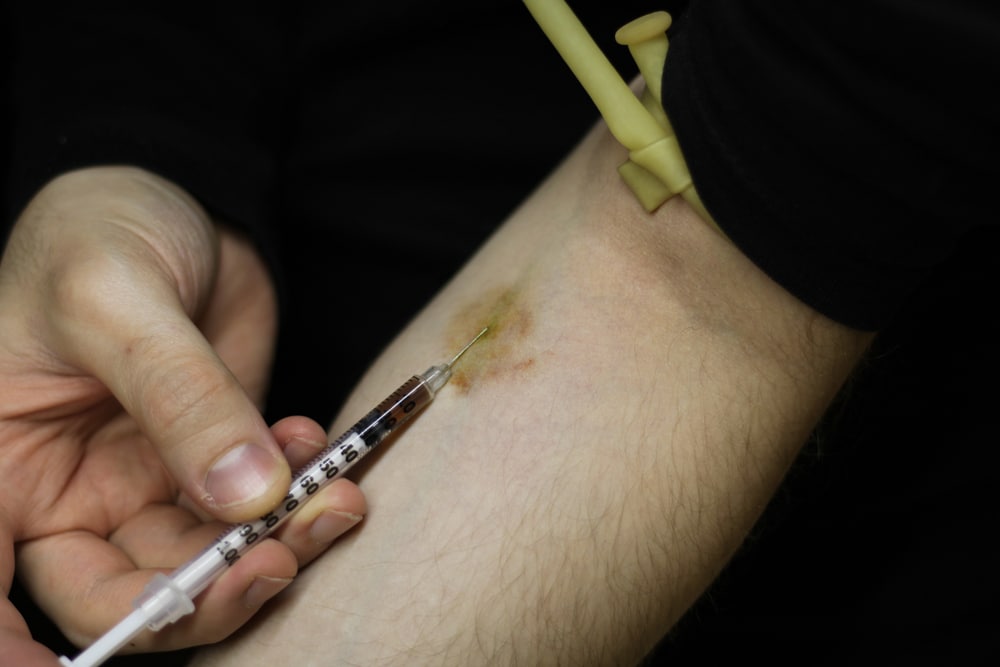 Injecting drugs
Many people who abuse heroin inject through the arms. In fact, it is the most common site of injection. That's because the veins are visible, accessible, and easy to inject into. Unskilled or frequent injections in the arms leave track marks and may also cause infections. Heroin users will frequently switch injection sites to keep track marks and complications to a minimum. When they do, the legs and feet are often the next stop. Intramuscular injection is a bit challenging for many. So some users skip the leg and go for the feet because the veins are somewhat easy to inject into.
Where do addicts hide their track marks?
When someone keeps injecting drugs, they will develop scars, sores, or track marks that are easy to spot. That's why many injecting drug users become adept at concealing these marks. They will wear large clothes, long-sleeved shirts, sweaters, and things that cover the marks. But since hiding track marks in the arm isn't always practical, many people will shift to hidden body parts that are harder to be seen.
Let's explore the top 5 places addicts hide their track marks.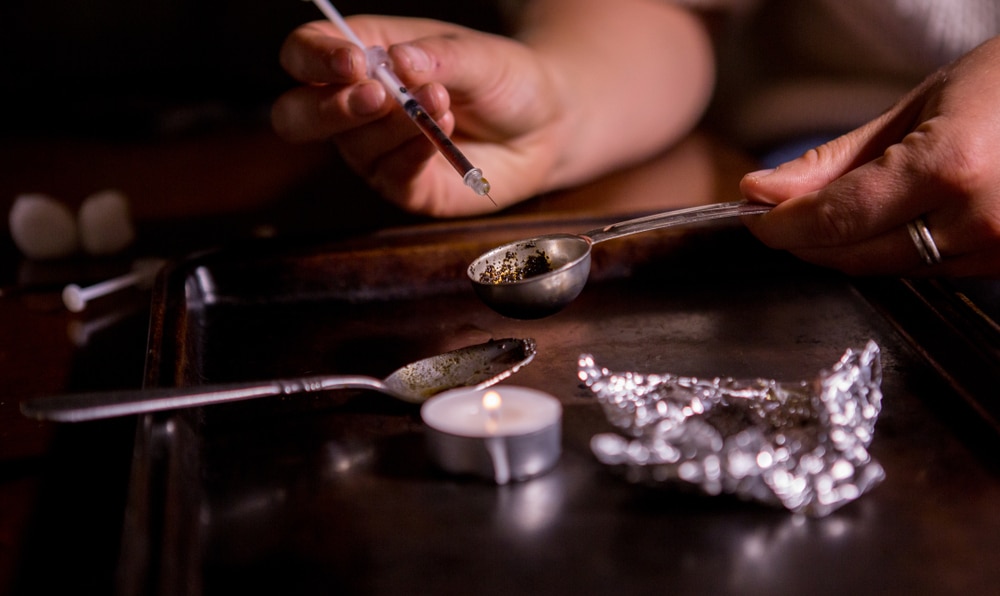 Neck
People who inject drugs are usually only concerned about getting the drugs into their system. As long as they can see a vein, they are good to go. Like arms and hands, the neck has veins and arteries that are close to the surface, making it an appealing option. But according to experts at the department of health, injecting in the neck is one of the riskiest drug-injecting behaviors. It increases the risk of damaging an artery or vein not directly visible at the injecting site. But since the neck is usually visible, most drug users will wear pull-necks, hoodies, or use shawls and scarves to cover up the track marks.
Hairline
People struggling with heroin addiction may inject the drug along their hairline to conceal their using behavior. The hair does a great job covering the track marks and makes it hard for anyone to notice. Besides, it's not easy for anyone to check the hairline in case they suspect use. Most people only check the arms. Injecting drugs along the hairline is a dangerous undertaking with potentially life-threatening side effects. In addition to track marks, subcutaneous injections carry the risk of infections. One may also suffer from issues like receding hairline or hair loss.
Wrist
The wrist is closest to the arm, making it an obvious site for many people who use drugs. Track marks on the wrist are easier to hide. Besides wearing long-sleeved shirts and sweaters, one could cover the marks with a big bangle, watch, band, or cloth. And since these are everyday accessories, it can be hard for people to suspect drug use.
Armpit
Armpits are naturally hidden, which makes them a great spot for hiding track marks. People who inject in armpits will almost always wear t-shirts or clothes that conceal track marks, even when they stretch. Unless there's paraphernalia or other signs that give them away, they might go on using for a long time, completely undetected by their friends and family.
Toes
Veins in the legs and feet are common injection sites, especially when those in the arms and hand collapse or get damaged. Those who want to hide their track marks will avoid the legs and feet. Instead, they will inject theirtoes. This way, no one would notice even when they don't have pants or socks on. Track marks between the toes are hard to spot, thanks to the location of the toes. But they are even harder to notice because those who inject their toes are determined to hide them. They will wear socks, shoes, or even wrap the toes with a Band-Aid. They may also cover their legs with a blanket or throw whenever they're relaxing at home.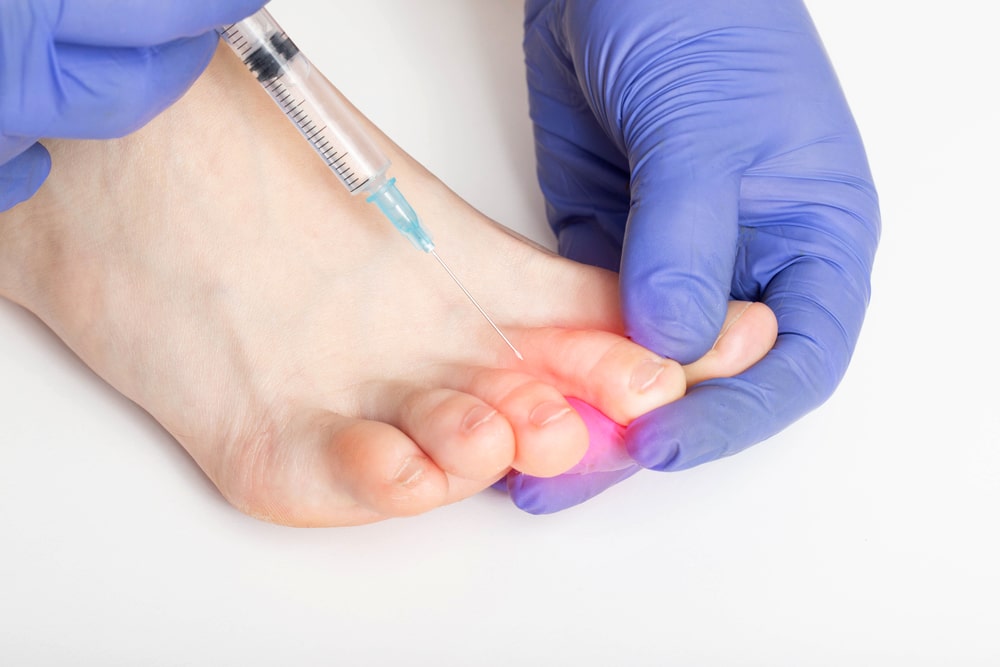 How to identify track marks
Heroin is not only highly addictive but also potentially life-threatening. With the rising cases of heroin overdose deaths, it's always best to help your loved one get timely help. Remember, drug use is not a sign of weak morals. Many people who abuse drugs have underlying problems. According to the Substance Abuse and Mental Health Services Administration, substance abuse and mental health issues often co-occur. Addiction treatment can help address the underlying problems so that your loved one can go back to leading a healthy life.
Sharing needles and syringes for any use is a risk for various sexually transmitted infections. A person can get STIs like HIV or Hepatitis by injecting into the vein, fat, or directly into a muscle. Reusing containers to dissolve drugs, sharing water to clean drug equipment, and reusing filters are also risk factors. The STI exposure risk from needle use is very common among drug addicts, so let's look at the statistics.
Studies reveal that those who inject drugs are most vulnerable to STIs. According to UNAIDS special analysis, 2018, the risk of HIV among those who inject drugs was 22 times higher than the general population. Other vulnerable groups included gay men, female sex workers and transgender women whose risks to HIV were 28, 13, and 13 times higher than the rest, respectively.
In another UNAIDS report, men account for the biggest share of higher risk of HIV infection, comprising 80% of the 11.8 million people globally who inject drugs. The report further revealed that approximately 13.1% of those who inject drugs worldwide were living with HIV. Despite the prevalence of drug injection and STIs, most people do not seek treatment for their addiction, due to fear of judgment, among other reasons.
The history of disease spread by needle use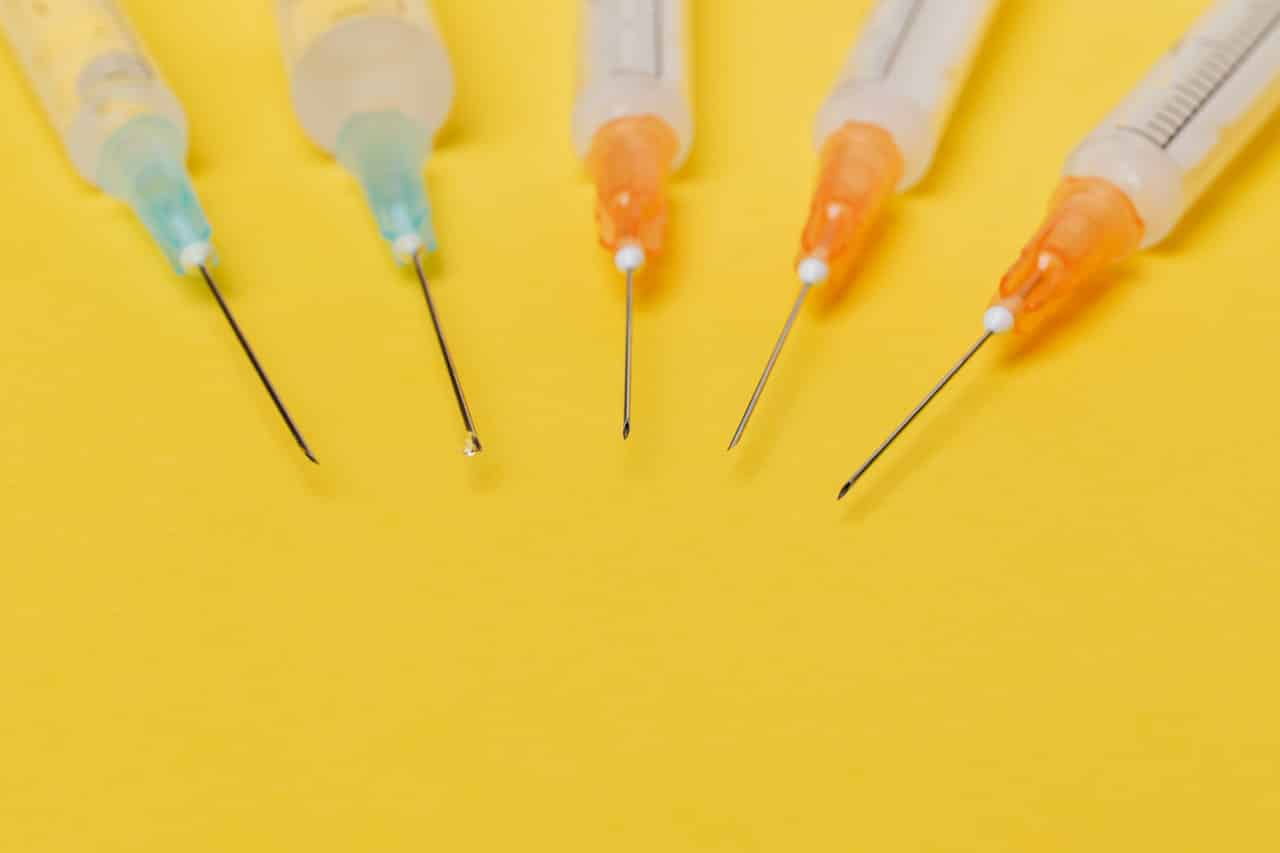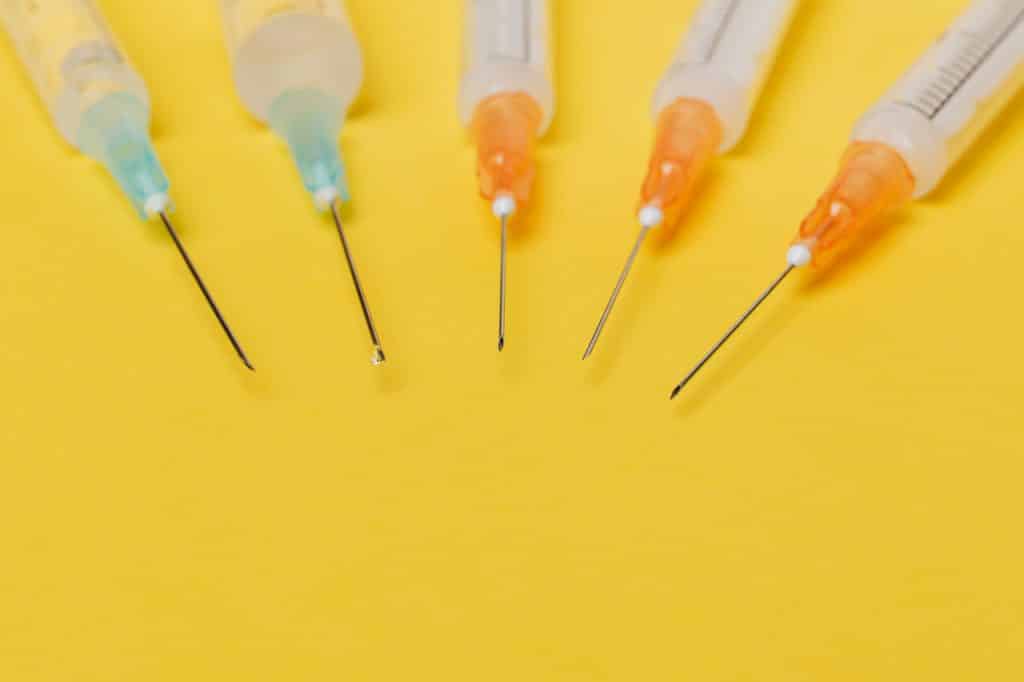 In the last 20 years, the United States has seen a rapid increase in overdose deaths and STIs due to injection and misuse of prescription and illicit drugs like fentanyl and heroin. Injection drug use (IDU) and its vast health impacts are a public health crisis, with approximately a million people reporting IDU in the past year.
The increases in IDU have caused outbreaks of HIV and higher rates of diseases like Hepatitis B (HBV) and hepatitis C (HCV). This is because viruses spread through body fluids – either through:
Shared needles or other or other drug equipment
Unprotected sex/sexual contact due to impaired judgment
Oral sex
Drug use and addiction are often connected to HIV/AIDS since AIDS was first determined as a disease. Centers for Disease Control and Prevention indicate that 1 in 10 HIV diagnoses happen among those who inject drugs. In 2016, IDU accounted for over 150,000 (or 20%) and 50,000 (21%) of recorded HIV cases among men and women, respectively. Besides, pregnant and lactating mothers who are HIV infected can pass down the virus to their baby irrespective of their drug use.
Why drugs users share needles and syringes
Different studies show a close link between injecting drugs and sexually transmitted diseases. This should serve as a wake-up call to those who inject drugs. But surprisingly, the people who inject drugs continue with their needle exchanges and sharing habits despite the glaring danger.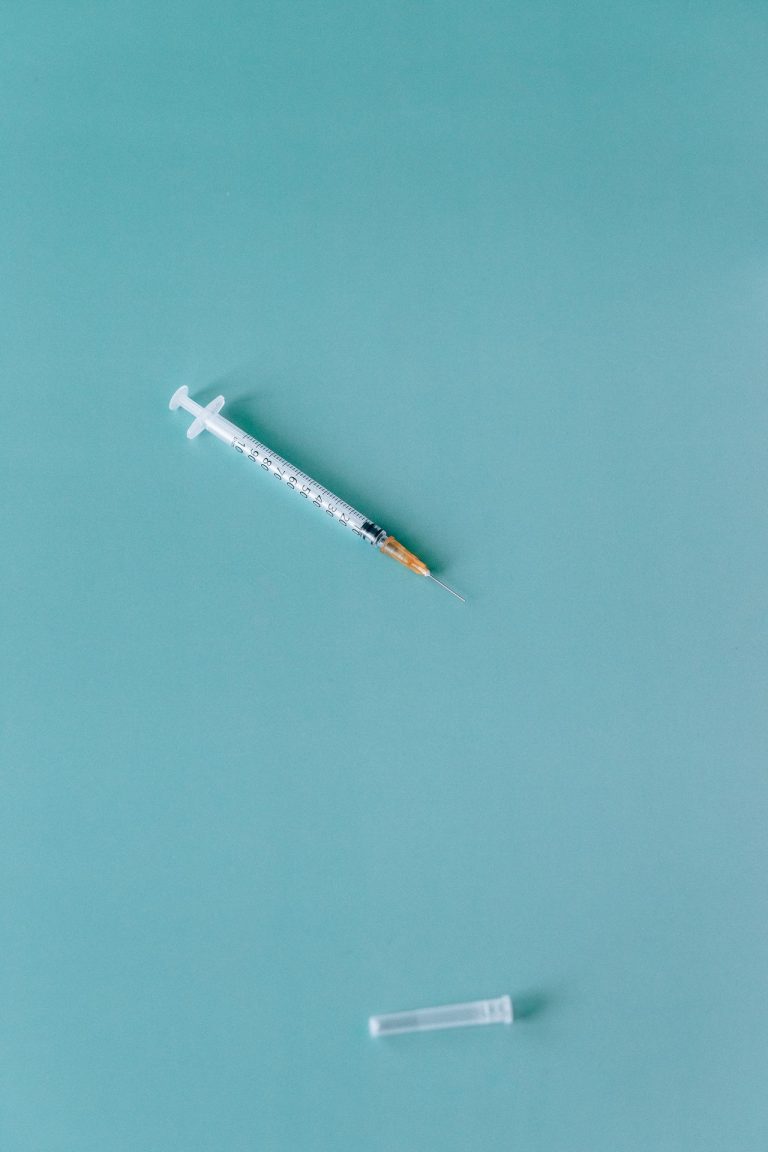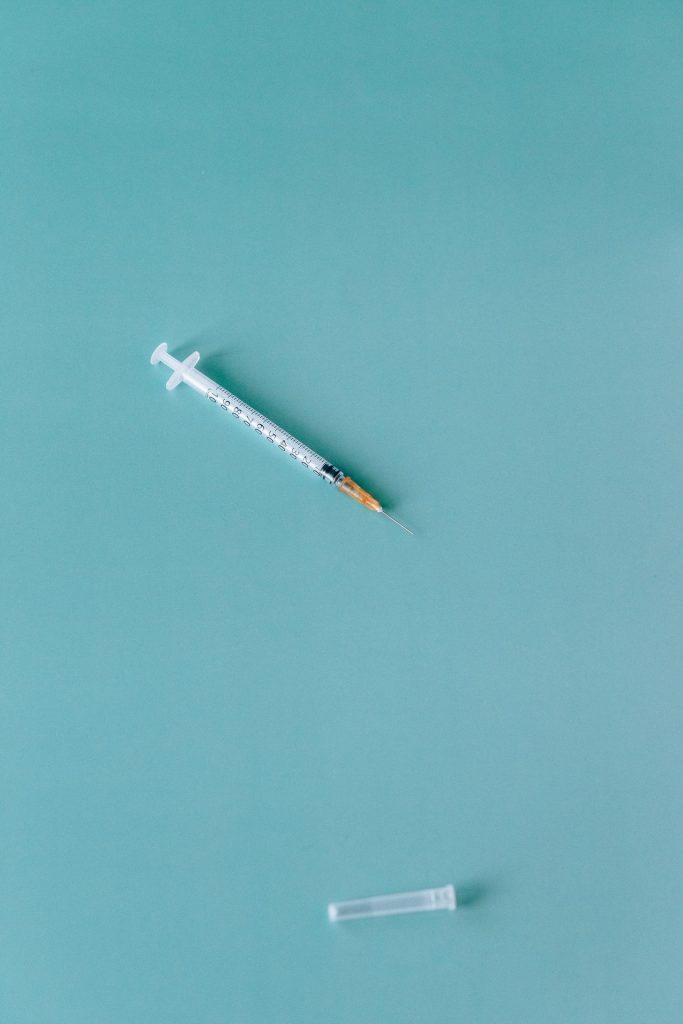 Here are some common reasons they don't stop.
Easy access: some communities do a good job distributing syringes and needles and disposing of used ones. But not everyone has access to such facilities. Some addicts have to go to the pharmacy stores, which have their own sets of rules around selling such supplies. So, an addict prefers to use what's available. Besides, most addicts don't have time to clean or look after themselves, let alone find new drug equipment.
Avoiding expenses: the drug equipment isn't cheap either. A box might range between $10 and $50, which might be too expensive for someone whose primary focus is on getting money to buy more drugs.
Assumption: most drug users are cautious about sharing equipment with strangers. But they let their guards down when it's someone close – like a friend or family – because they assume they know them better. So they don't mind sharing needles and syringes.
Lack of education: some addicts have no idea that sharing drug equipment exposes them to STIs. Others are aware, but only to some extent. A good example is when they avoid sharing needles but end up sharing water used to clean the equipment.
Health risk of IV drug abuse
As we've discussed above, injecting drugs increases risks for developing a range of infectious diseases, including HIV, which causes AIDS. Studies estimate that about 36% of cumulative AIDS cases in the US resulted from injected drug use.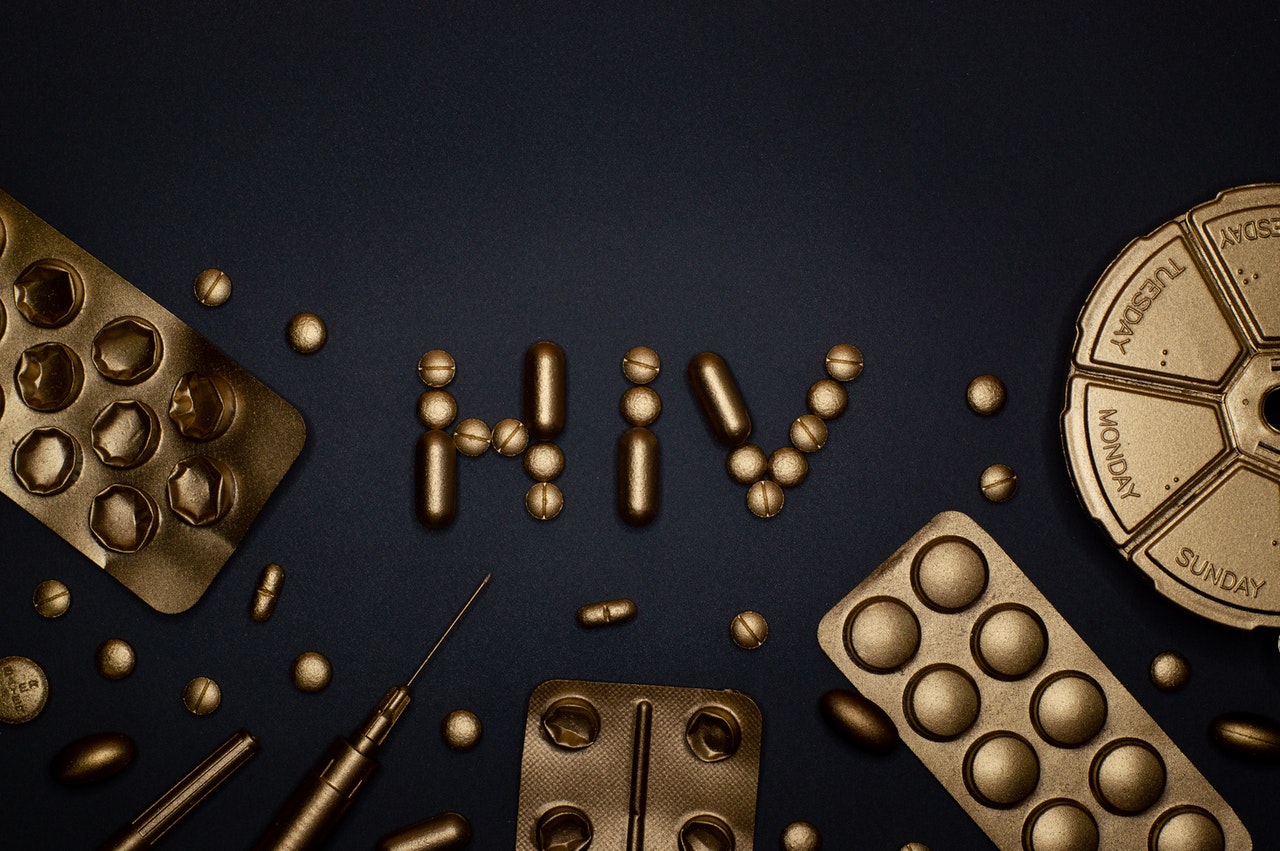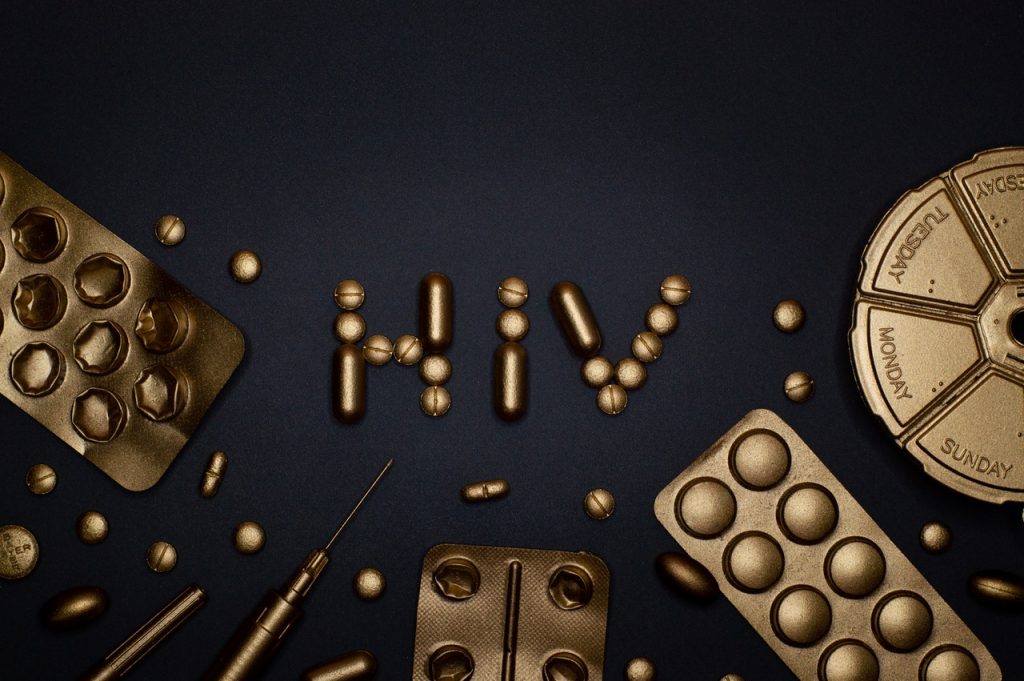 HIV is transmitted through the exchange of blood and other bodily fluids. According to the CDC, HIV can live in a used drug supply for up to 42 days, depending on temperature and other factors. This explains why sharing needles, cookers, water, and cotton is potentially risky.
Sharing paraphernalia can also cause the transfer and spread of other infections like HBV and HSV, each of which affects the liver and may result in liver cancer, liver failure, liver cirrhosis, and permanent scarring. According to a study by the UCSF, drug injections may account for 60% of HCV cases in the US alone.
IV drug abuse also impairs judgment and lowers inhibitions, making it easy for one to indulge in risky sexual behaviors. It is pretty common for those who are high on drugs to have unprotected sex, which exposes them to HIV, HBV, and HCV. But these aren't the only infections that can be transmitted sexually. Others include genital herpes and Human Papillomavirus (HPV).
How to reduce the risk
Drug users can reduce the risk of acquiring or transmitting STIs by:
Not using drugs: the best way to lower the chances of contracting STIs through IV drug use is to stop using drugs. Seeking help from a reputable treatment center can be a great way to achieve sobriety.
Not sharing drug supplies: viruses are only transmitted through IV drug use and sexual contact. So, one should avoid ever sharing drug equipment. Many communities have syringe services programs that issue free sterile syringes and needles and safely dispose of used ones.
Getting tested and treated: those who administer drugs intravenously should test for HIV, HBV, and HCV. If the tests turn out positive, treatments exist to help keep everything in check. Drug users who are negative for HBV can take advantage of the vaccination to prevent transmission.
Take pre-exposure prophylaxis (PrEP): PrEP is a daily dose of HIV medications that prevent one from getting HIV. It is effective in lowering the chances of getting HIV infection for those who inject drugs. Those who have been exposed to the virus can take PEP to prevent becoming infected. But this should be done within 72 hours after recent possible exposure to HIV.